FANTASY FOOTBALL TEAM BEAST DOME: MARQUES THE BEAST (WEEK 4)
FANTASY FOOTBALL TEAM BEAST DOME:
MARQUES THE BEAST (WEEK 4)
By Muntradamus
BEAST DOME NATION.
*LIVE BEAST DOME CHAT Sunday 9:00am-9:30am PST*
Boom. Clap. The sound of my heart.
Everytime I think about Draftday 2015 I vividly remember looking at my sheet of paper during the 9th/10th round swing (#1 Pick of 12). I have two picks and was planning on getting 2 WRs, Terrance Williams and James Jones. It was a little early for Jones, but I wanted to make sure I got him. Then I saw the QB position, Russell Wilson was still sitting on the board. Owning Marshawn Lynch and Jimmy Graham, I wanted to make sure nobody else got points from the Seattle Seahawks offense, especially the three teams who still needed a QB. Knowing that James Jones was probably on nobodys mind and his usual draft position in this league is 15th+ Round at best, I went with Russell Wilson.
Four picks before my pick in the 11th Round, James Jones was snatched. I smashed the table during the $1600 Entry Free NFFC Primetime Draft at the Belaggio Conference Room in front of a half filled room and yelled, "FUCK!" I could not believe someone else was targeting him, especially this early.
This week, I matchup against James Jones. After watching Steve Smith Sr. drop 40+ Points against me last week (Drafted 6th Round) I now go up against James Jones in what is likely to be another BEAST performance from the BEAST DOME Waiver Wire Pick of the Year. 
(No Expert Ranked James Jones Higher this Preseason)
Will I cry on Sunday when he goes off for 100 Yards and 2 TDs?
No, I will still be happy that all of you own him, he is also on a lot of other squads I own. So life is good.
What is not good, is the performance of my BEAST players which is leading to a bad start of the season.
Besides Brandon Marshall and LeGarrette Blount. No player on my team has impressed me early on. Doug Baldwin had a moment, and Jimmy Graham has been decent, but I expect more. If Marshawn did anything Week 2, I would be sitting at 1-2, which is still nothing to brag about.
Luckily this league paysout by Points For. I am in 9th Place in that regard and a couple big Weeks away from being right in the Pack for Top 3 as the first place team led by Antonio Brown and Steve Smith Sr. are both in trouble this week, and long-term, more on SSS Tuesday. So now it is time to reach into my Ultimate GM Skills and pull out a High Scoring Week.
Week 2. Lorenzo Taliaferro.
Week 3. LeGarrette Blount and Jeremy Kerley
WEEK 4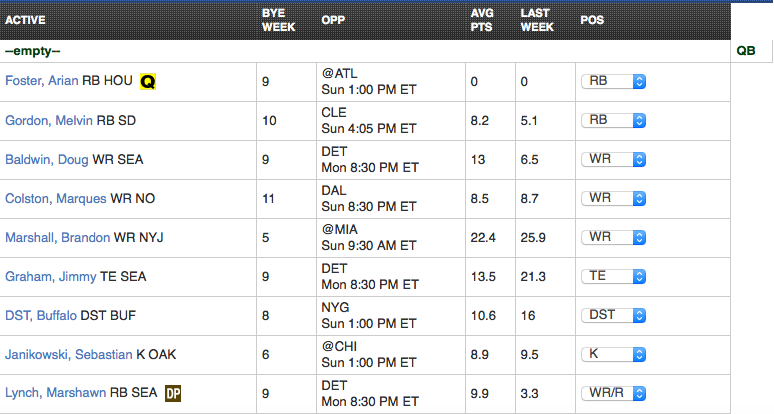 This is the lineup we know I am going with this week.
ARIAN FOSTER
While everyone in the BEAST DOME NATION including myself is ready for the return of Arian Foster who was a VITAL part of the VIP Draft Guide, I am not so sure he is going to play this week. The Texans have a HUGE game this upcoming Thursday Night against the Indianopolis Colts @ HOME. That game is esentially the AFC South Championship Game in Week 5. While I would love to see Arian play this week, it is more realistic he shoots for a return at home on National Television instead of playing two quick games on Short Rest. I hope I am wrong. I would love to start Arian as much as all of you.
Everyone should have a backup plan ready to go for Arian Foster missing Sunday. Luckily for TEAM BEAST DOME, someone dropped Alfred Blue last week and I made sure I grabbed him using $161 of my $1000 FABB money to secure the Handcuff when he became available Wednesday Night. While Blue is probably not on your Waiver Wire, hopefully you have another starting RB you can trust. If it means playing Chris Ivory at the 9am EST game, play Chris Ivory.
MARSHAWN LYNCH
Everyone is scared about Marshawn Lynch. BEAST MODE on Monday Night Football is too big of a stage for Marshawn Lynch not to play when he knows the entire world will be watching him play. If Marshawn can walk, he will play in that game. If Marshawn is not 100%, he will still be strong. The Seahawks are in a Must-Win situation as they cannot fall to 1-3. While the running game for Seattle has looked terrible until Thomas Rawls broke out for 100+ Yards rushing in garabge time against the Bears last week, that type of confidence for the O-Line will have them playing their heart out on Monday Night.
Last Week I added Thomas Rawls off the Waiver Wire. He never entered my lineup and I really hope he never does. If Marshawn is forced to sit this week I will start him, but I am not expecting anything as the Lions D Line will eat him up. If Marshawn plays this week, I will waive Thomas Rawls for the next Waiver Wire peroid.
Carroll has already said that Thomas Rawls and Fred Jackson would split carries.
Like I projected in this weeks BEAST or BUST with Thomas Rawls.
BENCH RB
TEXANS vs. BILLS
Texans D/ST has been killing me this season. They are not getting Sacks, and their secondary is garbage. Teams are going Shotgun against them and even Rookie Jameis Winston had some sort of success. They are being benched until further notice.
During the Draft after they stole James Jones and Steve Smith Sr. from me, I went with the strategy of grabbing both the Texans and Bills with Back-2-Back Picks. It is now the Bills time to get it going and a Home Game against the Giants is exactly what I could order, if I could order.
Eli Manning with lots of pressure is something that always results into positive results for a Fantasy D/ST. Looking for the Bills to do their thing this Sunday. Texans Defense is benched until they prove they deserve to be in my lineup. Some Fantasy Leagues you may see the Texans on your Waiver Wire. I would add them, they will figure it out, but not start them this week.
MUSICAL QB's
Fitzmagic vs. Wilson vs. Stafford
Ryan Fitzmagic @ Dolphins (London)
Magic goes to London to face a Dolphins Defense that is looking horrible. If Magic has Eric Decker for this matchup, Magic should continue his success and have another strong 20 Point Range Week. The running game with Chris Ivory healthy will keep the Dolphins Defense honest. If Decker does not play, it would be best to go with a different option as Brandon Marshall and Jeremy Kerley is nice, but this matchup is not screaming 300 Passing Yards.
Russell Wilson vs. DET
If BEAST MODE does not play, Russell Wilson will have to carry the Seahawks to a Victory. The Lions Secondary is underrated and Wilson really does not have superstar talent at the WR position. However he does have a BEAST at TE with Jimmy Graham and maybe, just maybe. The Hawks will continue throwing to him. If the Seahawks do not use Jimmy Graham heavily on Monday Night Football, I will teleport through my TV and kill Carroll myself.
(MUNTRA NIGHT FOOTBALL BEASTcast. VIP ONLY. Invite going out Monday)
If Peter Carroll rolls Marshawn Lynch out there and they deem he is ready to handle his usual workload or anything close to his usual workload. Russell Wilson will likely be a game manager and will frustfrate me the entire night as I hate him as a QB and regret drafting him. He panics in the pocket, he will not throw for 300 Yards, and he misses open targets too frequently.
Matt Stafford @ SEA
The time is coming for Stafford to carry TEAM BEAST DOME to the Championship. Is it this week? I am not so sure as the Hawks on Monday Night Football is not an easy task. However, for the Lions to beat the Seahawks they must throw, throw, and throw. While you may be shocked to hear that. Ameer Abdullah is not going to BEAST this Seahawks Front 7 which has been carrying this Defense. The Seahawks have a very overrated Richard Sherman who only plays one side of the field, and can easily be exposed by Megatron. Kam Bam with Earl Thomas is dangerous, but the options with Golden Tate and Eric Ebron to go with the RB combo in Reddick and Ameer who are lethal in the passing game could keep this Hawks Secondary off balanced.
Conclusion
If Marshawn Lynch plays and deemed ready to go. Matt Stafford.
If Marshawn does not play or they say will be limited. Russell Wilson.
Regardless if I use Stafford or not. I am going to go with my Waiver Wire Kicker of the Week instead of Matt Prater.
While Prater could have a nice week, I expect Janikowski to be much better and a much safer option as I trust the Raiders offense more than the Lions this week.
MARQUES COLSTON
The Saints Offense has been horrible to start the season. Drew Brees through 2 games has 2 TDs and 2 INTs. While owning Colston has not been fun, I cannot imagine what it must feel like to burn a 2nd Round Pick on Brandin Cooks who has yet to have 80 Yards or a TD in a game this season. Even a 5th Round selection on Drew Brees who has been outscored by Matt Stafford both Week 1 and Week 2.
The reason the Saints offense is not clicking so far this season is the loss of Jimmy Graham. Drew Brees is torn between Marques Colston and Brandin Cooks as his two primary options in the passing game. Brandin Cooks cannot get open now that defenses are not doubling Jimmy Graham. Marques Colston is replacing Jimmy Graham, but he is not making enough catches in traffic.
But wait. Did you read that correctly. Marques Colston is replacing Jimmy Graham. All Marques does is play the Slot and runs patterns in the middle of the field. Drew Brees is constantly looking at Marques, as did McCown last week. Marques Colston is definitely the #1 read on most passing plays for the Saints, as Brandin Cooks will have some plays designed for him, some that are designed for Willie Snead or CJ Spiller.
With a Home Game on Sunday Night Football against a Cowboys Team that has Passing problems of their own. Look for Drew Brees to return to his vintage form and torch the Cowboys Secondary for 300+ Yards and at least 2 Touchdowns. When Drew Brees returns to form, Marques Colston will get his in the process.
WEEK 4 MATCHUP
A quick 15 Points from Forsett is no problem. I expected him to do well as mentioned in the TNF article. Ranked him two spots ahead of the ECR on FantasyPros as the #15 RB. Just happy he did not catch any passes or score a Touchdown.
My opponent knows my site as he sat right next to me when he stole James Jones under my very eyes and I smashed the table while wearing my BEAST DOME hat. I will not say much about his team.
All I need to do is worry about myself and if I can get a couple sleeper Touchdowns from my WR duo in Baldwin/Colston, I should have a good shot at pulling away with the victory. If Stafford goes vintage mode, I will have the win with confidence and move to 1-3, just like the Detroit Lions.
BEAST