BEAST DOME TESTIMONIALS  
FOOTBALL/BASEBALL/BASKETBALL
SITE EXISTENCE (NOV.2011-PRESENT)
VINTAGE IMAGES CRASHED FROM 2011-2013 during TRANSFER MOVE.

WON $10,000!
WON $30,000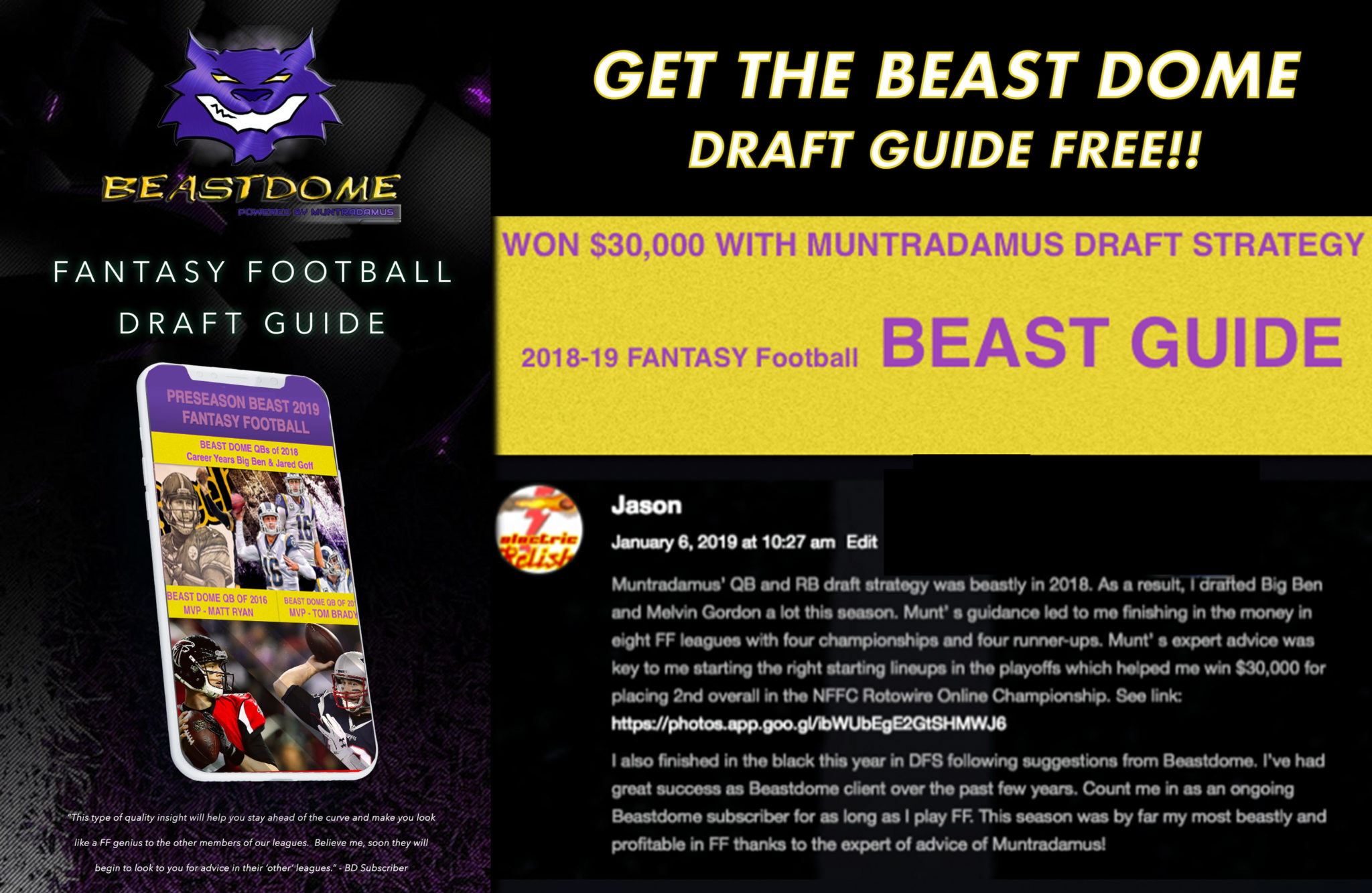 Before 2012 I had never tried any fantasy sports. I got tempted to join a free NBA league on ESPN, and then found Muntradamus' site to get advice. I didn't know what I was doing in the draft so I ended up joining 3 free leagues. I didn't have anyone too special but by following Muntz posts over the season I was able to upgrade from the waiver wire and via trades. Well, all 3 of those teams ended up winning their championship and I don't think it was beginner's luck! I continued with 10 man leagues in MLB and NFL and won championships there as well! Fantasy sports Trifecta for a total newbie!  The quality of insight you get from Muntz is unparalleled. He is a one man army! He watches every game including preseason and is a top ranked expert on fantasy pros. The best part is he sees great moves before you would ever hear about them anywhere else, meaning you can get that clutch upgrade from waivers before your opponents. Week in and week out he puts out quality player rankings and I have been nothing short of amazed. Now I have moved on to daily sports and Muntz is helping me win money! His VIP packages are well worth the price if you want to win for sure. He sees matchups and great daily spot-starts that I wouldn't find in a million years. So far each team has scored ridiculously high. If you want to start dominating in fantasy sports I highly recommend beastdome.com – my only regret is I didn't start this all sooner!
There are "experts" in the fantasy sports world, and then there are ELITE experts such as Muntradamus.  Being my first fantasy football experience, I conducted extensive research on predictions and analysis online in order to win my championship.  Although I discovered a lot of information through fantasypros and their top experts, I discovered BEASTDOME during week 4.  I knew after a few minutes of reading, that Muntradamus and his amazing site was for me and would help me dominate my league with his amazing and unparalleled insight and analysis.  I quickly invested in one of his VIP packages and the journey to winning my league and championship followed.  I would call him the Amazing Kreskin of Fantasy Sports, but I feel that would be an understatement!  The various VIP packages are well worth the investment and I highly recommend them to anyone serious about winning their fantasy sports league. 
P-Dave
Loyal BEASTDOME fan
TESTIMONIAL FROM TY –
2018 SEASON BEAST & DRAFT Package
"Fantasy Football usually boils down to two things, bragging rights and making money. Now ask yourself, would you rather wing it and try to guess when it comes to building a championship team? Or, make a small investment and unlock the treasure trove of Beast Dome research and analysis.
Every year, without thinking twice, I sign up for the BEAST SEASON, knowing I will not only recoup my investment, but also Beast my leagues and pad my pockets.The DRAFT STRATEGY alone is worth the entire investment because it sets you up with a championship squad before the season even begins.
Since 2013, I've followed Munt and followed his advice to a T. I have never missed the playoffs and have earned multiple championships. TRUST THE PROCESS. Munt has exhausted himself watching and picking apart every game to understand the nuances of each team. He has identified sleepers and busts that aren't even on the other "pros" radar. During the season, his ability to read between the lines when injuries or trades happen help you manage the waiver wire and keep your teams relevant.
This type of quality insight will help you stay ahead of the curve and make you look like a FF genius to the other members of our leagues. Believe me, soon they will begin to look to you for advice in their "other" leagues.
This year Munt helped me draft two of my leagues. His ability to think and pick on the fly helped me build two teams that I am extremely confident with going into the season. I'm already receiving trade proposals for my players.
Make the investment in PRESEASON BEAST MVP and you will see what I am talking about. Then go ahead and get the BEAST SEASON MVP and push the easy button with waiver wire decisions and start/sit advice. Every team, every relevant player, even coaching tendencies are things you will learn about from Munt's research. When it comes to Fantasy Football, In Beast Dome I Trust.
I'm a Diamond Level player in Yahoo Leagues, thanks to Munt's advice, and all of my league fees have been paid for with last seasons winnings. Unlock the Beast Strategy and secure your spot in the championship."
Loyal to the Beast Dome Nation – CHEF

REST OF THE 2014 TESTIMONIALS
PRESEASON AND END OF SEASON
-Playagetchose
    i am a v.i.p. here. yessir. let me start with a lil story. moments ago i sent muntradamus an email picking his masterful mind completely. reference song by lil boosie – mind of a maniac… should i trade – rodgers, vick, alfred morris, and demarco murray – for drew brees, matt ryan, percy harvin, lance moore, and marshawn lynch. blah blah blah blah blah… i asked "da masta" about fifteen trades similar to that. i bet as i'm writing this there is a response sitting in my inbox right now. i make the moves but i also have access to the mind of a fantasy maniac. it's the best of both worlds. so if you're like me and you sit there thinking…well should i do this, should i trade him for this, or is that too much, well should i drop him for him lol…think no more, just ask munt. it's like guiding your thoughts and you'll always make the perfect move. he's a genius, therefore i'm a genius. this is my first year playing fantasy and with his knowledge and guidance i'm a seasoned vet. it's made me a better owner then i could have ever been. he's like my best bud. i highly recommend the "muntradamus effect"! it's awesome and it cost me next to nothing. where's the lifetime membership homie?
2019 TESTIMONIALS
Hey Muntradamus,
Thanks for all of your help throughout the season. Your rankings are by far provide the most value in terms of insight and accuracy. I look forward to your updates each week.
Last week, I was able to pull off what I consider one of the greatest Fantasy Football Playoff comebacks of all time. (see attached photo).  I came into the Monday night game facing a 37.02-point deficit, but scored 51.90 for the comeback. (I had Steven Ridley, Aaron Hernandez, and Brandon Lloyd as my remaining players while my opponent had Owen Daniels and the 37 point lead).
I was contemplating starting Lloyd, but your Tweet back to me @alaypatel saying I should start my Patriots secured my doubt (I figured the Patriots would use Lloyd heavily this week because there was a lot of criticism surrounding his performance throughout the season. Also, I reached for Lloyd in the draft…so I figured I might as well go down with him if he doesn't perform well)
So thank you for your help!
I used a few sources this season, discovering this site maybe 8 weeks ago. I cant say that I always listened to what I read here, or that ididnt have other sources that i used… But what I can say is that the week I started, I was in 6th place (of a 6 person league) and made it into the playoffs in 2nd. I wasn't VIP or anything, maybe that's what would have put me over the top lol. Well, now lets give basketball a try..
League Champion! Oh YEAH been following advice and listing to other users posting comments ect. Site was money when trying to figure out hard match ups… SUNK YOUR BATTLESHIP STRATEGY won my playoff match up against Payton Manning ha greatness
I didn't have the luxury of knowing about Beast Dome and Muntradamus until week 13-14 of this season. Since then I've been enjoying the accuracy of one of the best Fantasy Football experts in the game. This is my first year playing fantasy football. Last week was my teams semi-final. I was up against the best team and won by a margin of .54. This wouldn't have been possible without Muntradamus pointing me in the right direction of fantasy kicker. Yes, I said it, Kicker. The hardest position to predict in the game. Week 15 Fantasy Playoffs most experts had Shane Graham as their number 1 Kicker, who score 18 pts. and I believe ended up 3rd amongst kickers. Munt set me right, and told me he liked Janikowski a little bit better, who was on my waiver wire. Following some bad advice, by a "terrible" heralded fantasy expert earlier in the year I almost didn't do it. Worried I would make another bad decision based on someone else's opinion. Low and behold Janikowki ended up scoring 20pts. The difference between a win and a loss, the difference between right and wrong, and more importantly ladies and gentlemen, the difference between being paid and empty pockets right before Christmas.Thanks Munt, glad to be a part of Beast Dome! Just hope nobody else in my league finds out about you.
i found this site mid-season when i was in 12th place (out of 14 teams) and had no hopes of making the playoffs. with this site's help, i managed to claw my way back to 7th place, got into the playoffs and made it all the way to the semi-finals (i lost cause Doug Martin decided to have a bad day and benched Brandon Lloyd…ugh). playin for 3rd place now.
regardless, i made it further than i ever imagined and couldn't have done it without this site.
thanks for all your help Munts and the entire Beast Nation! i can't wait till next season.
Thanks to Muntradamus and Beast Dome I went 11-2 and took the Championship. Great call on Gates this weekend!
Munt, thank you. You were always ahead of the curve. Without you, I would have struggled to move on from guys like Kevin Smith and Dwayne Bowe who were huge for me early in the season. While so many other fantasy sites were still ranking these guys high based on past performance, you were the one place that made the call when these guys were worthless going forward. You were the only fantasy site of value for a deep 20-team league like mine, and I was often impressed how accurate you were in your calls for lower-tier WR. And it was thanks to your twitter feed that K. Moreno was my solid RB2 down the stretch. Now I'm league champion, 14-2, despite having not played fantasy football in almost a decade. Thanks so much.
Just wanted to say thanks to Munt.
While I listen to multiple voices, (some about fantasy football, even), I've learned to place a little more weight on the beast dome than any other source.
The draft advice goes well with my draft style, and I used it to find McGahee, J-mail, and a few other draft day steals.
I really appreciate the insightful mid season articles, such as Beast or Bust, and the waiver wire advice.
12 team leagues: 1st and 2nd
10 team league: 3rd
Next year I'm using some of my winnings to buy a Beast Dome package!
Thanks Munt.
Just finished my 12 man league… 1st place! The team I drafted was very weak but over the course of the season, thanks to Munt's advice, I was able to pick up fantastic players off of waivers. Cobb and Blackmon just helped me win the Championships but it was pickups on Reece, Gibson, Myers, and even Skelton (in week 9 where he put up his only double digit showing of the season) that took me to the playoffs. That Skelton pickup scared the crap out of me be you were right about GB's defense. Hell, you've been right almost the whole season. Thanks Munt!
Beastdome regular since the Madden Arena era. Overall, the consistency of advice is what keeps me coming back and Muntra's unique insight has led me to:
2011-2012
My 1st 8 mannon-ppr league championship
My 1st playoff keeper championship
2012-2013
A 3rd place reg season and 3rd place playoff finish (narrowly missed winning it all)
A 1st place reg season and 4th place playoff finish (laid a semi-final egg)
My 1st 10 mannon-ppr league championship
Thanks a bunch Muntra, looking forward to your keeper league playoff picks. Let's keep the season rollin!
Beast Dome equals Championships!!!!
What a fantastic year in Fantasy Football thanks to one of the greatest fantasy finds on the internet….Beastdome.com. Beast Dome, run by Muntradamus a top ten Ranked Fantasy Expert is the only place I go for fantasy advice.
Playing in a 10 man League leaves very little room for error and it all starts prior to the draft. The pre-draft articles and rankings were right on, not only did they provide me drafting strategies but it gave me a list of players to target. On draft day I came away with the following steals Brandon Marshall (5th round) Reggie Wayne (6th round), Doug Martin, who? (7th round). All my skilled positions ended up with a fantasy ranking top 5 with the exception of Cruz (13th) and Wayne (15th). I used the weekly rankings provided to select my D/ST and K.
My team end up with the best record (11-6), had 3 loses by a combined total of 13 points, scored only below 90 points 4 times and scored over 100 fantasy points above the next closest team.
Opting for the VIP #3 services it was like I had a fantasy expert in my corner. (I highly suggest if you want to win next year you do the same.) Muntz provided a weekly evaluation of my Team, weekly players to target off the Waivers and the most important of the services Trade advice!! He saved me many times from giving up on players and who to sell high.
Beast Dome has turned into one of the great fantasy communities that I looked forward to visiting everyday. The weekly rankings and articles are some of the best on the web and it gives you the chance to discuss and read advice from other fantasy players. (Many thanks go out to the Community for your assistance along the way).
Muntz…Thank you again for such a Great Season!!! I'm looking forward to continuing the success next year.
Munt is a beast! If there was a fantasy league for fantasy sport players Munt would be on top. I know my stuff, but Munt has a gift! From Joe Flacco exploding to the Rams putting up incredible defensive numbers! The one constant to all you science enthusiast is Muntradamus. Munt has preformed on another level!
"Why are you people making this Fantasy stuff so hard?!  You can be a Champion in 3 EASY steps!
1.     Log-in to BeastDome.com
2.     Sign up for VIP services
3.     Win your league.
Speaking as a first year VIP and a first year Champion, it was literally that simple!
If you are a noob, he will walk you through each week. If you are a veteran, his rankings and insight will give you the edge you need to win. 
I lost the first two games (by myself), signed up for BeastDome VIP, then went undefeated the rest of the season!  12 – 2!
Thanks for the incredible season Munt!  I can't wait to take it home again next year!"
-No Punt Intended
I have been an active member of the BeastDome Community for the past nine months.  During this time, Muntz helped me win my baseball championship, guided me to a third place finish in football (Damn Doug Martin) and now is helping me with The Ultimate Fantasy Basketball Payout.  Muntz is a fantasy guru.  He only provides top notch information and he is here to help all of us.  He is always on his game.  So much, I don't think he sleeps!  He takes every minute of every day researching.
This past week I reached out to Muntz about his VIP Basketball packages.  Over the past week, Muntz has not let me down. Using his daily teams that he puts together, I have won 14 50/50 DraftStreet tournaments in a row totaling almost $500.  So what are you waiting for?
I found Munt's Beast Dome earlier this year during the beginning of the football season. It was my first fantasy season and I didn't know much about it- I started looking around the web for fantasy advice/rankings/info and it wasn't long before I realized Munt was just about the best guy out there. I signed up for his VIP service and he helped me turn both of my mediocre teams into winning teams that made the playoffs. His level of attention, and his passion for fantasy sports is one your not likely to get anywhere else- so much so that he's already gotten me addicted to fantasy basketball thru his VIP service and Im sure hell get me just as excited about Baseball soon. The screenshot really shows it all – Munt is an absolute beast and he has yet to let me down.
TESTIMONIALS FOR V.I.P. #3
MUNTZ – I WANTED TO GIVE YOU AND YOUR VIP PROGRAM A HUGE SHOUT OUT. EVERYONE KNOWS HOW AMAZING YOU AND THE BEAST DOME WEBSITE ARE BUT YOUR VIP PROGRAM MAKES YOUR SITE STAND OUT OVER THE REST. OVER THE PAST FEW WEEKS, YOU HAVE TAKEN MY FANTASY FOOTBALL AND BASEBALL TEAMS TO THE NEXT LEVEL.
AS IT STANDS NOW, MY FOOTBALL TEAM IS 3 – 1 AND I AM TIED FOR FIRST IN MY DIVISION. NOT ONLY DID I FOLLOW YOUR DRAFT STRATEGY TO DRAFT A GREAT TEAM BUT YOUR WEEKLY VIP GUIDANCE IS TAKING MY TEAM TO THE NEXT LEVEL. THE FACT THAT YOUR VIP SERVICE INCLUDES REVIEWING MY TEAM AND GIVING THE TOP FREE AGENT RECOMMENDATIONS IS AMAZING. YOU CAN'T BEAT THAT! I CAN'T WAIT FOR THE REST OF THE YEAR.
AS YOU KNOW, I JUST WON THE CHAMPIONSHIP IN MY BASEBALL LEAGUE. I MADE SOME WRONG MOVES EARLY IN THE WEEK AND FOUND MYSELF 100 POINTS DOWN BY WEDNESDAY. I ASKED YOU FOR A LITTLE ADVICE AND YOU GAVE ME THE WORLD. I CAN'T BELIEVE YOU LOOKED AT MY TEAM/LEAGUE ON A DAILY BASIS AND RECOMMENDED THE HITTERS AND PITCHERS I SHOULD PICKUP/START. YOU COMPLETELY TURNED MY TEAM AROUND IN FIVE DAYS.  I DON'T BELIEVE IT MYSELF, WITHIN FIVE DAYS YOU HELPED ME GAIN 180 POINTS ON THE COMPETITION!!!
*STARTED VIP PROGRAM THE NIGHT OF SEPTEMBER 27TH.
LASTLY, THANKS FOR THE BETTING ADVICE YOU RECENTLY GAVE ME WHILE IN LAS VEGAS. YOUR NFL PARLAY OPTION THAT YOU SENT ME EARNED ME A QUICK $100. I USUALLY DON'T BET ON SPORTS BUT YOU MADE IT SO EASY AND PROFITABLE. JUST SAYING….THIS MIGHT BE A GOOD SERVICE TO THE REST OF THE BEAST DOME NATION!
HANDS DOWN, YOUR VIP SERVICE STANDS OUT AMONGST THE COMPETITION. MOST FANTASY PAY SERVICES GET YOU ACCESS TO ONLINE TOOLS, CHARTS, GRAPHS, ETC… YOUR VIP SERVICE GET THE BEAST DOME MEMBERS ACCESS TO YOU! YOU CAN NOT FIND A BETTER DEAL ANYWHERE. THANKS SO MUCH FOR EVERYTHING. I CAN'T WAIT TO SEE HOW MANY CHAMPIONSHIPS I CAN WIN!!!
– JOHN D.
LAST YEAR FOR FANTASY BASKETBALL, I BOUNCED IDEAS OFF MUNT VIA
COMMENTS AND THROUGH THE BEASTDOME CHAT.  THAT WAS PRETTY NICE AND I
CAME IN 3RD PLACE FOR MY FIRST YEAR OF FANTASY BASKETBALL.
THIS YEAR I DECIDED TO ROLL WITH THE VIP ASSISTANT COACH FOR FANTASY
FOOTBALL.  WHEN I SIGNED UP FOR THE VIP I WAS SAILING ON A SINKING
SHIP AT 0-2.  TWO WEEKS IN AND I'VE WON 2 STRAIGHT WEEKS WITH
MUNTRADAMUS HELP VIA EMAIL AND THE MANY ARTICLES POSTED TO BEASTDOME.
IT'S REALLY KEY BEING ABLE TO SEND OFF EMAILS WITH YOUR IDEAS AND HAVE
MUNT VALIDATE OR GIVE YOU NEW DIRECTIONS TO GO.  IT'S A GREAT SERVICE
IF YOU WANT TO WIN AND NEED SOME HELP.
FANTASY BASKETBALL IS RIGHT AROUND THE CORNER AND I JUST SIGNED UP FOR
THE VIP THAT INCLUDES THE LIVE DRAFT HELP.  I CAN'T WAIT FOR IT.
THANKS MUNT!
– MUNHO
I AM A FANTASY FOOTBALL JUNKIE.  I RUN A 10 TEAM LEAGUE AND I'M ALSO IN A MONEY LEAGUE ON ESPN.  WITH THE HELP OF MUNTRADAMUS USING HIS VIP #3 SERVICE, I AM UNDEFEATED @ 4-0 IN BOTH LEAGUES SO FAR.  HIS KNOWLEDGE & INSIGHT INTO WHO TO START/SIT & WHO TO PICKUP ON THE WAIVER WIRE IS 2ND TO NONE.  HIS AVAILABILITY VIA EMAIL EVERYDAY GIVES ME THE EDGE I NEED.  WORTH EVERY PENNY!
KEVIN
PLANTSVILLE CT
JON H.
(0-2) BEFORE VIP.  (2-0) SINCE VIP.
THE PAST TWO FOOTBALL SEASONS I WAS HITTING ESPN FOR FANTASY
ADVICE LIKE IT WAS BLACK-TAR HEROIN. I WAS DOWN, LIVIN' ON THE STREETS
IN MY LEAGUE, BEGGING FOR POINTS SO I COULD JUST GET TO MY NEXT
MATCH-UP WITHOUT THE FANTASY-SICKNESS. THEN I FOUND MUNTRADAMUS AND MY
LIFE CHANGED. HE INVITED TO ME GET HELP AT THE BEASTDOME VIP CLINIC.

THERE I GOT ONE-ON-ONE TREATMENT FOR BEING A RANKINGS SLAVE. HE SHOWED
ME HOW TO LIVE MY LIFE NOT IN THE DARK DEPTHS OF THE WAIVER WIRE. HE
WAS THERE TO ANSWER ALL MY QUESTIONS WITH HIS EXPERT ANALYSIS AND PUT
MR. ROTO IN THE BACKSEAT. I TOOK BACK CONTROL OF MY FANTASY TEAM
THANKS TO HIM, I HAVE PURPOSE NOW, I NOW TRASH-TALK THE REST OF MY
LEAGUE EVERY WEEK TILL THEY START TO DRINK TO MAKE THE SHAME I INFLICT
ON THEM GO AWAY. I'M IN THEIR HEADS. FANTASY FOOTBALL HAS NEVER BEEN THIS FUN.
WELCOME TO THE BEAST DOME, NO NEED TO LOOK ELSEWHERE FOR YOUR FANTASY NEEDS. I STARTED MY FANTASY FOOTBALL SEASON 0-2, THEN I FOUND THE DOME! NOW I OFF TO A 2-0 WIN STREAK AND EVERYONE IN MY LEAGUE IS FEARING ME. WAIVER WIRE ADDS, BEAST/BUST, AND BUY LOW/SELL HIGH ARE MY FAVORITE POSTS. AFTER A FEW BLOCKBUSTER TRADES, NO ONE IN MY LEAGUE WANTS TO DEAL WITH ME ANYMORE AS THEY FEEL I AM GETTING TOO POWERFUL. MUNT IS HERE TO INFORM YOU, GIVE YOU GUIDANCE, AND MAKE YOU LAUGH. PAY THE MAN, AND YOU WILL DOMINATE YOUR LEAGUE, I PROMISE. A VERY CHEAP PRICE TO PAY.
– HAN N.
THE BEAST DOME VIP PACKAGE HAS ME AT 4-0 THIS YEAR! AFTER STARTING 0-4 LAST YEAR IT HAS REALLY HELPED TO HAVE MUNT'S ADVICE. IT'S AGAINST THE NORM, ITS CUTTING EDGE, IT'S LIGHT YEARS AHEAD OF ANY OTHER COOKIE CUTTER ADVICE YOU WILL FIND FROM THE OTHER SO CALLED "PROS." ONLINE OR ON T.V. THE V.I.P PACKAGE IS THE WAY TO GO. HE ANSWERS ALL QUESTIONS VERY THOROUGHLY AND IN A TIMELY MANNER. THAT'S THE BEST PART, YOU HAVE A QUESTION? SEND AN EMAIL AND MOMENTS LATER YOU HAVE YOUR GAME CHANGING ANSWER…. EVERY WEEK HE WILL GIVE YOU ADVICE ON WHAT FA'S TO PICK UP, WHAT TRADES TO OFFER UP… AND PREFORM COMPLETE SURGERY ON YOUR LINE UP TO PUT YOU IN LINE FOR ANOTHER DOMINATING W. IF YOU LIKE HIS SITE, YOU WILL LOVE THIS CUSTOM EXPERIENCE. HE HAS A CUSTOMER FOR LIFE!
   -SPACEMAN
BEASTDOME.COM
 HAS BEEN MY SOURCE FOR GREAT FANTASY BASEBALL ADVICE ALL SEASON LONG. I HAVE THE SITE SET AS MY BROWSER HOMEPAGE, AND READ THE VARIOUS DAILY BASEBALL ARTICLES RELIGIOUSLY. WHEN MY TEAM STARTED STRUGGLING LATE IN THE SEASON I DECIDED TO SIGN ON FOR BEASTDOME VIP # 3. FROM DAY ONE OF VIP, MUNTRADAMUS HAS BEEN INCREDIBLY DEDICATED TO HELPING ME WIN MY LEAGUE. I NEVER EXPECTED THIS LEVEL OF DEDICATION. HE KEEPS AN EYE ON MY TEAM AND GIVES ADVICE EVEN BEFORE I'VE SENT HIM EMAILS ASKING FOR ANY. I DON'T THINK HE EVER SLEEPS! I HAD AN INSANE WORK SCHEDULE AT THE END OF THE SEASON, AND WASN'T REALLY ABLE TO FOLLOW MY TEAM IN DEPTH. WITHOUT HAVING TO ASK FOR EXTRA HELP, MUNTRADAMUS TOOK THE INITIATIVE AND PRETTY MUCH MANAGED MY TEAM FOR ME. THIS WAS A CRUCIAL POINT IN MY TEAM'S SEASON. DURING THE FINAL TWO WEEKS, MUNTRADAMUS HAD A PLAN OF ATTACK FOR MY TEAM. HE HAD ME FIELD A TEAM WITH MOSTLY SPEED GUYS SO I COULD GAIN SOME GROUND IN STOLEN BASES….AND IT WORKED! I WOULD NEVER HAVE THOUGHT TO SLOT IN EVERTH CABRERA OVER JOSH HAMILTON!! MUNTRADAMUS TAUGHT ME THAT SOMETIMES THESE EXTREME STRATEGIES ARE WHAT IT TAKES TO WIN. 
WITHOUT "MUNTS" HELP, MY TEAM WOULD NOT HAVE BEEN NEARLY AS COMPETITIVE TO THE FINISH. HAVING HIM THERE TO VALIDATE MY FANTASY BASEBALL IDEAS ALONE WAS WELL WORTH THE MONEY SPENT ON THE VIP PACKAGE.HE WENT ABOVE AND BEYOND THAT, AND SHOWED A GENUINE INTEREST IN SEEING MY TEAM SUCCEED. I CAN'T WAIT TIL NEXT SEASON WHEN MUNTRADAMUS HAS MY BACK DURING MY DRAFT! I WILL BE A BEASTDOME VIP IN 2013!!!
-FAIRBALLS
Alfred –I was betting on Muntradamus safe games every night and was making good money.  But I decided to try out the V.I.P #4 to see if there was real potential.  
The Muntradamus Parlay's were the craziest most exciting thing to happen to my life.  Bro you have no idea how many nights I had such little stress with all the blowout games Muntradamus was able to find on a nightly basis.  Over/Unders were nearly automatic, and even on the upsets he hit way more than 50%.  Parlay all these crazy combos together, I turned $100 into $1100 in One Week.    
I don't even watch Baseball, but of course I signed up for baseball.  So far so good my friends, I recommend trying him out with his Free 1 Day Trial.
Thanks for turning me into a clueless fantasy baseball player into someone that can actually compete.. my roster went from looking like a dead last lock to competing for playoff spots in just a few weeks. I enjoyed all the past basketball insight as well and continue to look forward to the football season. Keep up the great work Muntz
– Boom
-Jermo
Muntradamus is for real! Every since I started following this site I have consistently been in the money in daily contests. Also, his predictions are almost always right. If he tells you a player is about to go beastmode, chances are he is. I cant wait for football season with muntradamus is my corner, its game over!
BEST Fantasy Website by far!!!….Muntradamus's Daily Ranking and insight has always saved me countless hours of research but it was until I started asking for help that I realized how invaluable the Beast Dome site really is. Muntz is available through the live chat to answer specific questions and will even help evaluate your team. My only complaint is that I didn't ask earlier. The live chat forum is also a great place to meet and seek advice from other more experience players. Beast Dome has taken my middle of the pack Fantasy Baseball Team and has provided me the information to make a run for the top. I'm looking forward to the Fantasy Football season. The FREE information already provided on Beast Dome and Muntz's one on one advice is more than I ever received from paying for a draft package from another site. Thanks again for all your help!!!!
I wanted to give Muntradamus a huge shout out. This is my first year playing fantasy baseball and I was absolutely clueless! I discovered BeastDome on the second or third week of the year and it has been a game changer for me and my team. I now visit the site daily to help me with my lineup decisions. Muntz's advice is dead-on and nine times out of ten published before the other sites. His waiver wire recommendations and player ranking articles are excellent. I can't thank Muntz enough for his help over this past year. I am currently in first place in my division and looking ahead to the playoffs. It ABSOLUTELY BLOWS ME AWAY how helpful and responsive Muntz is to the BeastDome Nation. The fact that he takes the time to look at your individual team and waiver wire is AMAZING! You can not get that anywhere else. Thanks Muntz!!!
had my best day on draftstreet thanks to munt yesterday. came in with a 75 dollar bankroll and with his knowledgei am now over 200. i won a 2$ pick em gpp for 85 dollars and numerous 5 dollar leagues. Thanks for all great picks yesterday. There is no better at helping you with your daily fantasy lineups then BEASTDOME. thanks again Munt. i will b on here everyday.
Thanks for the help! I won every league that i entered last night with his advice. His blogs and info are by far the best out there. He even helped me out in one of my just for fun espn leagues. I won about 100 bucks last night using the info he provided. I will be coming back. I can use all the NFL help i can get lol. Thanks again MUNT! BEASTDOME POWER lol.
MUNT your site has helped me through out the season's in my fantasy leagues. Love all the hard work you do for us! You must get no sleep updating the site everyday.Much appricated for the hard work you do thanks again!
I just want to say thanks Muntradamus, you will never know how much you've helped me all season long. When I first came to this site, it was just to gather some help and move on. I never knew I would stay around all season. Every week, there was new info for me to use in all 5 of the leagues I played in. Then there were those timeless one on one times when you suggested a player that turned out to be a beast all season long. And even when you didn't answer my question, your suggestions to others helped me. You know your stuff man, lol. I also want to thank all the members, Beast Dome Nation, namely Blue, who also helped me a lot. And now that my baseball season is or has come to a end, it's on to Football, and you've haven't missed a beat there either. So, thanks again. I ended the season with 2 Championship teams and 3 – 2nd place teams. In one league I was in first place since week 5 and stayed there all season long. That's how much you info helped me. Not to many people can go through a season like that, IMO. So, thanks dude, you are the man. May you continue to be successful and I'll definitely be here soaking up all your wisdom. God Bless you, and thanks again.
-REV
-HARRY
Wow I don't even know where to begin haha. This was my first season playing fantasy basketball with my friends. It was a 14 team league so you would imagine that pickups are limited and tough to come by, yet I was able to stay ahead of the game thanks to Beastdome. I came across BeastDome through a random web page one day and I found the information helpful enough to bring me back the next day. Eventually I came to check everyday and it made a huge difference in terms of putting me one step ahead of the competition. Predictions, trends before they trend, injury updates, game reviews and summaries, everything you needed to be successful was all located here.
I was able to pick up quite a few successful waiver wire players such as Lin, Pekovic, Brooks, and especially Dragic throughout the season and this really helped me position myself for the playoffs(1st seed,Otherwise I would have lost). Whenever my players got injured, or when I needed reassurance on a trade, Munt's advice was exactly what the doctor prescribed. I had the best team by far in my league, and even after injuries to critical players such as Rubio, Pekovic, Brooks, and Drose who only played 1 game throughout the whole playoff for me, I was still able to win my championship through the advice of Munt and his waiver wire.
All in all it has been a great experience for me playing fantasy and winning it all in my first season, and I definitely couldn't have done it without the help of Muntradamus and Beastdome.Thank you for the great advice throughout the season and thank you for helping me win my championship!
P.S. Expect to see me back next season to protect my title haha
not gonna lie i made some beautiful moves this year to win my league, and a lot of my moves this year were guided and developed through your advice, much respect. you would have been proud of my managing i swooped dragicklaythompsonseraphin and lesterhudson for key games in the playoffs, it was def one for the books. back to back ships in my first two yrs goin for a three peat next yr!!! anyway thanks munt keep doin ya thang, much love
-DropDimes
-Brendan
I only started looking at your site past mid way through the basketball season so my team was pretty much bad. This was my first year watching basketball and I did some bad trades that hurt my team. Ever since I started taking your advice I jumped 5 spots in the standing to the 2nd seed where i got a bye. The trade deadline passed so my team wasn't great. I ended up losing in the second round but your advice definitely was the reason I even made the playoffs. My draft was terrible too so thanks for giving me great advice and making it super easy for me to get that advice. I'm doing baseball now so I plan on taking all of your advice to get me a championship. I enjoy all the articles you post and hope you keep on going because it is really helpful. thank you!
– SCREAM
Hello Muntradamus,
Firstly, I would like to forewarn everyone that I will be writing a rather lengthy post in my appreciation to the number one fantasy professional for fantasy sport's analysis. Making that bold statement, I shall back it with an immense amount of evidence of my fantasy basketball team. To briefly mention Fantasy football, I partook in my very first fantasy sport-not really knowing much about players. After learning from Muntradamus's articles day in and day out, he allowed me to pull up a 13 to 2 (Win to Loss) season in a H2H "raw score fantasy" 8 person league for Fantasy Football. My Fantasy Football testimonial may be found here under Garrett: http://www.beastdome.com/maddenarena-testimonials-week-16-fantasy-football
Now onto the more pertinent sport at hand, Muntradamus assisted me from the very first day of Fantasy basketball season as shown within his first article on guards:http://www.beastdome.com/fantasy-basketball-rankings-guards (under Garrett)
After winning my Fantasy Football league, I decided to join a friendly 8 person H2H "raw score fantasy" league for Fantasy Basketball. Extra note, I was not present for either snake drafts and happened to obtain first pick in both luckily. Here was my team from after the draft: Tyreke Evans, Andre Iguodala, Kevin Durant, Dirk Nowitzki, Marc Gasol, Jason Kidd, Carmelo Anthony, Nene, Andrea Bargnani, Tyson Chandler, Channing Frye, Marcus Thornton, and Antawn Jamison. From the getgo, Muntra discussed how Jason Kidd and Andre Iguodala would lose value as the season would progress which was true with their slumps. Although I dropped the almighty Tyson Chandler (whom was unpredictable at the time) for Toney Douglass, I made up for it later on with your trade advice and strategic trend watching. Honestly, I did not even know what UTIL mean't at the start of the season as shown in:http://www.beastdome.com/fantasy-basketball-rankings-forwards (under Garrett)
Without a doubt, I would have been hopeless without Muntradamus' amazing guidance throughout the year and defining of basic terms as well. Even more, I would like to make a shout out to Sir Fantasy Drake for his great articles on "Buying High and Selling Low" and "Fantasy Basketball Trade Market". Also, thanks again Muntradamus and SFD for the trading advice on giving up Dirk Nowitzki ( during his slump) for Pau Gasol (whom was heating up), trading Kevin Durant for the almighty MVP LeBron James, taking a risk with giving Andrea Bargani and Carmelo Anthony for Kevin Love, picking up Ricky Rubio at his hot streak, Carlos Boozer for Greg Monroe, Pau Gasol for LeMarcus Aldridge, Marc Gasol and Kyrie Irving for Dwight Howard, and so forth…
Here is my dream team at its peak: PG Deron Williams SG Dwyane Wade SF LeBron James PF Kevin Love C Dwight Howard G Kyle Lowry F Dirk Nowitzki UTIL LeMarcus Aldridge, Greg Monroe, Carmelo Anthony Bench: Ricky Rubio, Isaiah Thomas, and Kevin Martin AND DEVELOPED INTO PG Deron Williams SG Dwyane Wade SF LeBron James PF Kevin Love C Dwight Howard G Ty Lawson F Dirk Nowitzki UTIL: Greg Monroe, Carmelo Anthony, LeMarcus Aldridge Bench: Antawn Jamison, Rodney Stuckey, Nikola Pekovic (right before playoffs). Then during playoffs, my team deteriorated due to injuries and rest days; thus, M came to the rescue with daily waiver wire articles and chat box advice before major games were played. To give you an idea, check out this link:http://www.beastdome.com/fantasy-basketball-daily-rankings-411 ANDhttp://www.beastdome.com/fantasy-basketball-daily-rankings-416 ANDhttp://www.beastdome.com/fantasy-basketball-final-countdown-waiver-wire-championship (under Scream this time) . When it came down to the line, I won the Championship with a 13-1 (Win to Lose rate). Thus, I clearly only loss one matchup by a mere couple points, and won the majority with this pro's help. Here is my league to check out the year: http://games.espn.go.com/fba/scoreboard?leagueId=35445&scoringPeriodId=107 Moreover, you really cannot go wrong with this amazing professional "official" analysis expert just look: http://www.beastdome.com/muntradamus-update-official-fantasy-expert … He is truly a remarkable person whom benevolently will help anyone at any given time. Join the chat box for even faster responses as well. To give you an idea of how many of my posts that received comments from Muntradamus, read all of the following…http://www.beastdome.com/fantasy-basketball-rankings-guards
http://www.beastdome.com/fantasy-basketball-rankings-forwards
http://www.beastdome.com/fantasy-basketball-daily-show-week-1-dec-25th-jan-1st
http://www.beastdome.com/weekly-fantasy-review-nba
http://www.beastdome.com/fantasy-basketball-trade-market
http://www.beastdome.com/weekly-fantasy-review-nba-vol-ii
http://www.beastdome.com/fantasy-basketball-daily-show-week-3-jan-9th-jan-16th
http://www.beastdome.com/fantasy-basketball-trade-market-week-4
http://www.beastdome.com/fantasy-player-update-prt-2
http://www.beastdome.com/fantasy-basketball-daily-show-week-4-jan-16th-jan-23rd
http://www.beastdome.com/question-week
http://www.beastdome.com/fantasy-player-update-prt-2-week-5
http://www.beastdome.com/fantasy-basketball-daily-show-week-5-jan-23rd-jan-30th
http://www.beastdome.com/fantasy-basketball-pu-week6
http://www.beastdome.com/fantasy-basketball-daily-show-week-6-jan-30th-feb-6th
http://www.beastdome.com/fantasy-basketball-rankings-centers-feb-march
http://www.beastdome.com/fantasy-basketball-rankings-forwards-feb-mar
http://www.beastdome.com/muntradamus-fantasybasketbal-player-update-prt-1-week-7
http://www.beastdome.com/muntradamus-fantasybasketball-player-update-prt-2-week-7
http://www.beastdome.com/fantasy-basketball-daily-show-week-7-feb-6th-feb-13th
http://www.beastdome.com/fantasy-basketball-daily-rankings-week-7
http://www.beastdome.com/fantasy-basketball-waiver-wire-week-7-week-8
http://www.beastdome.com/fantasy-basketball-trade-analyzer
http://www.beastdome.com/fantasy-basketball-player-update-part-2-week-8
http://www.beastdome.com/fantasy-basketball-daily-show-week-8-feb-13th-feb-20th
http://www.beastdome.com/fantasy-basketball-rankings-forwards-march-april
http://www.beastdome.com/fantasy-basketball-daily-show-week-11-mar-5th-mar-12th
http://www.beastdome.com/muntradamus-update-official-fantasy-expert
http://www.beastdome.com/fantasy-basketball-daily-show-week-12-mar-12th-mar-19th-2012
http://www.beastdome.com/fantasy-basketball-daily-rankings-week-13
http://www.beastdome.com/fantasy-basketball-daily-show-week-13-mar-19th-mar-26th
http://www.beastdome.com/fantasy-basketball-week-14-waiver-wire-playoffs
http://www.beastdome.com/fantasy-basketball-daily-rankings-411
http://www.beastdome.com/fantasy-basketball-daily-rankings-416
http://www.beastdome.com/fantasy-basketball-final-countdown-waiver-wire-championship
http://www.beastdome.com/fantasy-basketball-championship-replacements-vol-ii
Therefore, he truly cares about his community and would do anything to promote your team in the most positive way. Also, an update on my fantasy baseball team, I am now 2-0 at the moment in a 14 person H2H "raw fantasy score" league. (2nd place). Follow M's guidance, and you will not be let down. I most definitely recommend him to anyone desiring a legit analysis (Plus, he is doing this all for free!). Wonderful person, Knowledgeable articles, BEASTDOME will not let you down! Join Today!
Kind Regards,
Scream, otherwise known as Garrett
– BLUE
All you can ask for regarding fantasy advice is for someone to back up said advice with words that make sense to you so that you can make a decision that is right for you in a given moment. I'm only starting to get to know Muntradamus (Muntz) and he is already my most trusted fantasy advisor…period…and this is just with being on the BEAST DOME chat boards for about a week. He helped me win my fantasy basketball season. I will admit, I was in pretty good shape to win heading into this final week BUT I did not have to do all the work trolling around the internet to tidbits of advice, Googling here and Googling there. Right now and in the future, whenever I have a fantasy dilemma, in any sport, I know where to go to help me pull the trigger on a deal or a transaction. I must say what I like most about Muntz thus far, and I hardly know him, is his willingness to help, when he can (and I can't believe how much he makes himself available) but more so that he'll tell you like it is. He'll call it like he sees it, backing it or up with facts and with gut. He's not wishy washy or apologetic. In the end we all make our own decisions and regardless of how those (fantasy) decisions may or may not turn out, I feel that Muntz will be with you in the morning to help with: "OK, what do I do next?"…and that speaks volumes to me. Keep it up Muntz and I am looking forward to winning all of my fantasy leagues (or at least being in a position to win them…lol) for years to come. Thanks Muntz!
-JHILL
Muntradamus got me to the finals. Hands down. I don't want any of my friends to ever find out about him or BeastDome.
-REV
Hello Muntradamus,
I want to personally thank you for this site and your timely advise given everyday. Because of your advice I took a struggling, injury ridden team from the basement to the championship! I started reading your post one day, and making some moves and my teams started to turn things around and becoming winners. This didn't just happen in one league, but I played in 3 and I finished 1st, 2nd and 3rd in them. And if I would have made moves earlier, when you suggested them, I would have won the others as well. But it's all good, I'll get all 3 next year. So thank you. And as I move on to a championship in baseball. I will be taking your advice more often, like right now, lol.
Thank you again
Da Champ – RevClyburn
-Raul
Team: Light It Up (Yahoo Fantasy Basketball)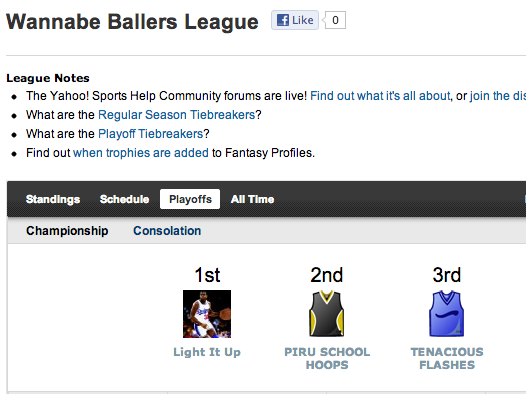 My only regret in using the VIP #3 package was not signing up earlier! I could have used Munts expert advice during my draft. But, as advertised, Munts still came through with all the early waiver moves (see Lillard, Damian & Sanders, Larry) to strengthen my team early in the season. When playoffs were creeping closer I had ALOT of injuries and Munts kept me calm through the storm. He advised me not to hit the panic button, and gave me some key players to add, like Bradley Beal (who helped my secure the 2 seed and a bye week) before they were "espn" hot players to add. When playoffs were right around the corner, Beal had gone down to injury, and Munts emailed me (before I reached out to him) and advised me to pick up the fantasy playoff waiver MVP Tobias Harris. By the time playoffs had come around my team was solid and ready to dominate! And dominate I did! My team was "LIGHTING UP" the stat sheet and all I could think was THANK GOD I wasn't too cheap to donate a small amount for such great advice! This was my first time using a VIP service and I will definitely be using VIP again! Not only for basketball but football as well. I'm not a big follower of baseball, but with Munts expert advice I honestly feel I can win without knowing much about the sport. DO NOT HESITATE on signing up, Munts is the real deal to say the least! Thanks again Munts! Appreciate your service and timely responses! A whole year of bragging rights for me!
You definitely helped calm a weary mind. Thank you for your advice. It was solid… I loved the benching CJ2K in favor of Bell. It certainly goes against what we want to believe, but you're able to put that aside and your gut instinct is pretty spot on. Thanks again for taking the time to respond to desperate people!! I have bookmarked you for next year as well.
I gotta give credit where credit is due – Your advice helped me navigate the playoffs to collect the championship by one point, even though I got a a big fat zero from Tony Romo and had to go against Brees, Colston & Turner last night. Based on your comments and rankings, I benched Blount & A.Brown in favor of K.Bell & D.Bowe. Made a huge difference. Keep up the good work. I'll be stopping by for pre-draft prep in 2012. I have bookmarked your site for next year.
Thanks for your advice last week smith helped me out a ton!
Will you be available for advice for week 17? My championship is week 17 and I'd love for your opinion on a few things! Have 400 on the line. Hope to see your 17 rankings soon and get your opinions!
Hope you had a splendid christmas!
Thanks for the advice. I went with Kahlil Bell, Kevin Smith, and Dez Bryant over CJ2K and Hakeem Nicks per your advice. I am down 10 points with Kahlil Bell tonight (christmas night) and John Kasay tomorrow on MNF. It's a ppr league so I am hoping to pull this out. $300 on the line. Thanks again, I probably would have went with CJ2K and Hakeem Nicks without your advice and be down nearly 30 points instead of 10.
UPDATE: Kahlil Bell got me 19 tonight, and I walk away with $300 and my first league championship!
I FOUND MUNT'S BEAST DOME EARLIER THIS YEAR DURING THE BEGINNING OF THE FOOTBALL SEASON. IT WAS MY FIRST FANTASY SEASON AND I DIDN'T KNOW MUCH ABOUT IT- I STARTED LOOKING AROUND THE WEB FOR FANTASY ADVICE/RANKINGS/INFO AND IT WASN'T LONG BEFORE I REALIZED MUNT WAS JUST ABOUT THE BEST GUY OUT THERE. I SIGNED UP FOR HIS VIP SERVICE AND HE HELPED ME TURN BOTH OF MY MEDIOCRE TEAMS INTO WINNING TEAMS THAT MADE THE PLAYOFFS. HIS LEVEL OF ATTENTION, AND HIS PASSION FOR FANTASY SPORTS IS ONE YOUR NOT LIKELY TO GET ANYWHERE ELSE- SO MUCH SO THAT HE'S ALREADY GOTTEN ME ADDICTED TO FANTASY BASKETBALL THRU HIS VIP SERVICE AND IM SURE HELL GET ME JUST AS EXCITED ABOUT BASEBALL SOON. THE SCREENSHOT REALLY SHOWS IT ALL – MUNT IS AN ABSOLUTE BEAST AND HE HAS YET TO LET ME DOWN.
-BROSEPHSTALIN
OVER $2,000 WON FRIDAY.
-EMGE
MUNTRADAMUS' RANKINGS ARE AN AMAZING TOOL FOR DAILY FANTASY PLAYERS.  THE FIRST DAY I LOOKED AT HIS RANKINGS MADE A HUGE IMPACT IN MY LINEUPS.  I WAS DECIDING BETWEEN 2 PLAYERS, WHEN I LOOKED AT HIS RANKINGS, I WENT WITH THE ONE HE HAD RANKED HIGHER, AND IT MADE A HUGE DIFFERENCE.  I WOULD HAVE SCORED ABOUT 30 PTS LESS WITH ONE PLAYER DIFFERENCE.  HE HAD PAUL PIERCE RANKED HIGHER THAN GEORGE PAUL, AND ON A NIGHT WHERE ABOUT 50% OF ALL PLAYERS HAD GEROGE, I HAD PIERCE, AND PIERCE OUTSCORED GEORGE PAUL BY 26 PTS.  I THINK MAYBE ONLY ABOUT 10% OF PEOPLE HAD PIERCE WHO WAS $100 CHEAPER THAN GEORGE.  THAT ALONE HELPED ME FINISH IN TOP 10 IN ALL TOURNAMENTS, INCLUDING 4TH & 7TH IN DFBBC FOR $400+,  I WOULD HAVE FINISHED 126TH AND OUT OF THE MONEY WITH GEORGE.  HE ALSO HELPED ME FINISH 2ND IN THE NBA SLAM FOR $620 AND 4TH IN THE NBA SWISH FOR $250.  NEEDLESS TO SAY MY TEAMS WERE A BEAST THANKS TO BEAST DOME!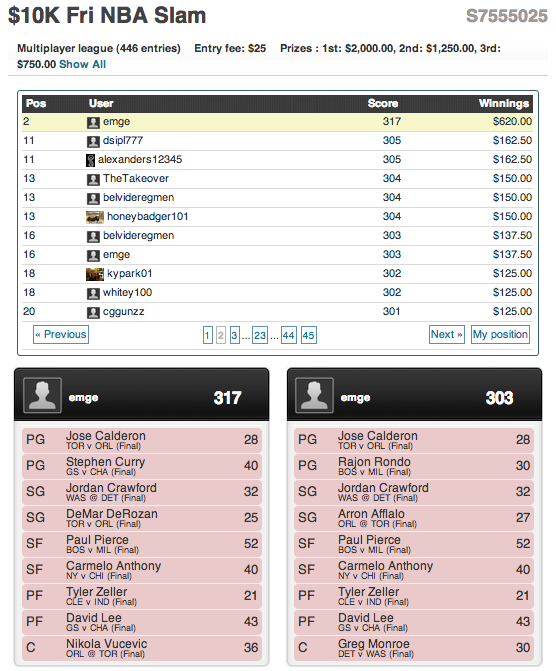 GARRETT
Dear everyone,
Muntradamus, really knows his information when I comes to Fantasy! From assisting me in winning my small league Fantasy football to currently now helping me with Fantasy Basketball pickups, he truly is knowledgeable about everything sports related. Thanks again for allowing me to have a 13 to 2 (Win to Lose) streak from your enlightening advice week to week in Fantasy Football. Looking forward to my Fantasy basketball league with his expert advice. You will not find a better site than this one! Much appreciative!
Kind Regards,
Garrett
-Mike aka GOWARRIORS
Looking to dominate fantasy sports, make money and be the envy of your friends? Well luckily you have found Muntradamus, the best fantasy expert I have ever seen. He sees moves months before other experts and with his help you have a great shot of winning any type of draft. 
Like baseball? Well he called Ellsbury, Rosario, Chris Davis and dozens of names that I could think of LAST year in his articles, not to mention all the correct sleepers from this year. Daily leagues? Too easy! Basketball? Yep, on day one of the season we drafted Batum, Ibaka, Harden, LeBron, David Lee, Klay Thompson and Damien Lillard. Did you, and have 20 roto points more than the next highest team for the season? I doubt it. To sum it up, look no further, Munt is the best of the best and you would be lucky to have his help.
Did I mention last year I hadn't played any fantasy sports at all?  Well I won competitive seasonal and daily championships in MLB, NBA and NFL. And I won $125 in a daily league one random day, just by waking up and plugging in one of the many killer teams Munt has help me make. I would not be a fantasy beast today if it weren't for his help.
Every day the site has amazing content. Want proof? Look at the images
-AJB
SINCE OPENING NIGHT OF THE NBA SEASON I HAVE PLAYED ON STARSTREET WITH VERY LITTLE SUCCESS DUE TO MY LACK OF KNOWLEDGE.  FOLLOWING MUNTRADAMUS DURING THE FOOTBALL SEASON WITH SUCCESS I GAVE HIM A CHANCE TO PROVE HIMSELF FOR BASKETBALL.  1 DAY AND I'M CONVINCED TRUSTING IN HIS SERVICE IS THE BEST THING FOR ME AND MY $.  ITS SO EASY, JUST SIT BACK AND WAIT FOR HIS EMAIL ENTER MY TEAM AND REAP THE REWARDS.  THANK YOU MUNT!
..I HAVE SO MUCH CONFIDENCE IN MUNTS THAT I AM GOING TO BE PLAYING FANTASY BASKETBALL THIS SEASON THROUGH HIS SERVICE WITHOUT EVER PLAYING FANTASY BASKETBALL BEFORE…
JDS
"AS YOU CAN SEE FROM THE SCREENSHOT, A PRETTY DOMINATING WEEK. HAS EVERY WEEK BEEN THIS WAY? NO, BUT THEY DON'T HAVE TO BE – PLAYING IN THE 50/50 GAMES, ALL WE NEED IS TO FINISH IN THE TOP HALF TO DOUBLE UP. AND THE GREEN NUMBER IS CLEAR – WE HAVE HAD SUCCESS. HIS LINEUPS HAVE WON FOR ME 7 OF 9 WEEKS – I ONLY WISH I HAD STARTED WITH HIM EARLIER IN THE SEASON.
AS LONG AS MUNTS IS HELPING, I'M DONE WITH TRADITIONAL LINES AND GAMES…THIS HAS BEEN PRETTY EASY. HE PICKS THE LINEUP, YOU ENTER THE GAMES AND AMOUNTS, THEN SIT BACK AND ENJOY THE WINS. I HAVE SO MUCH CONFIDENCE IN MUNTS THAT I AM GOING TO BE PLAYING FANTASY BASKETBALL THIS SEASON THROUGH HIS SERVICE WITHOUT EVER PLAYING FANTASY BASKETBALL BEFORE."
JDS
AS WE ALL KNOW FANTASY FOOTBALL IS A CRUEL MISTRESS. BRINGING US BOTH EXHILARATION AND HEARTACHE ON SUNDAYS. THE '12 FANTASY SEASON DID NOT END IN A CHAMPIONSHIP FOR ME, I FINISHED A HARD FOUGHT THIRD IN A COMPETITIVE 12 TEAM LEAGUE.  WHERE AS MOST TEAMS WHEN THEY SAY THEY FINISHED THIRD, ITS WITH A SHRUG OR A BIT OF DISGUST IN THEIR VOICE.  KNOWING THAT IT WAS CAUSED BY AN OFF WEEK OR TWO DURING THEIR SEASON.  ONE PLAYER NOT SHOWING UP WHEN NEEDED.  HOWEVER IN THIS CASE.  MY TEAM STARTED THE SEASON 0-6….
LET THAT SINK IN.  0-6 IN A 12 TEAM LEAGUE IS BASICALLY REBUILD MODE. EXCEPT I WASN'T PLAYING IN A KEEPER LEAGUE.  INSTEAD OF GIVING UP. I TURNED TO MY VIP SECRET WEAPON.  MUNTRADAMUS WAS THERE HELPING ME SUPPLEMENT MY SOLID TEAM THAT WAS SPUTTERING.  EACH WEEK AFTER THAT 6TH LOSS BECAME A PLAYOFF GAME.  MUNTRADAMUS WAS THERE EACH WEEK, HELPING ME SELECT MY WAIVER CLAIMS, WITH NOT JUST AN EYE FOR THAT WEEKS CRUCIAL VICTORY, BUT THE COMING WEEK'S AS WELL.  THIS HELPED ME BEAT THE WAIVER CLAIM RUSH FOR KEY PLAYERS, SOMETIMES 2-3 WEEK'S BEFORE OTHER SO CALLED EXPERTS BEGAN TO SPREAD THE WORD. ARTICLES SUCH AS TD'S A MAKE THEM DANCE, HAD ME TRIPLE DIPPING WITH THE TAMPA BAY CREW.   ALSO SUGGESTING TRADES FOR PLAYERS WHO WERE UNDER PERFORMING AT THE TIME.  AND MOST IMPORTANTLY CLAIMING AND TRADING PLAYERS THAT THE OTHER EXPERTS WERE HYPING AS THE NEXT BIG THING IN EXCHANGE FOR CONSISTENT PROVEN PRODUCERS, IE TURNING FELIX JONES INTO JASON WITTEN.  ONE WIN, TURNED TO TWO, WHICH BECAME THREE.  THEN MY SOLID DRAFT CHOICES STARTED PERFORMING LIKE THEIR DRAFTED SLOTS. FOUR WINS IN A ROW TURNED INTO FIVE. MY TEAM WENT FROM LAUGHING STOCK, TO WORRISOME, TO PLAYOFF SPOILER, TO THREAT FOR A PLAYOFF SPOT.
BY WEEK 13, WE HAD ACTUALLY WORKED OUR WAY TO A GAME OVER .500 AND MOST IMPORTANTLY THE LAST PLAYOFF SPOT.  AND I USED THE TERM WE, BECAUSE MUNTRA HAD BASICALLY BECOME A CO-OWNER. REVELING IN EACH VICTORY AND WORKING HARDER TO HELP KEEP THE STREAK ALIVE.  WE WON THE FIRST PLAYOFF GAME AND PUT THE STREAK AT EIGHT.  AT THAT POINT MY TEAM WAS FEARED. AND THOUGHT OF AS THE 2ND BEST TEAM IN THE PLAYOFFS.  SADLY THE STREAK CAME TO AN END AGAINST THE EVENTUAL CHAMPION, LOSING BY 5.  HOWEVER WE FINISHED STRONG WITH ANOTHER WIN TO TAKE 3RD PLACE.  AFTER STARTING 0-6, I THOUGHT I WAS PLAYING FOR PRIDE, SO THE COMBINATION OF WINNING 3RD PLACE AND THE AWE AND ENVY OF MY COMPETITORS MADE THIS SEASON ALMOST AS SWEET AS A CHAMPIONSHIP RUN.  I COULDN'T HAVE HAD SUCH A STRONG FINISH WITHOUT MUNTRADAMUS.
THE VIP #1 SERVICE WAS WORTH EVERY PENNY.  I WILL NOT ONLY BE BACK FOR THE VIP SERVICE FOR FOOTBALL NEXT SEASON. BUT I WILL BE USING IT FOR THE UPCOMING BASEBALL SEASON.  THERE ARE MANY FANTASY SITES YOU CAN GO TO FOR GENERIC REGURGITATED INFORMATION, BUT IF YOU WANT UNIQUE AND FRESH ANALYSIS WITH SOMEONE THAT BUYS INTO YOUR TEAM LOOK NO FURTHER."
– MO
& SO MUCH MORE SCATTERED THROUGHOUT THE SITE.