BEAST DOME V.I.P.
BEAST DOME NATION.
Do you want the Ultimate V.I.P. Experience for your Fantasy Football/Baseball/Basketball Leagues from Muntradamus?
"TOGETHER WE WILL WIN THIS CHAMPIONSHIP" – BEAST DOME MOTTO
IF INTERESTED IN ANY OF THESE PACKAGES.  PLEASE E-MAIL [email protected]
V.I.P. PACKAGE #1 – THE MUNTRADAMUS EXPERIENCE ($50/SEASON)

Have Muntradamus Live chatting with you on Skype during your draft to give you his opinions on demand.
Get private e-mail conversations with Muntradamus about your team. Including lineup suggestions.

DOMINATE YOUR LEAGUE!
"I will personally be by your side all season long to guide you to the championship." – Muntradamus.
Here is a Testimonial from Mike G, aka GoWarriors in the BEAST DOME NATION.
"Muntradamus is amazing. I don't know any other way to put it. With the help of Beastdome.com, I went from fantasy zero to fantasy hero in one season. I literally had no fantasy experience before basketball 2012. Then I won all 3 of my standard 10 team ESPN competitive leagues! Now in baseball, my teams are ranked 1st, 1st, and 3rd.
Munt's live chat is awesome, you can bounce ideas off many other players. Munt is always here to answer your questions too. Beastdome.com is convenient and packed full of good stuff. Munt helped me do my baseball drafts live, I was asking who to pick and why. Name any other Fantasy Pros expert who will hold your hand like that! I think there are none. I used my first pick on Ellsbury (huge bust) and that team is still in first place.   It ABSOLUTELY BLOWS ME AWAY how helpful and responsive Muntz is to the BeastDome Nation. The fact that he takes the time to look at your individual team and waiver wire is AMAZING!
I highly recommend Beastdome.com to amateurs and pros alike for Daily lineups, Beasts of the week, draft help, plenty of player focuses and strategy articles. You won't be disappointed. Munt is a serious expert for football, baseball and basketball. Who else has watched every single preseason football game so far? You just can't get any better than this for a free (or even paid) site. My only complaint is that I didn't find this site earlier!"
V.I.P. PACKAGE #2 – THE DAILY MUNTRADAMUS (/Week)
*FOR BASKETBALL CHECK OUT V.I.P. PACKAGE #5*
*Football Packages are no longer for sale*
*Baseball Packages coming soon.
Want daily picks from Muntradamus on DraftStreet/FanDuel or any other platform you play on?
Muntradamus will create daily teams for you for the week for Baseball, Basketball, or Football.
Also get Daily Positional Rankings that you can only get being a V.I.P.
USE THE BEAST DOME LOGO BELOW TO GET 10% off.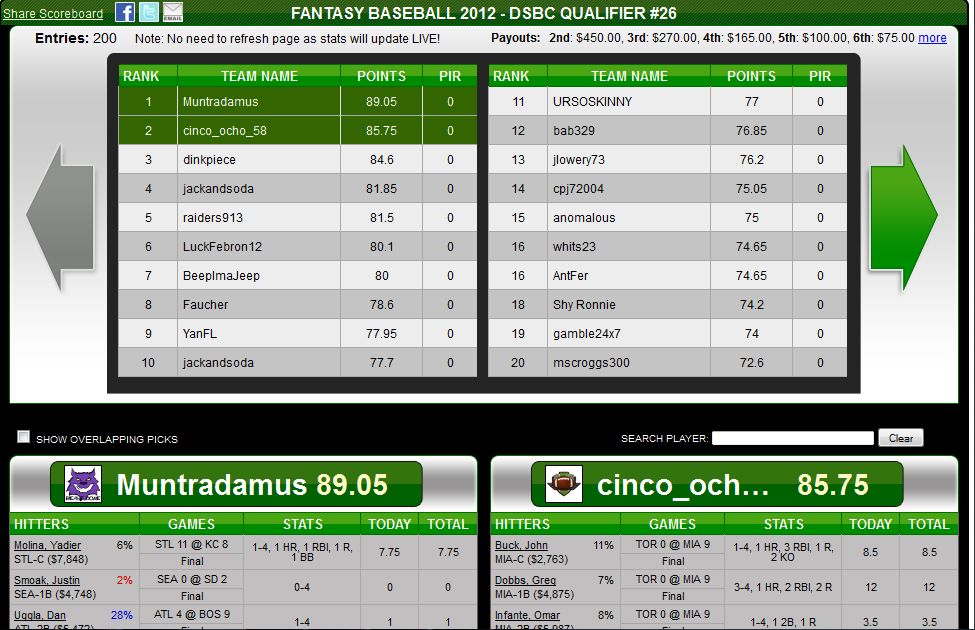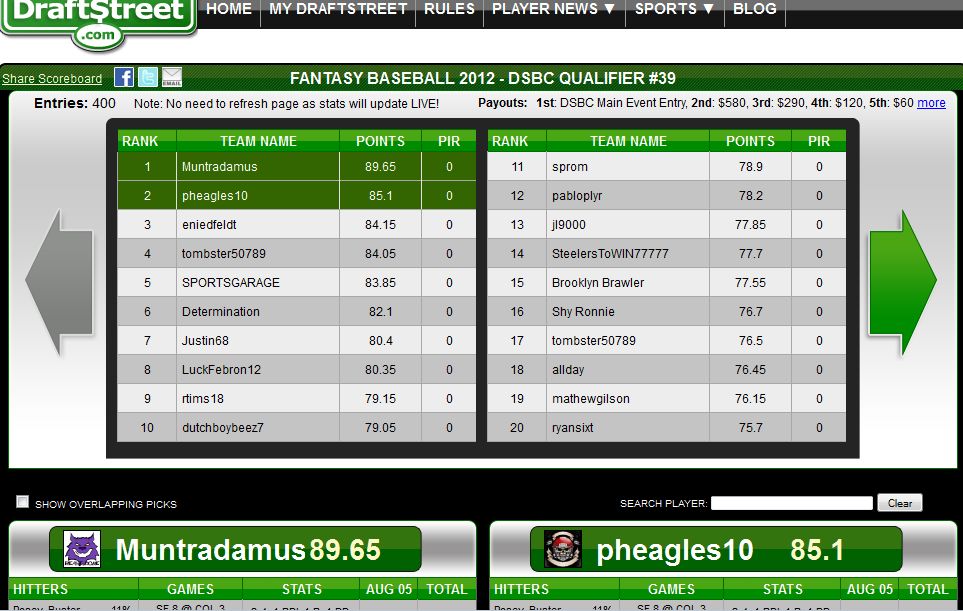 Here's a Testimonial from Nick C.
had my best day on draftstreet thanks to munt yesterday. came in with a 75 dollar bankroll and with his knowledge i am now over 200. i won a 2$ pick em gpp for 85 dollars and numerous 5 dollar leagues. Thanks for all great picks yesterday. There is no better at helping you with your daily fantasy lineups then BEASTDOME. thanks again Munt. i will b on here everyday.
Here's a Testimonial from Tommy M.
Thanks for the help! I won every league that i entered last night with his advice. His blogs and info are by far the best out there. He even helped me out in one of my just for fun espn leagues. I won about 100 bucks last night using the info he provided. I will be coming back. I can use all the NFL help i can get lol. Thanks again MUNT! BEASTDOME POWER lol.
Testimonial from Bob aka SpaBoy:
Muntradamus has been a fantasy Guru for me. I had enough with losing on Draftstreet, I decided to try one more time. I followed Muntradamus's advice and I am now winning money on Draftstreet. I also went from 4th to 1st in my yearly league. Can't wait for football now this year and use his advice to win my yearly leagues. I hope non of my friends see this or I am busted. I tell them it is all me. Lol Thanks Munts for all your advice.
V.I.P. PACKAGE #3 – THE ASSISTANT COACH ($25/SEASON)
Same as Package #1, minus the Live Draft.
Get E-mails from Muntradamus with lineup suggestions personally for your team.
Bounce Free Agent moves, or lineup moves without your opponents seeing.
Get Your Fantasy Team Reports from Muntradamus.
READ TESTIMONIALS  TO LEARN THE TYPE OF SERVICE YOU WILL GET.
V.I.P PACKAGE #4 – THE BOOKIE ($50/Day or $100/week)
If less than 50% of Picks win, you get a Free Week the next.
VIP #5 – Fantasy Basketball Gold
Option 1:
The Rankings Package which includes Daily Rankings Everyday Except For Thursday.
A) $100/Week = $16.67 a day.
B) $25/Day.
Option 2:
*With E-mail privileges.
The Muntradamus Team Package. I create a Team for you Everyday Except for Thursday. (50/50 Leagues).
A) $200/week = $33.33 a day.
B) $50/Day.
Muntradamus is a Fantasy Sports Expert who specializes in Fantasy Football/Baseball/Basketball. He is currently in his first season as a Pro on FantasyPros where he is the only expert to have Adam Dunn, Mike Aviles, and Wilin Rosario in his top 20 at each position. Muntradamus not only leads many to championships with his great advice, and outlooks into the future. He is also consistently on the top of leaderboards in DraftStreet.