FANTASY BASEBALL 2016 PREDICTING HOME RUN CHAMPION
FANTASY BASEBALL 2016
PREDICTING HOME RUN CHAMPION
By Muntradamus
BEAST DOME NATION.
Opening Day of Baseball is a feeling that cannot be matched. It is the start of a 6 month journey as you follow your BEAST players from game 1 – game 162. I will be here to be your tour guide for the MLB Season and we have a staff of 3 writers who will be focusing on topics that I want them to cover while I bring you the moves that will change your season.
MUNTRADAMUS BEAST/BUST PICKS
and TEAM BEAST DOME.
                                                   &
MUNTRADAMUS SHOW COMING MONDAY
A lot of people really wanted me to post more Fantasy Baseball Articles that could change their season.
If you followed BEAST DOME this preseason and drafted the players I highlighted, you would have stole some great value.
I also had the most dominant prediction of the preseason so far with A.J. Pollock being the worst 2nd/3rd Round pick on FantasyPros Bold Prediction before the injury.
You can click the image above to read my shade I threw on Pollock all Pre-season with my Top 5 Hitters to Avoid.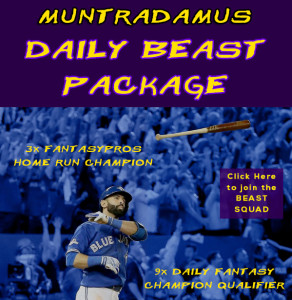 Today FantasyPros is giving me props on my 3x HR Defending Championship. Article is below, will be Featured Sunday on their site
In season long Fantasy Baseball, In Daily Fantasy Baseball. When your player hits a Home Run there is no better feeling. A Touchdown in Fantasy Football brings out a fist pump, a basket in Fantasy Basketball is expected, but a Home Run hits you like a wrecking ball.
For the past three seasons I have ranked the Home Run Champion higher than the expert field on FantasyPros. Chris Davis 2013, Nelson Cruz 2014, and most recently calling my shot in 2015 with Chris Davis. You can read the full preseason 2015 explanation in why I picked Chris Davis to lead the MLB in Home Runs when all the experts thought he was a one hit wonder.
To pick the Home Run Champions of this season I have to look at intangibles other experts do not look at. I live in Vegas and watch all the MLB Games at the West Gate Sportsbook. I know all of these players like the back of my hand, and when they are struggling, I see they are struggling in their actions. When they are hot, I enter their heat zone. Here are 6 Players I predict will be the Home Run Champion and have Ranked Higher Than Any Expert and lead me to my 4th straight Home Run Title.
MUNTRADAMUS 6 BEASTS
GIANCARLO STANTON – OF – MIA
There is nothing more underrated this off-season than the addition of Barry Bonds to be the Marlins Hitting Coach. The knock on Giancarlo Stanton is that he has no lineup protection and the Marlins Ball Park is not designed for Home Run hitters.
The Marlins not only brought the walls in this season, but they lowered the fence as well. When it comes to dealing with Lineup Protection problems, Barry Bonds is the best of All-Time as he was intentionally walked more than anyone in the history of the game yet he still hit more Home Runs than anyone in the history of the game.
Bonds is infamous for never teaching other players his secrets as a pro, with the fear that he may face that player later on in his career. Now that the Marlins are dishing out big bucks to have Barry Bonds on the roster, you can expect Giancarlo Stanton to potentially hit 60 Home Runs and still steal over 10 Bases with ease as long as he stays healthy.
You can read my full article here on why he should be the #1 Pick.
CHRIS DAVIS – 1B/OF – BAL
If you read this article you will know exactly why Chris Davis was a Bust in 2014.
With that knowledge, and his BEAST 2015 campaign where he led the Major Leagues in Home Runs with 47. It is amazing how many Chris Davis really could of had if he started 2015 Hot. Davis hit 20 Home Runs in the last 2 months of the season. If he performs at that pace for an entire season that is over 60 Home Runs for the season.
Give me a younger fresher Chris Davis in the Home Run play land in Baltimore over the aging tough AL Central Miguel Cabrera. The only player I would take ahead of Chris Davis is Paul Goldschmidt. The 20+ SB to go with the .300+ batting average is something special. While Crush Davis could easily hit 10+ Home Runs if not 15+ more than Goldy. Those other two variables cannot be passed up at a position where nobody else can.
JOSE BAUTISTA – OF – TOR
Was there a more epic Home Run in Baseball History than Jose Bautista's Grand Slam in the Playoffs. Jose Bautista is the dictionary means; a player that can hit a Home Run in any At-Bat. Fantasy Baseball and the Home Run ball is something special, and if you have a chance to get a 40 Home Run player over a guy who will steal 30 Bases, you go with the guy that will hit those 40 Home Runs and rack up those 110+ RBI Season, especially when that guy is playing in the AL EAST and is surrounded by the best 1-4 in Baseball.
Bautista hit 19 Home Runs in the last two months of the season, while knocking out another 4 in the Playoffs. If Bautista did not start out 2015 so slow with 2 Home Runs in the entire month of May, Bautista could have easily made a push as the Home Run Champion as he fell 7 short. The Blue Jays are stronger this season, and that 50 HR/130 RBI season is right there in the making.
The reason Jose Bautista is stronger than Trout this season is the fact that Bautista is in the heart of a batter order that will give Jose so many RBI opportunities as, and the ball parks he plays in are much easier than what Trout has to deal with. IF Pujols has a decline 2016 which is more than possible as Pujols get a little older, than Trout will finish with not only less RBI's, but less Runs. SB total Trout only had 3 more than Jose last season, give me up the upside of Bautista in that Blue Jay offense. Jose also stole more bases than Bryce Harper in 2015.
HANLEY RAMIREZ – OF – BOS

Before Hanley Ramirez ran into a wall trying to catch a ball in foul territory. Hanley Ramirez was the Home Run Champion as he hit 10 Bombs in the opening month of April. Last season I was all over Hanley Ramirez and made a case for him to be the #2 Pick in all Fantasy Baseball Leagues. Hanley has always had problems staying healthy his entire career. Despite only hitting 9 more Home Runs the entire season and missing the last month and a half as Hanley was dealing with a bone chip in his arm from the crash. He still was in the Top 5 of Home Runs for a Shortstop and even finished with more Bombs than Troy Tulowitzki.
This season Hanley no longer qualifies at SS, only in the Outfield. He will play 1B for the Red Sox and everyone is avoiding him like the plague. Hanley comes into 2016 100% healthy and ready to rock for a Red Sox team that is always playing for a Championship mentality. Hanley has been very aggressive on the basepaths this Spring and already stole 3 bases.
While Hanley is no longer the 1st Round Pick he once was, he is still a superstar. Experts are telling you to avoid a player that can easily go for a 30+HR/10+SB season. While I would be amazed if Hanley does lead the Majors in Home Runs, he is a Superstar that you can get for a steal price.
MARK TEIXEIRA – 1B – NYY
For the past two seasons, no expert has Ranked Mark Teixeira higher than myself. In 2014 I predicted that Teix would hit more HR than Paul Goldschmidt when FantasyPros asked for a Bold Prediction. In the end, Teix finished with 4 more Home Runs than Goldschmidt.
Teix is one of the most underrated 1B options in the game today. The guy bats cleanup for the New York Yankees and plays in a ball park that was built for him. The Right Field Fence with that wind tunnel is a larger advantage than Coors Field. If Teix wants another big pay day as he is set to make over $20 Million this year and then hit free agency. Teix will need to crush and lead the Yankees to the playoffs.
While you can always point to the injury factor with Teix, there is no question when he is healthy you will wish he was on your Fantasy Roster. Last season he was in the race for the league leaders before going down. This season you can draft him as a #17 1B according to the ECR?
MARK TRUMBO – 1B/OF – BAL
Trumbo hit 95 Home Runs in the first three years of his career. That is an average of over 30 HR/season. Trumbo going to the Diamondbacks was the worst thing for his career as he had to adjust to a whole new set of pitchers. Eventually Trumbo ended up back in the AL East for the Mariners where he was only a shade of his former self.
Now Trumbo goes to the best spot of his career and at the prime age of 30 Years Old, Baltimore. The last three seasons the HR Champion has come from Camden Yards. Mark Trumbo seems to be a mortal lock for 35+ Home Runs this season as the ball flys out of Camden Yards. The Fences are very short in that ball park and those high fly balls that would normally fall short in Seattle or Arizona, those fly balls will go 338 Feet down the left field line, and they will be too high to rob. When Trumbo goes to Boston and hits his monster fly balls to the Green Monster, they will have no problem clearing the wall. Trumbo in the AL East is a match made in heaven, do not even get me started on Yankee Stadium.
You can read my full 2016 analysis on Trumbo in this article.