FANTASY FOOTBALL: Draft Strategy (QB Position)
FANTASY FOOTBALL:
Draft Strategy (QB Position)
By Muntradamus
BEAST DOME NATION.
Hope you are enjoying the latest upgrades to the site.  There will be more made after the DraftStreet Fantasy Baseball Championship which starts Tuesday (Multi-Day Tournament).  Props to BEAST TECH for pulling the amazing feat of transforming the site.
1st Place wins $100K and Draft$treet Baseball Champion
(40 Player Field)
LIVE CHAT IN THE BEAST NATION TUESDAY 4:30pm PST
EARLY BEAST SPECIAL $75
*Package Goes to $130 after August 20th*
(Weekly Rankings 2-16 with Analysis for every selection. Muntradamus.NET)
(Ability to chat with me on G-Mail/Skype Tues-Saturday for Strategy advice)
(Special Offers only offered to BEAST V.I.P.s)
(Access to my Draft Day Cheat Sheet that I am using)
(The Ability to contact me at your Draft through G-mail/Skype if you want it. Not Mandatory)
E-Mail [email protected] if interested
JUST WANT WEEKLY RANKINGS
$10/Week (Access to Muntradamus.NET)
or
DRAFTSTREET OFFER
2013 FANTASY FOOTBALL QB 
Tonight we are going to analyze the QB position.  Remember to draft the Kicker that goes along with your QB.
If your QB fails, you will be saved.  If your QB fails on any given Sunday, you will most likely lose your week.  If you do somehow win your week without your QB, you could have had a legendary Sunday that would have your league feared.
EARLY PRESEASON QB SLEEPER/BUST
*Compared to ADP Rankings on FantasyPros*
QB RANKINGS IN TIERS
TIER 1 – Bullet Proof BEAST
Drafting one of these guys gives you a Rock Solid QB#1 every single week.  Your QB is the most important position as it is hard to win your championship when your highest scoring player (Total Points) is not among the league leaders.
I cannot imagine ranking any of these players outside of the Top 5 unless they play San Francisco or Seattle.  Even when those QBs play those teams, you can still depend on a good amount of points.  Drew Brees will be lucky enough to prove if that is true.
All three of these QBs are an automatic 4,000+ Yards/35 TDs.  With the potential for more.
TIER 2 – Semi-Automatic BEAST
This group of QB's will get the job done for you 90% of the time.  That 10% will hurt you in most weeks, but hopefully that QB/K Combo Strategy comes into play with your Roster so you won't have to deal with the hard hit.
All of these QBs are Superstars with BEAST potential.  The only reason they are not in Tier 1 is because they have something that is holding them back.   IF Cam does not run one week, while he do enough?  Matt Ryan has a Redzone Monster on his squad, will that hurt him?  Who is Tom Brady going to throw to get his 300+ Yards?  Will Stafford's weapons continue to drop TDs?
The answer to all of these questions. 
Some weeks, your draft day fear will come to life.  But not many.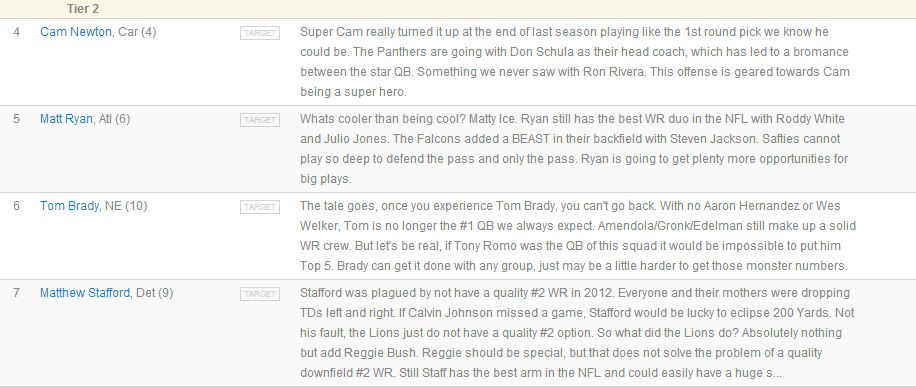 TIER 3 – BEAST OR BUST
If your QB falls in the Tier 3 Category.   You better have a dangerous BEAST squad from head-to-toe.  While these QBs can have big weeks, big enough to put them comparable to Tier 1 Players.  There will also be weeks where this group lets you down.  More weeks than you would want to count, but if you have the QB/K Combo strategy, you will likely be able to dodge the loss.  Wilson just fell out of Tier 2 with the news on Percy Harvin missing 2+ Months of the season.  Kaepernick can easily jump this group and end up in Tier 2, RGIII with a strong preseason showing will do the same.
Romo has the most to prove, but Josh Freeman looks to be the new upgraded version.  Andrew Luck will be much more conservative in 2013.  Eli Manning will be an easy Tier 2 option if Hakeem Nicks shows his health this preseason.
TIER 4 – The Backup QB
All of the QBs in Tier 4 are backup quality with the ability to perform like a Tier 2.  Most of the time these QBs will leave you with less than 15 Standard Points a game, which will not get the job done.  While you think the QB/K strategy may make sense with this group, only on the weeks those QBs will be worth something.  Justin Tucker will not be a playable option against the 49ers on any given week.
Michael Vick possibly has his last chance to be a starter, Cutler is playing for a contract, Tannehill/Rivers have big play WRs, Big Ben/Dalton/Palmer/Flacco/Schaub is the most boring 200+ Yard QBs you can ask for.
TIER 5 – Did You Really Play Him?
If at any point this season you end up playing one of these QBs.  Chances are, your team is horrible.
RB POSITION COMING MONDAY NIGHT
LIVE CHAT AT THE BEAST NATION TUESDAY. 4:30 PST
Muntradamus is a Fantasy Sports Expert who specializes in Fantasy Football/Baseball/Basketball. He is currently in his second season as a Pro on FantasyPros coming off of an impressive Rookie Campaign where he landed the #8 Overall In-Season Fantasy Football Rankings Expert.  Which also included #1 WR of all Expert Sites.  He is also one of two people to qualify for all DRAFTSTREET CHAMPIONSHIPS (MLB/NFL/NBA) in 2012. Most Historically, Muntradamus was the #1 Fantasy Football Expert of IDP & Overall Rankings in One Week, first and only time in Fantasy Sports History.