Muntradamus
The Man. The Myth. The Legend.
I am going to start with a Testimonial.  One of many, many, many, many.
*The others are all linked throughout this article*
Before 2012 I had never tried any fantasy sports. I got tempted to join a free NBA league on ESPN, and then found Muntradamus' site to get advice. I didn't know what I was doing in the draft so I ended up joining 3 free leagues. I didn't have anyone too special but by following Muntz posts over the season I was able to upgrade from the waiver wire and via trades. Well, all 3 of those teams ended up winning their championship and I don't think it was beginner's luck! I continued with 10 man leagues in MLB and NFL and won championships there as well! Fantasy sports Trifecta for a total newbie!  The quality of insight you get from Muntz is unparalleled. He is a one man army! He watches every game including preseason and is a top ranked expert on fantasy pros. The best part is he sees great moves before you would ever hear about them anywhere else, meaning you can get that clutch upgrade from waivers before your opponents. Week in and week out he puts out quality player rankings and I have been nothing short of amazed. Now I have moved on to daily sports and Muntz is helping me win money! His VIP packages are well worth the price if you want to win for sure. He sees matchups and great daily spot-starts that I wouldn't find in a million years. So far each team has scored ridiculously high. If you want to start dominating in fantasy sports I highly recommend beastdome.com – my only regret is I didn't start this all sooner!
I make Draft Guides for Each Fantasy Sport Season.
I Have over 65,000 Twitter Followers.
I have over 200 Clients who pay me for Daily Fantasy Advice.
I am creating a Daily Fantasy Baseball Game.
*Being programmed at the moment*
But if I had the chance to work in Pro Sports with some form of Scouting to eventually become a GM of a professional sports team.  That would be the main goal in my mind, and succeeding with your agency would be the Fast Track to make that happen.
Here is my story…*You can just glimpse at articles linked, no need to read the whole thing*  EXCEPT DO READ THE END
NFL 2011
It was Week 14 of the 2011 Fantasy Football Season.
I had a terrible job at a Litigation Support Company answering telephone calls all day, and one of the bosses in my company had a Fantasy Football playoff game coming up.  He asked me who to start on Monday, so I decided to give him the best option I could.
I ranked every single player with analysis on my website MaddenArena.com, which was a site where you could play Madden for Money.
Here is the article that changed everything.
By the end of the Fantasy Football Season, I had nearly 500 Visitors a day, and over 3,000 visitors during that time.
Two weeks after that I quit my job to work on my site Full-Time, especially with all the constant action in the NBA.
NBA 2012
I did articles this intense every single night of the season.
My hard work paid off instantly.  I went to a Yahoo! Fantasy Football convention in Vegas that I somehow got part of because of a random Craigslist Focus Group in LA back in 2009.
At the Event in Vegas I met up with Brandon Funston/Brad Evans, all the big Yahoo Expert names.  I told them about my site as I was talking Fantasy Baseball with them.  Before you know it I e-mail one person and I officially become part of the FantasyPros Experts to compete with all the big name Experts in the industry.
MLB 2012
*I was the only expert to have Wilin Rosario ranked in the Top 20 at catcher*
I decided that during the 2012 Fantasy Baseball Season, I had an advantage over all the Daily Fantasy Baseball Players since I am a cerified expert.
I ended up winning 2 entries in the DRAFTSTREET BASEBALL CHAMPIONSHIP.  Taking down a Field of 200 and 400 people.  Had the chance to play for $35K.
Every single day during the Fantasy Baseball Season, I predicted who would hit Home Runs and The Top Starters every single day.
2012 NFL
Did not take long for me to make Fantasy Football History.
*FANTASY FOOTBALL HISTORY. First Expert to be Ranked #1 in IDP (Defensive Players) and Normal Players in the same Week*
I then took down 1,000 people in DRAFTSTREET on Week 7 of the NFL season to win a spot at a chance to win $100,000 against 20 other people.
Then later on…
I won $7,000 in the tournament, so I took all of that money and the money I made from V.I.P. Clients to invest in my Daily Fantasy Baseball Game.
2012-2013 NBA
*I had Damian Lillard ranked higher than any Expert*
Started the season doing investment packages where people would give me $200 a Week.  And I would give them Fantasy Basketball teams.
People were making $2,000 a night with my teams.  I then ended up winning a spot in a Huge Fantasy Basketball Tournament on DraftStreet against 350 People.
I do rankings every single day, and know all the stats on every player and able to predict the outcome.
MLB 2013
Started the Daily Fantasy Baseball Circuit very strong.
1st Place in this tournament would of been a chance for $250K!
8th/1962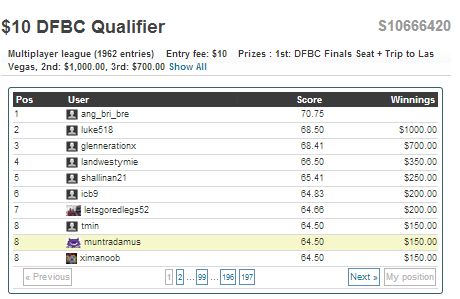 1st Place in This Tournament wins a Spot at the Playboy Mansion against 40 others, 1st place wins $70K.
Then on Sunday I finished 13th place of a 600 Person Elimination tournament that started Friday.
PLAYERS I RANKED HIGHER THAN EVERY EXPERT
CHRIS DAVIS – Leading MLB in HRs.
WILIN ROSARIO/J.P. ARENCIBIA – Leading Catchers in HRs.
CHASE UTLEY – #2 2B option in baseball right now.
Now I am starting a Hedge Fund.  Going to invest over $200 a night in Fantasy Baseball, however many people invest determine the % owned.  So far I have 6 people in, I am going to try to get 4 more and then roll with it next week.
But like I said.  I want to work in Pro Sports as a GM or Scout.  I love the Fantasy Sports game, but I know my mind is ready for the Pros.
If you want a big name Minor League Player who has yet to play in the Majors in his career.
Travis d'Arnaud – C – NYM
Travis d'Arnaud was one of the key players in the trade which sent Roy Halladay to the Phillies from the Jays.  Travis went to the Jays.
He hit 21 HRs in 2011 and showed great potential his entire minor league career, and was touted to be #2 prospect behind Bryce Harper.
Last season Travis was a good bet to take over for J.P. Arencibia (TOR) who was struggling to hit above .200 for a good portion of the season. Travis already is a catcher who can easily hit 15 HRs, and everyone believes a batting average near .300 is inevitable.
Shortly after, Travis tore his ACL and J.P. started hitting.
So Travis left the Jays to the Mets to compete with John Buck.
While John Buck is doing a great job as the Mets catcher so far this season, he is far from a future Catcher.  The Mets are not going to be competing in 2013 or 2014, and they have nothing to lose by giving d'Arnaud a full look at catcher.  Part of the reason to hold him out until June is for contract issues.
He did not make the official opening day roster, and he has never played a Major league game in his life.  June 2013 he will get his chance.