FANTASY FOOTBALL WAIVER WIRE BEAST OR BUST (WEEK 4) CHUBA HUBBARD
FANTASY FOOTBALL WAIVER WIRE BEAST OR BUST (WEEK 4)
CHUBA HUBBARD
By Muntradamus
BEAST DOME NATION.
Rondale Moore was the flavor of the week off the Waiver Wire heading into Week 3, with 7 catches and 144 yards with a TD. I told you all he was a BUST.
It took less than 7 days to prove the point after Moore finished with 2 catches and 1 yard. 1 Yard? Even a backup TE will have better games than that, and here everyone under the sun was saying he was MUST-ADD!
After Week 1 it was Elijah Mitchell that everyone told you to grab off the streets with 100+ Rushing Yards and a TD after Mostert went down. I told you he was a BUST.
He is probably back on most waiver wires already, heading into Week 4.
Now we are heading into Week 4 and the flavor of the Week is Chuba Hubbard from the Carolina Panthers because of Chrisitan McCaffery going down with an ankle. Proving once again CMC SHEEP (2020) was the wrong #1 Overall Pick.
CMC 2021 DRAFT RANKINGS FANTASYPROS
In theory, it makes sense to go after Chuba Hubbard as a low-end RB1/high-end RB2 in Fantasy in a dynamic Panthers offense that is built around feeding the RB. Last season when CMC went down, the first thing I did was call Mike Davis as someone to go all-in for as the top Free Agent Grab.
This time. I am doing the complete opposite.
Chuba Hubbard should change his name to 'Scrub'a Hubbard. The guy can catch passes yes, but he is too thin to be a quality RB in the NFL. The guy is built like 3 sheets of paper and any contact means he is automatically going down. Hubbard does not create on his own, he will only get what the defense gives him. The defense will not give him enough to be a quality RB3 in Fantasy Football while CMC is injured.
In fact, Hubbard may be back on the Waiver Wire sooner than you think, even if CMC remains injured. Royce Freeman was having an amazing preseason with the Broncos this year, almost making my Melvin Gordon pick seem like a high-risk situation.
MELVIN GORDON DRAFT RANK FANTASYPROS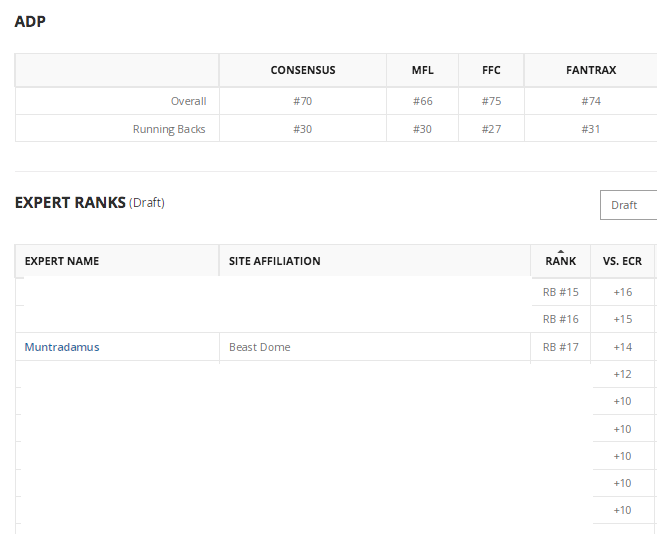 However when the Broncos moved Royce Freeman out of town, I knew Melvin Gordon was safe and I also knew Chuba Hubbard was in trouble. Well now we fast forward three weeks into the season, and that situation is now a reality. While Chuba may be the lead RB for Week 4, Royce Freeman will definitely be in the mix. Week 5 we could see Royce Freeman even be the lead RB, while Chuba plays his backup. Then in Week 6, it could be all Royce, or CMC will be ready to go.
In the end, Chuba Hubbard is nothing short of a BUST and he will add to the collection of players that are simply not worth picking up, especially as the #1 add across all Fantasy Sites in the nation.
VERDICT: BUST
WANT TO GET YOUR TEAM ANALYZED BY MUNTRADAMUS FOR $5!
WANT SEASON BEAST?
Get 4 new accounts on FanDuel with my promo code
and E-Mail [email protected]