FANTASY FOOTBALL THROWBACK BEAST DAY BEAST BROS (2014)
FANTASY FOOTBALL THROWBACK BEAST DAY
BEAST BROS (2014)
By Muntradamus
BEAST DOME NATION.
2014 was a special year for BEAST DOME. The biggest 1st-2nd Round steals of all time in the history of steals went down that season, and BEAST DOME was the only Fantasy website to even consider both of these players as strong options. Everyone for FREE! (Back in 2014 when I had BEAST content free) Learned about 2 Top 5 RBs everyone can get with your first two picks in 12 man leagues.
2nd ROUND
MARSHAWN LYNCH
The Sheep were in Full force in 2014 just as they always are.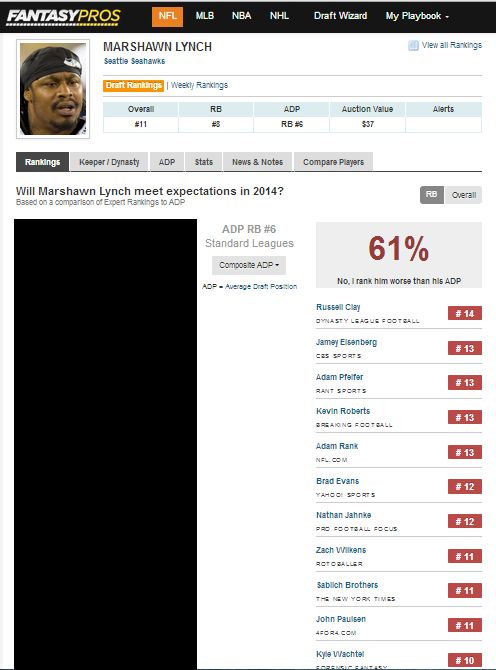 They were afraid of the Adventures of Old and New Christine Michael (2014). 
You can read article hitting the link above to see all the Marshawn Lynch slander. Lynch finished the 2014 Season with 17 TDs and 1673 Yards.
MARSHAWN LYNCH – RB – SEA
2014 MUNTRADAMUS PREDICTION
1650 Total Yards. 18 TD
1 TD and 23 Yards off, not bad. Considering many had him as a BUST!
ROUND 1
ARIAN FOSTER
I have never seen a superstar get as much hate as Arian Foster did in 2014. He was falling to the end of the 1st Round Drafts in all leagues because everyone was afraid of his back injury from a year ago, even though he had all the time in the world to be healthy.
You can read a 2014 article here.
ARIAN FOSTER 2014 RB "EXPERT" RANKINGS
I said he was the #1 RB in Fantasy Football in 2014.

Arian Finished the season with 13 TDs and 1600 Total Yards in 13 games. More like 11 games as he was a decoy and got injured early in two of them. On pace for a historic season.
This year and every year after that, the BEAST DOME Draft Guide has always had you ready to BEAST your league. Why you even question signing up you are only hurting yourself.
BEAST DOME DRAFT GUIDE 2021
(E-Mail with Questions [email protected])