FANTASY FOOTBALL QB/KICKER COMBO STRATEGY (WIN YOUR LEAGUE)
FANTASY FOOTBALL
QB/KICKER COMBO STRATEGY
(WIN YOUR LEAGUE)
By Muntradamus
BEAST DOME NATION.
It is Draft Season. For all those that did not signup for Preseason BEAST, you are honestly throwing away your season before the season starts. You will go into 2020 as a loser drafting like a Sheep taking the best player that is on the board. I really am not kidding, everyone is dominating with the BEAST DOME Draft Strategy with their eyes closed.
If you did not follow the strategy below, I will bet you will end up signing up for my in season help for the same price it is today. But honestly save yourself, get the guide now and you will BEAST your league.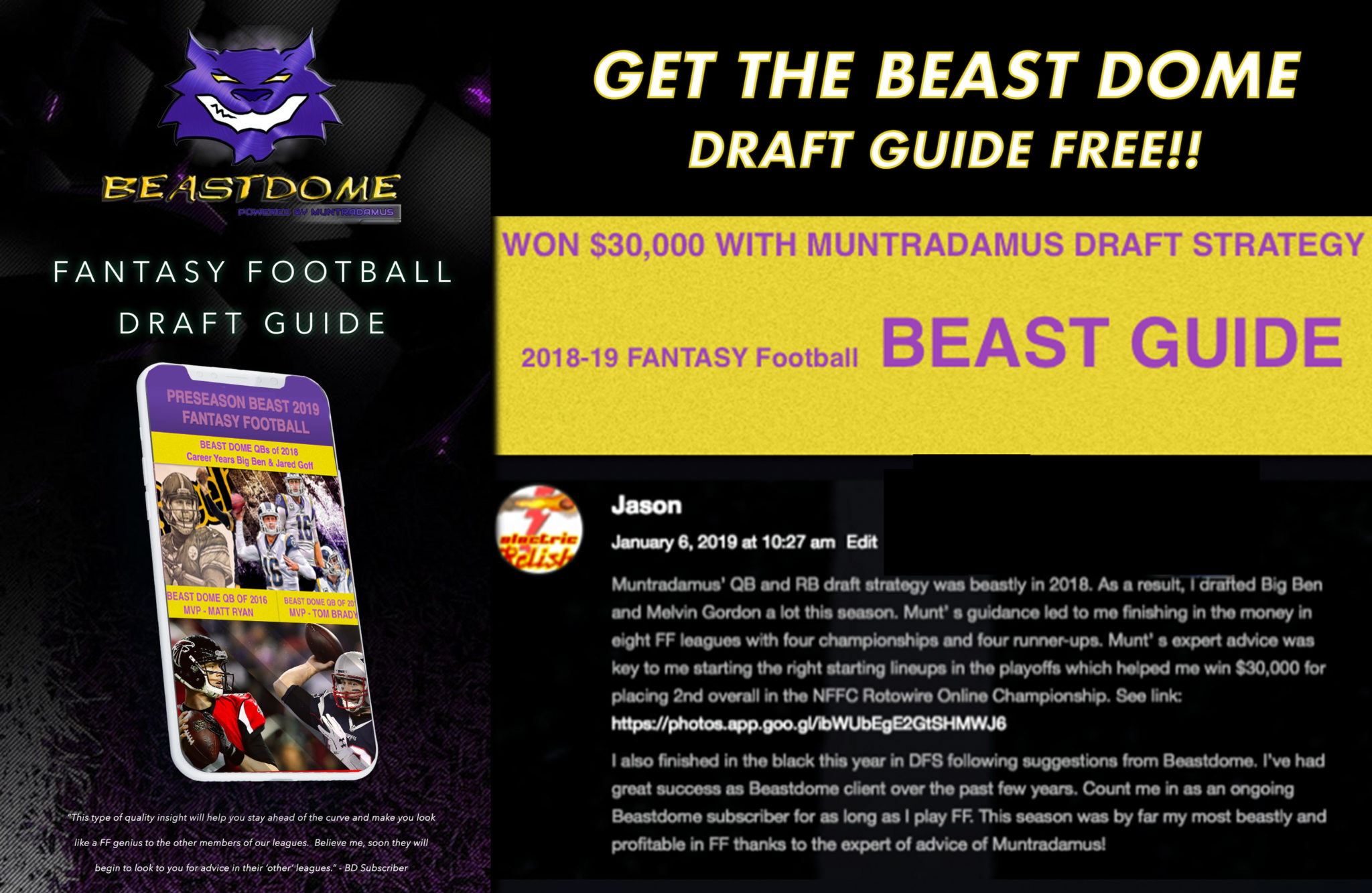 The reason you come to BEAST DOME is because you know you are getting top notch strategy. Nobody does what I do. Watch every preseason game year after year, watch game tape after every Sunday Week after Week, Years after Year. Nobody has the experience and championships/great calls behind it. You want to follow the path of someone who has been successful, that is what you are doing with my Draft Guide. The strategies I have come up with in the past dating back to Drafting Peyton Manning Record Setting Season in Round 6 with Julius Thomas last rounds as the Superstar Sleeper TE of the Draft Guide. To the year we had MVP Tom Brady Round 6, and Gronkowski in 2017. Look to both sides of the walls. Read the Testimonials.
Without a Strategy, you are sleeping.
Here is one of the strategies below.
QB/K COMBO STRATEGY
If you do not follow this strategy in your Fantasy League. You are not trying, you will lose games through the season because of it, and possibly your Fantasy Playoffs. To grab the QB/K Combo is a MUST in Fantasy Football. I have been writing about it since 2012. Been practicing the trade before this.
I will leave this original link above if you want to read off of that.
I have also conveniently pasted it below for you to read as well.
*2012 article*
This article is to explain to you a strategy that will be used in every fantasy football league after this year once people see you won your championship because of it.
Let me paint you a picture.
Tom Brady drives down the field, he is stopped short of a 1st down, Patriots have to settle for a FG.  Next possession, Brady does the same thing.  He is stopped short of the end zone, another FG.  This goes on at least 4 different times throughout the game.  You think your week is ruined, because Brady ended up with the yards, but not the TD's.
TOM BRADY (317 Yards, 0 TDs) = 12 Points
STEPHEN GOSTKOWSKI (5 FGs) = 15-25 Points
You would not drive a Porsche without insurance, am I right?  So why would you start your #1 QB without insurance.  Make sure you draft the Kicker that goes with your QB.
The Kicker position is not about getting someone who will get you double digit points every week, it is about having a good insurance play to make sure your 30+ Point QB, ends up with 30 total points, at least.
The one game Brady ended up with 1 TD last season, Gostkowski ended up with 17 Points.
You want a kicker who is going to be part of a high scoring offense, but you want your kicker to be the insurance play for your QB.
Here's another example: Tony Romo played with a Broken Rib in Week 3 against the Redskins.
TONY ROMO (255 Yards Passing, 17 Yards Rushing) = 11 Points
DAN BAILEY (6 FGs) = 21 Points
By having Bailey that week, the Tony Romo owners were saved from what could be a complete goose egg.  Fantasy Football is all about having the best QBs, if your best QB has a bad week, your whole team could be in for a big downfall.
PROTECT YOUR SUPERSTAR.  DRAFT THE KICKER FOR YOUR QB.
Muntradamus is a Fantasy Sports Expert who specializes in Fantasy Football/Baseball/Basketball. He is currently in his first season as a Pro on FantasyPros where he is the only expert to have Adam Dunn, Mike Aviles, and Wilin Rosario in his top 20 at each position. Muntradamus not only leads many to championships with his great advice, and outlooks into the future. He is also consistently on the top of leaderboards in DraftStreet.
Reading the bottom part and realizing how far I have come on my journey. I am so blessed for the talent and knowledge I have received from god, and so are you for being here. Those who have been on the BEAST DOME journey since 2011, when I called Adam Dunn back to like 40+ HRs with the White Sox when everyone gave up on him (41 HR Total), and to those that are just joining on. Much love & so grateful for you all.
MORE MUNTRADAMUS CONTENT COMING THIS WEEK
*WATCHING PRESEASON GAME TAPE. LOADING..*