FANTASY FOOTBALL PRESEASON BEAST RECAP (FINAL BUSTS) 2019
FANTASY FOOTBALL PRESEASON BEAST RECAP 2019
By Muntradamus
BEAST DOME NATION.
I focus my articles on what players not to Draft, since the players I want you to Draft are going to be part of the PRESEASON BEAST Package. With that being said, you can refer to this article and videos to see the results.
July 15th I wrote an article suggesting the biggest BUST in every Round from 1-10 according to ADP.
EVERY player in the Draft Guide ended up going down in ADP. Besides David Montgomery who will for sure still be a BUST. I have seen him go Round 2! The three headed Bears RB situation can be read about in the article.
Now you are thinking, okay so what was the BEAST DOME Draft Strategy? Well you will have to wait until after Week 1 to see what it was. Long story short, if you do not have the Draft Strategy this season, you shot yourself in the foot. For $10. $10 that goes towards your purchase on a Daily Fantasy Football Site (MonkeyKnifeFight.com or PlayDraft.com) to make more money.
It is not too late to signup, you have a few days. There are Drafts on NFFC.
NFFC – Draft Champions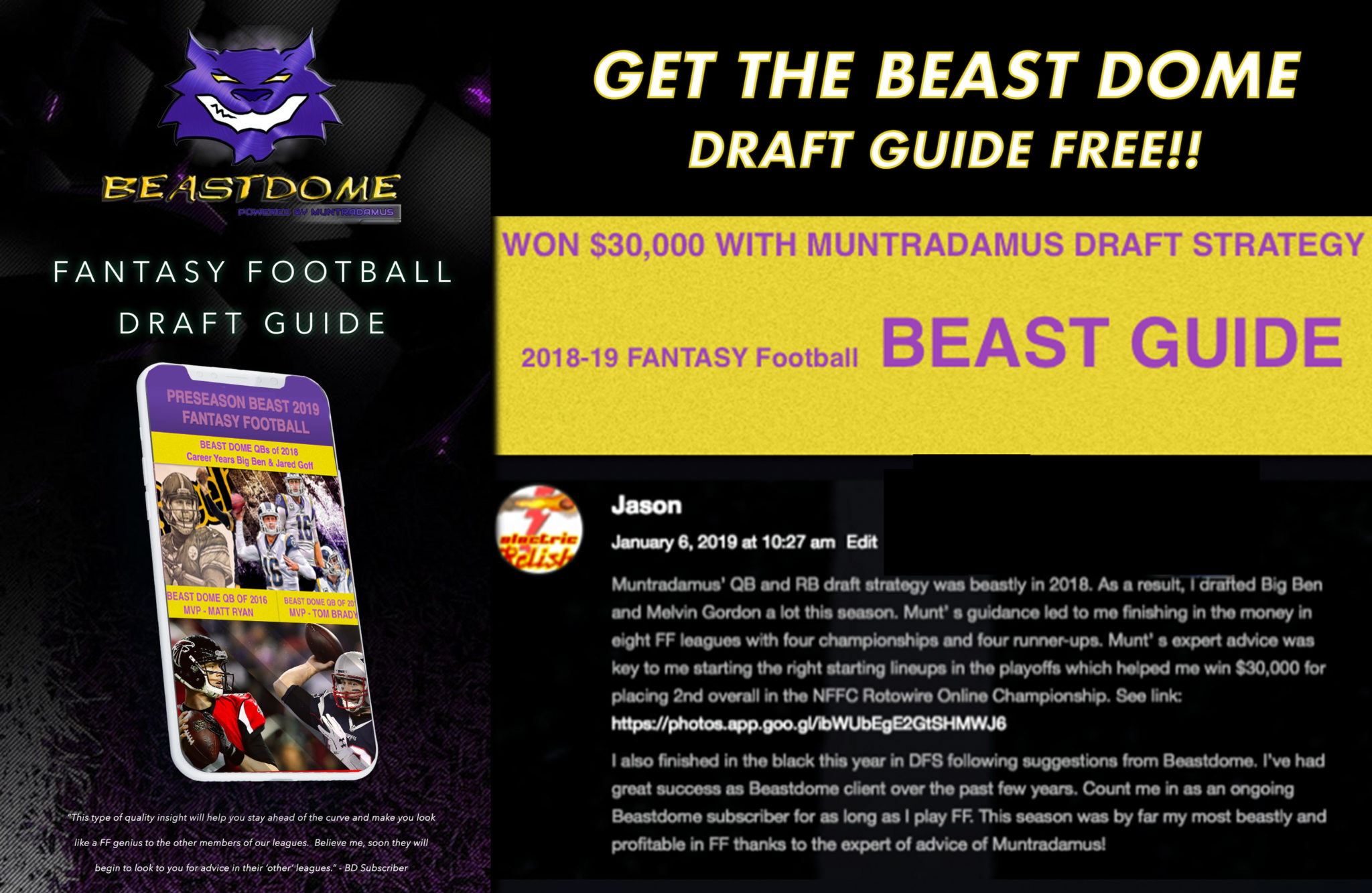 NFFC Online Championship
SIGNUP FOR A DRAFT, send me an E-Mail ([email protected])
I feel sorry for the people who listened to Sheep this season, if you have any of these players good luck. Here is a list of all my BUST PICKS.
QB BUST
RB BUST
WR BUST
TE BUST
D/ST BUST
They drafted after the LeSean McCoy news, and still took Darwin in the 7th Round. Pure garbage this squad. If you have any of these players, burn your roster, burn your season.
If you are a BEAST DOME Preseason BEAST member, you look at this team above and count your blessings that God had you find BEASTDOME.com and me to guide you to a Championship.
BEAST SEASON IS FREE WITH SIMILAR PROMO
Do not think you can win your league without it. Nobody puts in the time or has the experience that I have in the Fantasy Game. There are things I cannot do, that most people can do. For example, I cannot cook well/at all. I have tried, but I know I am not an Expert, nor am I very good.
Because of that, I always buy Food from places that make the food for me.
You might be solid with Fantasy Football. But don't you want someone who is a BEAST?
ALL PRESEASON CONTENT
FREE WITH PURCHASE OF BEAST SEASON
END OF CHAPTER ONE (RECAP ENTIRE PRESEASON)
AFC WEST TEAM BY TEAM BREAKDOWN
AFC EAST TEAM BY TEAM BREAKDOWN
AFC SOUTH TEAM BY TEAM BREAKDOWN
AFC NORTH TEAM BY TEAM BREAKDOWN
—