FANTASY FOOTBALL BUST OF THE WEEK (2) GREEN EGGS & CAM Vol 2
FANTASY FOOTBALL BUST OF THE WEEK (2) GREEN EGGS & CAM Vol 2
By Muntradamus
BEAST DOME NATION.
Last week I had Cam Newton as my Bust of the week. The last thought of the article was..
While Cam did save his day with those two rushing TDs. The passing yards look to be non-existent and that will be a problem all season with his WR core. Cam was a BEAST with his 75 Rushing Yards, and that will continue to be the main x-factor of his game all season. However that is not sustainable. The longer the season, the more hits he takes, the more he wears down. We have seen this time after time in Cam's career, and he does not exactly have the cleanest bill of health to go along with it.
This Sunday Night Cam goes to Seattle. A defense that improved tremendously with the addition of Jamal Adams. Do not look at Matt Ryan and say, "But he torched the Seahawks and the led the NFL in Passing Yards last week." He did all that in complete garbage time and the Seahawks playing prevent D. Even if the Seahawks get out to a big lead, which is not likely since this game has Defensive Slugfest written all over it. Cam will not be getting the big passing yards.
Jamal Adams is one thing for Cam to worry about. KJ Wright and Bobby Wagner are two other things that can completely eliminate any success Cam has. Adams will blitz, Wright and Wagner are the best-containing linebackers in the game with their power and speed.
The window to trade Cam Newton is shrinking by the minute, after a bad Sunday Night game, his value will feel like Waiver Wire status after this one. Trade him now like I suggested in the Trade Market article.
BUST OF THE WEEK (2)
CAM NEWTON
GET WEEKLY BEAST FREE WITH OFFER BELOW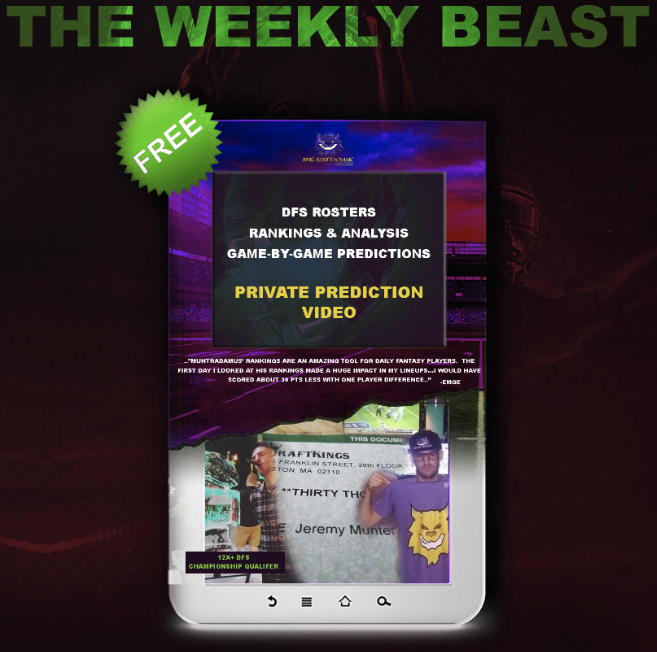 E-Mail Proof to [email protected]. Get Weekly BEAST + Special Gift!