FANTASY FOOTBALL BEAST VIP: VIP PACKAGES (2013)
FANTASY FOOTBALL BEAST VIP:
VIP PACKAGES (2013)
BEAST DOME NATION.
The time has come, the VIP Packages are officially back for sale.  There are a few packages, each of them have their own purposes.  The VIP Program started back in 2012 for MLB.  People have not been able to get enough of it since.
Each of them come with their own Muntradamus Guarantee.
FOR ALL NEW FANDUEL USERS.  YOU GET A NICE SPECIAL OFFER FROM THEM.
$25 Off any VIP Package When You Deposit to FanDuel with Link. +$25 to you from Fan Duel. +100% Bonus.
$10 off any VIP Package When You Deposit to FanDuel with Link. +10 to you from Fan Duel. +100% Bonus

FOR ALL PACKAGES
E-MAIL MUNT[email protected] FOR INVOICE AND INSTRUCTIONS ON NEXT STEP.
VIP PACKAGE #1
Pocket BEAST
$10 – 1 Week ($10 to FanDuel. You Get $20 from FanDuel) *NEW FD users only
$25 – 3 Weeks ($25 to FanDuel. You Get $50 FanDuel) *NEW FD users only
*WHAT YOU SPEND ON FANDUEL I WILL PRORATE FROM SEASON TOTAL FROM PACKAGES ABOVE*
$125 – Full Season. Next Price Change is Week 8.
$50 Money Back Guarantee IN BEAST HEDGE if you do not make playoffs. If you start Before Week 8.
E-MAIL [email protected] to Learn More.
PACKAGE INCLUDES
(ACCESS TO MUNTRADAMUS.NET WITH BONUS ARTICLES)
(LIVE BEASTcast VIP CHATS multiple Times a Week)
(ACCESS TO MUNTRADAMUS via Skype/G-Mail Chat 24/7)
EXAMPLE OF FRIDAY WEEK 2 (coming soon)
(WEEKLY FANTASY FOOTBALL RANKINGS* MUNTRADAMUS.NET)
(PERSONAL MUNTRADAMUS WAIVER WIRE/TRADE ANALYSIS)
E-Mail [email protected] To Learn More.
WHAT SOME OF THE VIP MEMBERS ARE SAYING
– DALLSDAVEK
I wanted to let you know how much I love the new VIP format. Being a VIP member for the past two plus years it's great to actually carry on conversations with you instead of passing emails back and forth.
Gmail Chat is a great way to communicate, not only do you answer my questions in real time but I'm able to get a quick evaluation of my team's matchup by providing links in the chat box.  The only problem with gmail is it's not phone friendly. You solved that issue with skype chat.  Skype I'm afraid makes you to accessible. It's like having your current rankings in real time at all times. Thank you for taking the time to answer all my questions. 
The VIP BeastCast (Week 1 Waiver and Trade) just recently added were fantastic. I remember waiting up for you emails last year to set my waiver wire selections. Not this year, not only are my questions answered but you're available as new ones are thought of.  As with all of the BeastDome Community often times much is learned from the thoughts and questions of others.
The new innovations to the VIP Program at BeastDome make it more than just another Fantasy Site, it gives it the sense of Community that you've always strived for. Your forward thinking and ideas will soon become the norm at many fantasy sites.
Thank you again for all of your help and more importantly your time. 
– Garrett
Other than being an avid fan of the Beastdome website, VIP has allowed me a much more cutting edge on my competitors. Not only do you receive more articles on a separate website (Muntradamus.net), but you may speak to the man himself practically at any given time of the day. Yes, I am talking about the Professional Fantasy Expert *drum roll please * … MUNTRADAMUS!
To establish credibility here, I started reading M's articles dating back to his MaddenArena Football website prior to the launch of Beastdome. Sounding like a huge fanboy, I followed Muntradamus' advice day-in and day-out. Being the first year that I had ever played Fantasy Sports, I went on an undefeated season within Fantasy Football, Fantasy Basketball, and Fantasy Baseball. CRAZY right!?!?!?! I barely knew anything about these sports going in. However, with M's guidance, I exploited my competitors and dominated them every week with Buy-Low Sell High techniques to even smartly predicted waiver wire picks. Anyway, utilizing the VIP program has allowed me to advance my game to an even more extreme level! Not only do I just read articles on BD and on the VIP website, but we interactively talk practically everyday on Skype. From basic lineup adjustments to even fair trade options, he most definitely upholds everything stated by the VIP experience. Even more, by emailing him every week, he analyzes your team and offers even more discussion with you. Muntradamus is the most passionate Fantasy expert out of them all. Without a doubt, the first year I started fantasy I bought countless programs from other experts. None even compared to M's immense amount of knowledge and crafty accurate predictions. Join the VIPs club today, and never look back. Zero regrets and preorder that championship trophy right now. VIP is worth every penny and honestly Muntradamus' articles should be worth more than even this value. His words of wisdom and weekly interactive discussions personally with VIPs allow you the greatest opportunity of winning your league! Thanks everyone, and take care! Muntradamus is da man!
Kind Regards,
Scream aka Garrett"
E-MAIL MUNT[email protected] FOR INVOICE AND INSTRUCTIONS ON NEXT STEP.
VIP #2
WEEKLY BEAST
$150 – Week
$50 Money Back Guarantee in BEAST HEDGE. If you do not win Double-Up '2x' games)
(Weekly Daily Fantasy Football Teams To Be Used in Anything But Qualifiers)
E-MAIL [email protected] to Learn More.
WHAT CLIENTS ARE SAYING
I FOUND MUNT'S BEAST DOME EARLIER THIS YEAR DURING THE BEGINNING OF THE FOOTBALL SEASON. IT WAS MY FIRST FANTASY SEASON AND I DIDN'T KNOW MUCH ABOUT IT- I STARTED LOOKING AROUND THE WEB FOR FANTASY ADVICE/RANKINGS/INFO AND IT WASN'T LONG BEFORE I REALIZED MUNT WAS JUST ABOUT THE BEST GUY OUT THERE. I SIGNED UP FOR HIS VIP SERVICE AND HE HELPED ME TURN BOTH OF MY MEDIOCRE TEAMS INTO WINNING TEAMS THAT MADE THE PLAYOFFS. HIS LEVEL OF ATTENTION, AND HIS PASSION FOR FANTASY SPORTS IS ONE YOUR NOT LIKELY TO GET ANYWHERE ELSE- SO MUCH SO THAT HE'S ALREADY GOTTEN ME ADDICTED TO FANTASY BASKETBALL THRU HIS VIP SERVICE AND IM SURE HELL GET ME JUST AS EXCITED ABOUT BASEBALL SOON. THE SCREENSHOT REALLY SHOWS IT ALL – MUNT IS AN ABSOLUTE BEAST AND HE HAS YET TO LET ME DOWN.
-BROSEPHSTALIN 
OVER $2,000 WON FRIDAY.
-EMGE
MUNTRADAMUS' RANKINGS ARE AN AMAZING TOOL FOR DAILY FANTASY PLAYERS.  THE FIRST DAY I LOOKED AT HIS RANKINGS MADE A HUGE IMPACT IN MY LINEUPS.  I WAS DECIDING BETWEEN 2 PLAYERS, WHEN I LOOKED AT HIS RANKINGS, I WENT WITH THE ONE HE HAD RANKED HIGHER, AND IT MADE A HUGE DIFFERENCE.  I WOULD HAVE SCORED ABOUT 30 PTS LESS WITH ONE PLAYER DIFFERENCE.  HE HAD PAUL PIERCE RANKED HIGHER THAN GEORGE PAUL, AND ON A NIGHT WHERE ABOUT 50% OF ALL PLAYERS HAD GEROGE, I HAD PIERCE, AND PIERCE OUTSCORED GEORGE PAUL BY 26 PTS.  I THINK MAYBE ONLY ABOUT 10% OF PEOPLE HAD PIERCE WHO WAS $100 CHEAPER THAN GEORGE.  THAT ALONE HELPED ME FINISH IN TOP 10 IN ALL TOURNAMENTS. I WOULD HAVE FINISHED 126TH AND OUT OF THE MONEY WITH GEORGE.  HE ALSO HELPED ME FINISH 2ND IN THE NBA SLAM FOR $620 AND 4TH IN THE NBA SWISH FOR $250.  NEEDLESS TO SAY MY TEAMS WERE A BEAST THANKS TO BEAST DOME!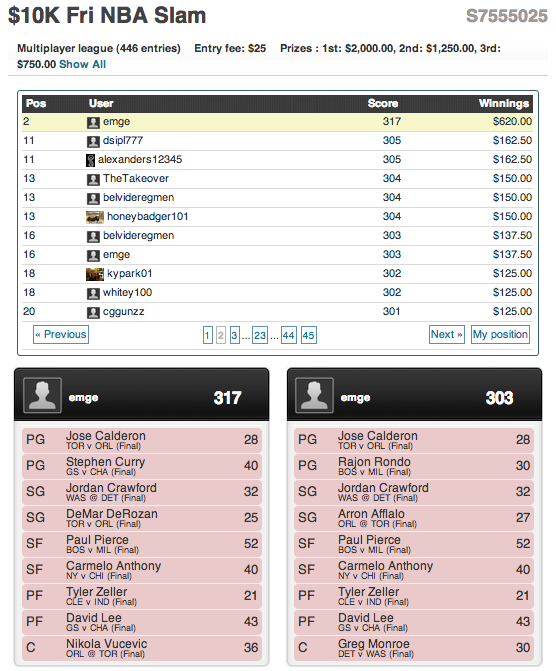 BESIDES GETTING THE RANKINGS. IT MAKES THE GAME MORE EXCITING
E-MAIL MUNT[email protected] FOR INVOICE AND INSTRUCTIONS ON NEXT STEP.
VIP #3 
BOOKIE BEAST
$100/Week
1 Day Free Trial
$50 Money Back Guarantee IN BEAST HEDGE
E-MAIL [email protected] to Learn More.
WHAT CLIENTS ARE SAYING
All the V.I.P. #3′s made Money On The Season.  Here was the betting record for the safe games revealed to the Public in all the Daily Rankings.
Blowout Potential
*Potential Game to Bet on. REVEALED TO PUBLIC IN ALL RANKINGS*
*FINAL RECORD*
 51-4 (NBA 2012)
Alfred –
I was betting on Muntradamus safe games every night and was making good money.  But I decided to try out the V.I.P #4 to see if there was real potential.  
The Muntradamus Parlay's were the craziest most exciting thing to happen to my life.  Bro you have no idea how many nights I had such little stress with all the blowout games Muntradamus was able to find on a nightly basis.  Over/Unders were nearly automatic, and even on the upsets he hit way more than 50%.  Parlay all these crazy combos together, I turned $100 into $1100 in One Week.    
I don't even watch Baseball, but of course I signed up for baseball.  So far so good my friends, I recommend trying him out with his Free 1 Day Trial.
E-MAIL [email protected]
FOR INVOICE AND INSTRUCTIONS ON NEXT STEP.