FANTASY FOOTBALL 2015: The Lion King (BEAST DOME QB)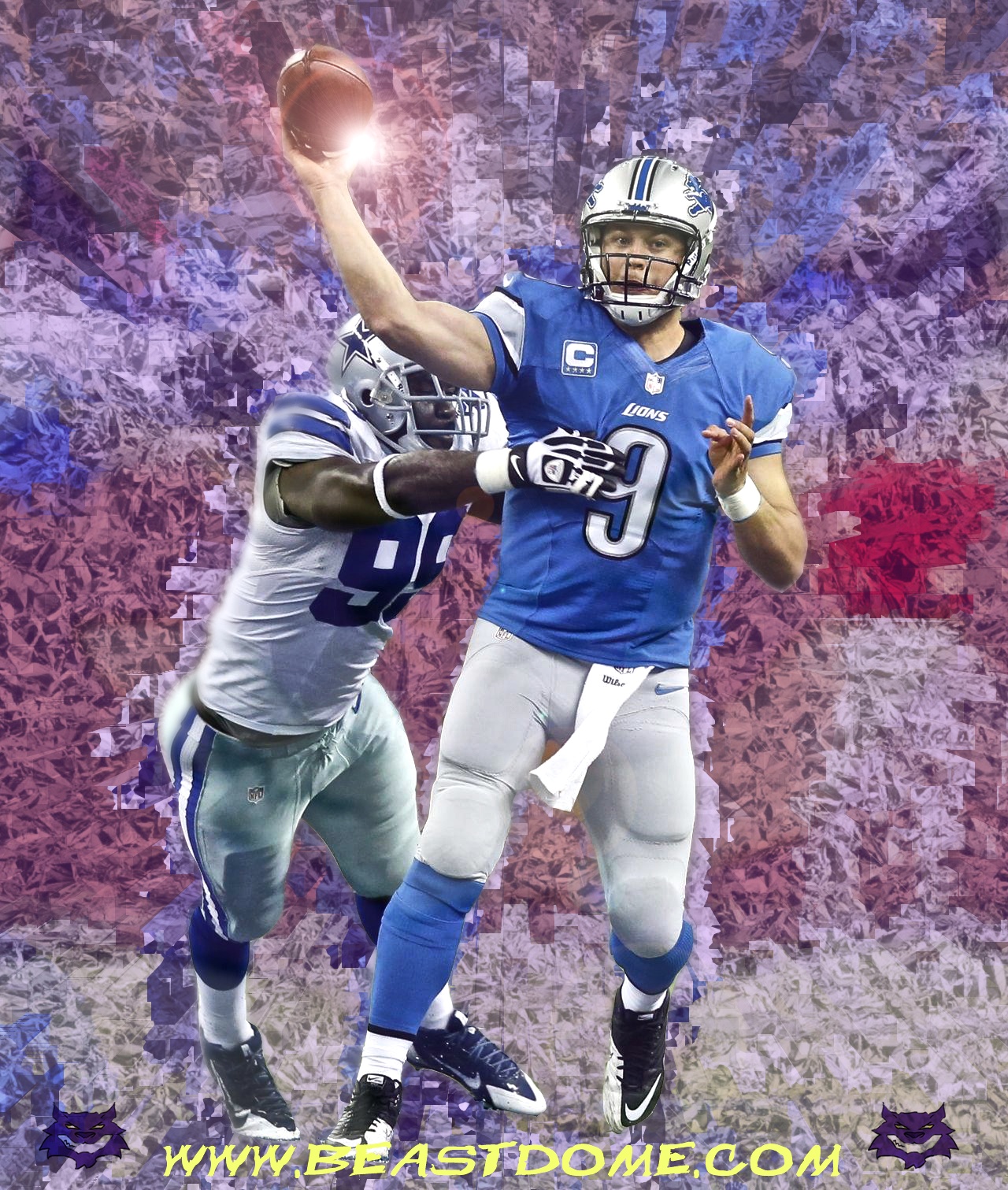 FANTASY FOOTBALL 2015:
The Lion King (BEAST DOME QB)
By Muntradamus
BEAST DOME NATION.
In 2012, Tom Brady was the QB everyone in the BEAST DOME NATION went after as #1 on the board. 34 TDs, 4,827 yards.
In 2013, Peyton Manning was the QB everyone in the BEAST DOME NATION went after as #1 on the board. Peyton Manning led the NFL in TD passes and set an NFL Record for most in a season.
In 2014, RGIII was the sleeper QB I had everyone go after in round 4-6. Injuries + bad coaching led to a horrible season.
This year, we are jumping on a new chapter in the BEAST DOME NATION and sticking to the more traditional pass first Quarterback that has brought success in the past. With a cannon for an arm, and a Dome to hold the weather in check. For the first time in his NFL Career, I am promoting Matthew Stafford as the BEAST DOME QB to have for the 2015 season.
THE LION KING
MATTHEW STAFFORD
There are many reasons Matthew Stafford will
BEAST
#1 – Megatron
The #1 and obvious reason to love Stafford is because of Calvin Johnson. Last season Megatron was injured, and played injured. The result of Megatron in 2014 was 13 games played, 4 of them as a decoy. Yet he still managed to score 8 TDs with 1,077 yards.
You would think with Megatron having such a lousy season where he only managed to break 20+ Fantasy Points three times in non PPR leagues. Matt Stafford would have a horrible season in return. While Stafford did not put up vintage numbers, he still managed 22 TDs to go with 4,267 Yards. Lions also made the Playoffs which will bring confidence in 2015.
With Megatron healthy and Golden Tate now very familiar with Matt Stafford who had 99 receptions and 131 targets. The Detroit Lions offense is ready to be as vintage as ever.
#2 – Joe Lombardi
The Lions will be as vintage as ever mainly because of Joe Lombardi as the Offensive Coordinator finally working with a healtyh Megatron. Lombardi comes from the Saints system where he was the QB coach for Drew Brees during the years of where throwing 5,000 yards was routine for Breezy. Lombardi has already said he wants Stafford to take more chances and use his weapons to their fullest. With the maturity of big body TE Eric Ebron and a slew of others with Brandon Pettigrew and, "TD Dancing Machine" Joesph Fauria. The Lions offense is ready to rumble with too many weapons to guard if teams decide to double team Calvin Johnson.
While Calvin Johnson will be double teamed often, Lombardi had to deal with the same issue watching Jimmy Graham see the same task in New Orleans. Obviously working with Drew Brees, Lombardi made sure defenses paid for doubling his BEAST and for the first time, maybe the Lions can figure it out as well. Calvin Johnson is still the most dominant WR in the game, and Golden Tate is still almost unguardable in single coverage. The combo of the two, with the TE's, and Theo Riddick (3rd down RB) who is the clone of Reggie Bush should give defenses fits when trying to stop the Lions Aerial attack.
Lombardi is also the grandson of Vince Lombardi, and this is the best opportunity for Joe to lead himself to a head coaching job. Working with Sean Payton, Pete Carmichael Jr. (Saints OC), and Drew Brees as the QB Coach through the Saints glory days. Lombardi is ready to write his own legacy and a healthy Calvin Johnson will make it happen.

#3 – Pass Attempts
One thing you never have to worry about with Matt Stafford is the amount of pass attempts. Even without the real Calvin Johnson in 2014, Matt Stafford still launched the ball over 600 times. This is a QB who threw the ball 727 times in 2012, and 42 TDs in 2011. It is not too late to relive the past as Calvin Johnson is still in his Prime, and Golden Tate just reached his last season. The Lions Offense can easily relive the glory days and worrying about Stafford not throwing the ball 30+ times/per game is no longer an issue for Fantasy owners as he will easily pass 40+ times often.
With Joe Lombardi on board and watching Drew Brees set records and consecutive 5,000 Yard Passing seasons. It is easy to see Lombardi bring Stafford back to his prime.
#4 – Schedule
The most underrated Fantasy Football Factor is playing in a Dome towards the end of the season when the weather will kill your Fantasy players, and your playoffs. The Detroit Lions schedule is as beautiful as ever as they do not have one game outdoors from Week 11-Week 16 which is huge for Fantasy Football Playoffs/Championship. To make the situation even better, none of the teams Week 11-Week 16 can even come close to stopping a healthy Calvin Johnson. While Week 3-Week 5 will bring some challenges into the picture, Matt Stafford will coast your team to the Championship.

 
MUNTRADAMUS PREDICTION
#3 FANTASY QB in 2015
(#1 Fantasy QB Week 10-Week 17)