Fantasy Football: Why Tom Brady is the #1 QB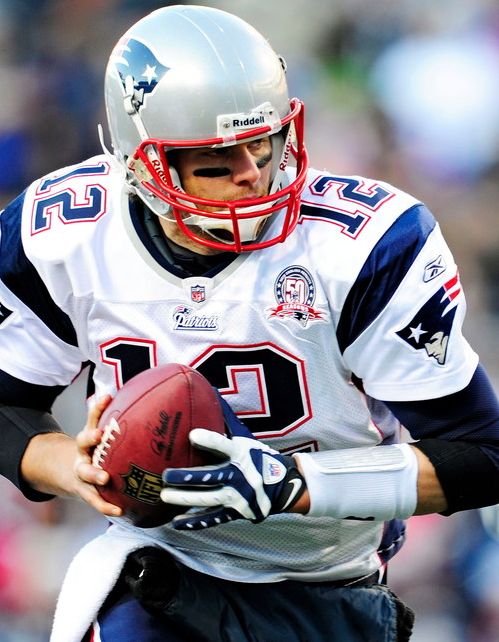 Fantasy Football: Why Tom Brady is the #1 QB
By Muntradamus
Every fantasy website you go to, they will tell you to draft Aaron Rodgers as the top QB.  That is simply fantasy experts not doing their Homework.  The Packers defense will not rank #31 again.  How that happened, nobody really knows.  They have more Pro-Bowl quality players on their defense, than most teams have all together.  So if their defense improves, Aaron Rodgers will not have to put up monster performances as often.
I still like Aaron Rodgers as the #2 QB for the record.
Here is why Tom Brady is the #1 QB in all of fantasy football this season.
Not only does he have two TE's who should both finish in the top 3 at the position (Rob Gronkowski and Aaron Hernandez.)  He not only has Wes Welker who is maybe one of the most reliable fantasy WR's every season.  The Patriots added some more weapons.
Bring in Jabar Gaffney who is easily better than Deion Branch any day of the week.  That will give Tom another great WR who has the ability to get open in the middle of the field.  But the biggest move of all, the signing of Brandon Lloyd.  Lloyd is one of the most dangerous deep threats in the NFL.  If you leave him in single coverage, there is a good chance he will burn your CB at least a few times a game for some big plays.  So now safeties have to play a little deeper, which will open up everything underneath for the big TE's and Welker to catch the ball and just run.
To make the situation even better, the Patriots are no longer with Benjarvus Green-Ellis.  That nearly guarantees that not only is Tom Brady going to possibly sneak it in from the 1 yard line more frequently (3 TDs running last year).  He will definitely be throwing to his huge targets near the goal-line such as Rob Gronkowski.  It also forces the Patriots to throw the ball even more, and possibly stay in a spread-style offense the entire game.
The Patriots have too many weapons, and Tom Brady is going to take advantage of everyone of those weapons.  You never want to start any fantasy defense against this unit all season long.  Against the Jets x2, Giants, and Eagles, he had over 300 yards every game.
All this, and Brady has been reunited with Josh McDaniels, the OC for the Patriots who made the Randy Moss/Tom Brady look like the best in NFL history.  What were Brady's numbers with McDaniels you ask?
Brady finished 398/578 for 4,806 yards (#3 all-time) and 50 touchdowns (#1 all time) versus only eight interceptions, and a 117.2 passer rating (#2 all-time). His 398 completions were fifth all-time. Brady was named the NFL MVP for this season, as well as Offensive Player of the Year.
McDaniels also resurged Brandon Lloyd in Denver to make him an absolute stud in 2010.  14448 Yards and 11 TDs with Kyle Orton.  His season high before that was 733 Yards and 5 TDs in 2005.
Now Lloyd gets to work with Brady.
Tom will be giving you a Brady Bunch of Points all season long!
——————————————————————————————————————————————
This weekend BEAST DOME is going to be dedicated to bringing you Pre-Season Rankings at all the positions.  There will also be Daily Pitcher Rankings along with other great baseball articles everyday this weekend.
FANTASY FOOTBALL IS AROUND THE CORNER!