FANTASY FOOTBALL 2014: LARG3 AND IN CHARG3
FANTASY FOOTBALL 2014:
LARG3 AND IN CHARG3 
By Muntradamus
BEAST DOME NATION.
Once you read this article, you will be convinced that Robert Griffin III should be your Fantasy QB in the upcoming 2014 Fantasy Football Season.  This will likely be the last Fantasy Football article until mid-July.  Once we hit the MLB All-Star Break, that is when we can expect the release of the VIP Programs, as well as additional content on BEAST DOME to get you ready to BEAST your League.
(Click above to read more)
– Khiyasu
I manage 4 teams and think I joined VIP right after week 11. My team records were 5-6, 5-6, 6-5 and 10-0-1. 3 of my 4 teams were on the playoff bubble.
Since I joined, I have gone undefeated in all my leagues in every single matchup and ended up winning 3 of 4 leagues. In the only league that I failed to make playoffs, I had the 3rd best record and 2nd highest scoring team but because of league rules, I missed playoffs. If I made it to the playoffs, I would have also won that league and made it 4 of 4.
My favourite story this season is in my 2nd league, I was sitting at 9th place (out of 10) with a very small outside shot at making playoffs. After one big win and losses to the other teams ahead of me, I leapfrogged 5 people and made the last playoff spot (4th) with a 6-6 record. Ended up winning out and winning that league.
he other teams ahead of me, I leapfrogged 5 people and made the last playoff spot (4th) with a 6-6 record. Ended up winning out and winning that league.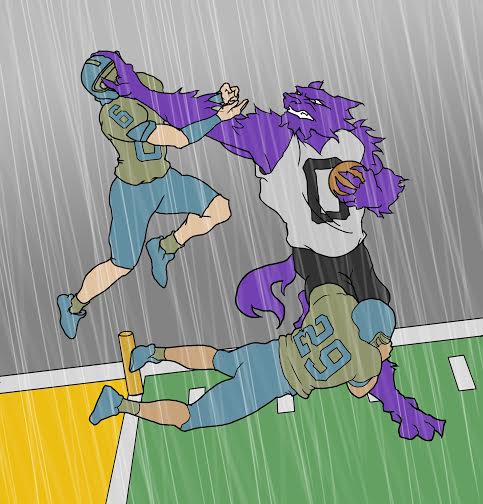 LARG3 AND IN CHARG3
By Muntradamus
This season I will be promoting RG3 as the QB to own in Fantasy Football.  I am NOT making this BOLD prediction to stand out.  I am making this BOLD Prediction because everything points to RG3 having a breakout year.
If you remember the year (2011) when Michael Vick was a First Round Pick in all Fantasy Football Leagues.  The reason was his 676 Rushing Yards with 9 TDs in 12 games to go along with 3000+ passing yards and 21 TDs.  The only reason it was 12 games was because Andy Reid was riding the Kevin Kolb train harder than anyone would want to admit.
RG3 will have the type of season in 2014, that will make him a 1st Round pick in 2015.  Those numbers will be crushed by RG3 this season.
HEALTH
Last season everyone was expecting RG3 to go down because he was coming back from knee surgery too quickly.  While he did not finish the season, sitting out the teams final 3 games.  He was able to stay 100% healthy and the team opted to rest him down the stretch.
The most amazing stat for RG3 last season had to be his increase in pass attempts.  In 15 games as a rookie, 393 attempts.  Last season in only 13 games, 456 attempts.  While RG3 had nearly the same yard totals with more INTs and less TDs in 2013.  It was encouraging to see him throw the ball as much as he did only to build confidence in his arm and his ability to throw over 30 pass attempts consistently.
While his rushing stats did go down in 2013 from his rookie season, mainly due to his huge knee brace.  He was still fairly aggressive with nearly 7 rushing attempts per game, compared to his 8 per game as a rookie.  His knee was not 100% last season, but this season he is feeling better than ever and has all the confidence in the world to run wild.
DESEAN JACKSON
How could the Eagles let Desean Jackson walk?  This guy stretches out defenses better than any WR since Randy Moss.  If a safety is not playing 20 yards deep, Desean Jackson is 4 seconds away from burning the entire field.  A big reason I made Desean a Must-Own Player to take on Draft Day.
No reason to expect anything different in Washington as he is going to a way better situation on a Pass first, Pass second, Run- third offense.  RG3 has a much better arm than Nick Foles, and his mobility in the pocket could lead to those consistent monster games like when Michael Vick was QB last season.
HEAD COACH – Jay Gruden
No longer is Mike Shanahan and his less than aggressive play-calling heading the ways for Washington.  This year, the Redskins will rely on Jay Gruden who was the Offensive Coordinator for the Bengals last season.  While at first that does not seem impressive at all, let us think who Jay Gruden is.
His brother Jon Gruden invented the West Coast Offense.  Jay himself is a Hall-of-Fame Arena Football League QB.  Which means two things:
1) The Redskins will be passing a lot.
2) The Redskins will be a team that is looking to put up points.
If Jay Gruden had RG3's skill-set with the weapons of Desean Jackson, Pierre Garcon, and upcoming TE star Jordan Reed.  Jay Gruden would be a Hall-of-Fame NFL QB.  Arena Football is all about scoring Touchdowns when you reach the Redzone.  Never kicking Field Goals.  Expect Jay Gruden to design a lot of plays for RG3 in the Redzone that put him at a level so high, not even Aaron Rodgers in his PRIME would be able to match.
Jay Gruden will make sure to put RG3 in a place to succeed.
NFC EAST
This is easily the #1 reason to draft RG3 this season.  The NFC East is a joke on defense with every team.
The Cowboys no longer have Sean Lee (Injury) and DeMarcus Ware (Broncos).  That means the pass defense will have to completely over compensate to help defend the run and pick up short patterns.  No strong linebacker presence is one concern, no pass rush will spell doom.
The Eagles Defense did not make many improvements to improve coming off of a horrible season.  They even lost Dominique Rodgers-Cromartie (NY Giants) in the secondary and are now relying on a pair of #3 CBs in Cary Williams and Bradley Fletcher.  Malcom Jenkins at safety was part of the bad days of the Saints secondary.
The Giants defense lost Justin Tuck and are relying on the a LB core that was less than impressive last season.  The secondary is more impressive this year than the past, but if the front 7 cannnot contain the run, there will be holes all over the Giants defense.
THE RGIII DRAFT STRATEGY – PART I
Experts have RG3 ranked around the #7 spot at the QB position.  That means on Draft Day, all of your "Goat Pack" friends will not even be looking to draft RG3 until Round 5-6 at the earliest in leagues where you start a Flex or 3 WRs.
Which gives you at least 3-4 Rounds of filling up your team before drafting a QB that I predict will have a bigger season than Drew Brees.  It is important to draft a solid backup QB when drafting RG3.  I am not expecting him to get injured, but with the way RG3 plays, it is important to have a quality backup just in case the worst-case scenario happens.  Look at Jay Cutler/Nick Foles/Tony Romo as good late targets.
CONCLUSION
The best way to win your Fantasy Football League is to come out of the gate strong and build a solid foundation of star players.  If you can wait until Round 4 to grab RGIII, you have yourself a potential QB that can outperform any player on any given Sunday.
Between the addition of Desean Jackson, the Jay Gruden offense, the NFC East Defense, and everything a healthy RG3 brings to the table.
You are looking at the Sleeper Preseason Fantasy Football MVP.
VIP
There will be many levels of VIP this season.  The Basic VIP for Preseason Only will be announced Mid-July.
Muntradamus Awards