FANTASY FOOTBALL 2015: MARSHAWN 'BEAST DOME' LYNCH (#1 Overall Pick)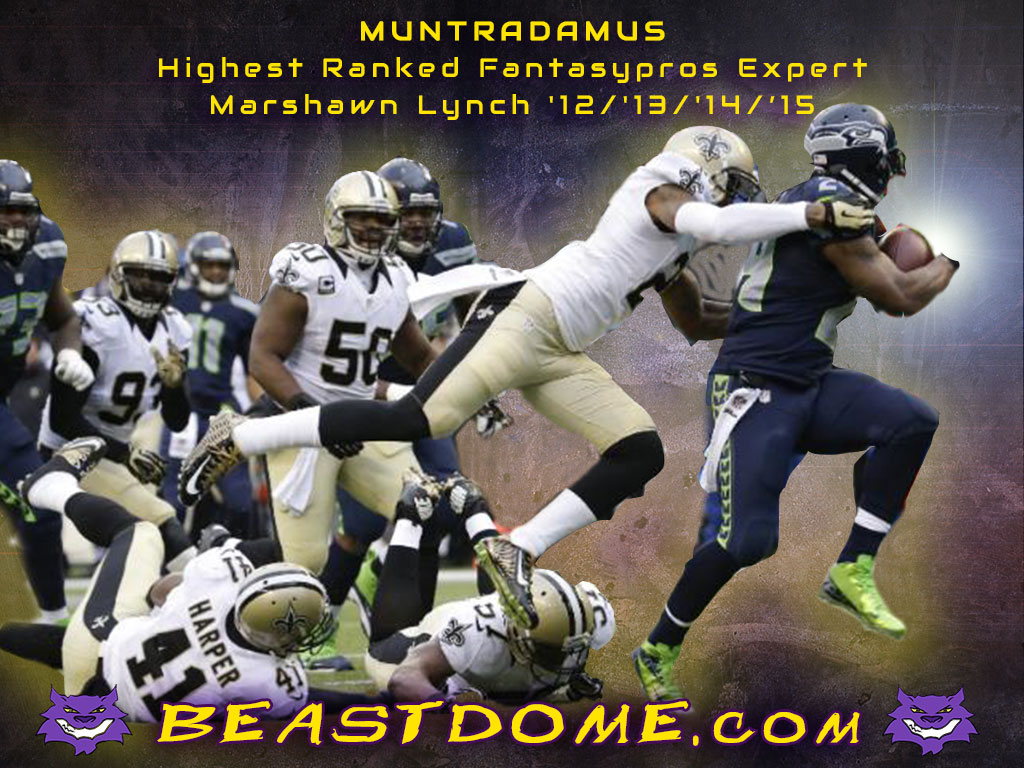 FANTASY FOOTBALL 2015:
MARSHAWN 'BEAST DOME' LYNCH
(#1 Overall Pick)
By Muntradamus
BEAST DOME NATION.
When you make your #1 overall pick. You need to draft a player you can depend on week in and week out. You need a player who will consistently find the endzone or die trying. Back when I started BEAST DOME in 2012, I tried to buy the domain BEASTMODE.com because Marshawn Lynch was my favorite Running Back in the NFL with his tenacity to run people over that no player can match. When BEAST MODE was not available, BEAST DOME was created and since then Marshawn Lynch has been a vital part of the Draft Strategy year after year. Every season you hear the horrible reasons experts say not to draft him, which caused him to fall at a discount price.
In 2012
He cannot build off of his 285 carry season.
He cannot catch the ball.
In 2013
He is taking too many hits.
Seattle's offense is not good.
In 2014
All the sites mentioned in this article below should be removed from FantasyPros.
Which Include Rotoworld as the #1 Bust of the Year.
Experts had Marshawn Lynch going in Round 2/3. I had Marshawn Lynch as the #3 RB in Fantasy Football behind Arian Foster/Adrian Peterson. This season Marshawn Lynch is going to take the biggest step forward in his career at 29 years old.
This season there is nothing bad to say about Marshawn, despite that I will still have him highest Ranked on FantasyPros this Preseason, once again.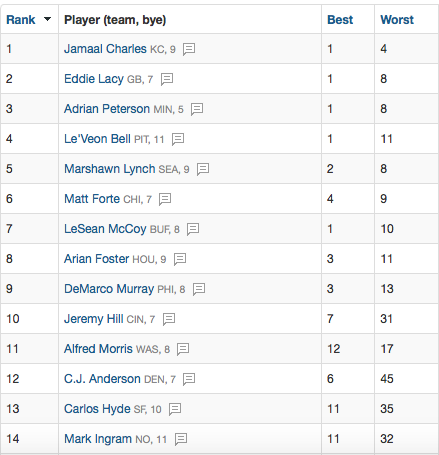 MARSHAWN LYNCH #1 OVERALL PICK
Like 97% of the people in this world. We all watched the Super Bowl. We all watched Pete Carroll make the dumbest play call of all time not giving the ball to Marshawn Lynch at the 1 yard line.
Like .0003% of the people in this world. The BEAST DOME NATION was dealing with these situations all season long as we were the few and only to own Marshawn Lynch on our Fantasy Football teams. We saw Pete throw the ball consistently with a three possession lead in the 2nd half. We saw Pete vulture TDs from BEAST MODE all season long which hurt the BEAST DOME NATION. Despite all of this, Marshawn Lynch was a BEAST among men and put up a career high 17 TDs.
This season there is good reason to believe that Marshawn Lynch is going to have a career year.
1. Pete will be scrutinized every time Lynch does not get the ball inside the 5 yard line.
2. Russell Wilson will be scrutinized every time Lynch does not get the ball inside the 5 yard line.
3. The 49ers Defense is no longer a threat after dealing with injuries & retirement from LB core.
4. Jimmy Graham.
JIMMY GRAHAM – TE – SEA
The addition of Jimmy Graham is too big to describe in words. Though I will be able to tell you why, and below is another example why BEAST DOME continues to be the only Fantasy Football Site you will ever need to read.

1. With Jimmy Graham now on the team. When Russell Wilson is in shotgun, or drops back to pass. The LB core of the other team as well as each Safety have to first keep an eye on Graham. If Jimmy has single coverage, or not completely blanketed by his defender, Jimmy will make big plays. Nothing to argue.
2. The next thing Each Safety has to worry about is Russell Wilson and his ability to hit the deep ball. Russell shut everyone up in the Super Bowl consistently hitting deep passes to Chris Matthews of all players. A player that may never make a NFL team besides the Seahawks and his first game ever is in the Superbowl and he catches 4 bombs for over 100 yards. Russell Wilson and his deep bombs kept the Seahawks in the game and gave them a chance to win.
3. The next thing each LB has to worry about is Russell Wilson and his ability to run. It is no secret that Russell Wilson will run the football himself if the lane is there. Russell and his speed can run for 30 yard gains like it is nothing. If the LB core is not spying, Russell Wilson is gone.
With all three of these distractions. No defense in the NFL can shutdown Marshawn Lynch. It is not acceptable to be distracted at all in the first place when trying to slow down Marshawn Lynch. If your defense is not 100% fully committed to stopping the run on that play, Marshawn Lynch will run past you or run through you. If you do not meet him head on at 100%, those Fantasy Points will be racking up.
On top of that the Seahawks Defense is still the best in the game, which means you do not need to worry about Time. Of. Possession. as the Seahawks Offense should have the football all game long.
Now that Marshawn Lynch proved he can catch the ball consistently, his Fantasy BEASTNESS is at another level. With a schedule that contains the AFC North + NFC North. Where only the Lions were a threat until they lost Suh to the Dolphins.
Marshawn Lynch should consistently find BEAST games in 2015 with this schedule. When you keep seeing the words. BEAST and CONSISTENT. Along with being on a team that is likely to reach the Super Bowl once again. That is when you know you have your #1 overall pick.
Primordial sports fans, content to watch athletics as theatre, devote a mere six hours a week, on average, to the consideration of balls and pucks. Fantasy nerds do triple that. And then there are people like Jeremy Munter.