FANTASY FOOTBALL: I FELL IN LOVE WITH A SPILLER (C.J. SPILLER BUST 2014)
FANTASY FOOTBALL:
I FELL IN LOVE WITH A SPILLER
(C.J. SPILLER BUST 2014)
By Muntradamus
BEAST DOME NATION.
You are in a draftroom.
You have no idea what you are doing.  You're sitting at your desk with notes in hand.  You are in the 3rd Round of your draft.  You're sweating.  Your RB crew looks weak, time to think about snagging one.  On your cheatsheet you see a sexy ex-1st Round Pick from 2013.  You get excited, you hope the team in front of you does not take him.
He does not.  You stand up with excitement as you announce.
"TEAM GOAT SELECTS. C.J. SPILLER"
Do not be part of 'TEAM GOAT.'  Signup for a BEAST VIP Package today and get access to MUNTRADAMUS.NET.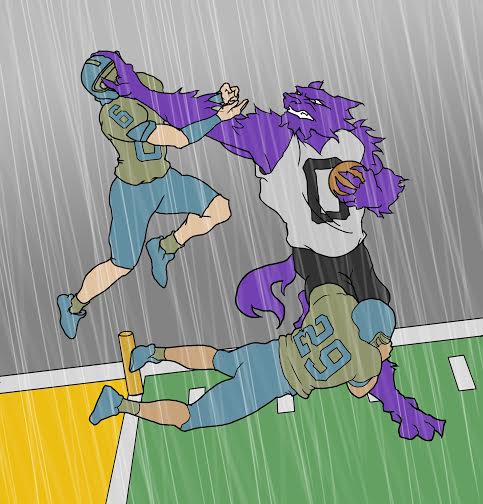 I FELL IN LOVE WITH A SPILLER
(C.J. SPILLER BUST 2014)
The Bills have not been a winning football team in over a decade.  The days of Eric Moulds and Antwan Smith are well behind us.  This Bills team is built on youth and on depth.  While their defense has a solid core that can keep them in football games, their offense lacks the potential to score a lot of points.  When you draft a Fantasy RB this season, make sure his team's situation does not resemble the profile just described.
The Bills have plenty of interchangebale pieces that can come in at any time, and do the same things the other players in front of them are doing.
At QB, EJ Manuel can be replaced by Thaddeus Lewis/Dennis Dixon/Jeff Tuel.  You would not know the difference.
At WR, Robert Woods the #3 WR can perform just as well as #1 Sammy Watkins and #2 Mike Williams.
Then you have the RB position.
RB #1
C.J. SPILLER
No doubt C.J. Spiller has skill.  Put him on the Colts this season instead of Trent Richardson, you have arguably a Top 3 RB in Fantasy Football.  C.J. Spiller does it all, a little smaller than you want for a lead RB but a guy who can handle the workload and be a version of LeSean McCoy.  C.J. Spiller is a Home Run threat waiting to happen.
Of course with the good comes the bad.  The Bills want to keep the injury-prone C.J. Spiller healthy.  He cannot take a full load of bone-crushing hits, and if the Bills can limit his bodily harm by using all of the talent behind him.  Why not?
RB #2
FRED JACKSON
If the Buffalo Bills had to send an ambassador to represent their team and their city.  You already know Fred Jackson would be that man.  He may be 33 Years Old, but Fred Jackson is still a legend in the Bills 2010 decade.  He is too good to assume he will not get enough playing time.  There are drives that Fred Jackson not only starts, but he finishes.  Fred Jackson is an everything back that the entire Bills Nation cannot get enough of.
FRED JACKSON 2013 STATS
Bottom Line. It is impossible to bench a productive Fred Jackson.  Impossible.
RB #3
ANTHONY DIXON
The ex-49er is not a bad RB.  He has power and speed, and arguably could have been the next man up behind Frank Gore if the 49ers kept him for 2014.  Dixon is too good not to see his touches every week.  It would be surprising to see the Bills hold Dixon out of short-yardage and goal line situations.  The Bills do not want C.J. Spiller to take those big hits on the goal line.  Fred Jackson can take those hits as well, but always nice to throw a young body in there.


RB #4
BRYCE BROWN
Going into the 2013 season.  If you did not draft Bryce Brown as the handcuff to Lesean McCoy, you were taking a huge risk.  Bryce Brown had the type of season off the Waiver Wire in 2012 that easily led many Fantasy Football owners to their championships.
BRYCE BROWN 2012
Adrian Peterson does not even put up numbers like that.
Bryce has moves and although he will not see many touches at all.  He is always a threat to make his presence felt.  Bryce Brown has BEAST potential in him, and C.J. Spiller Fantasy Owners cannot be liking the sound of that from the #4 RB on the depth chart.
CONCLUSION
While there is no doubting C.J. Spiller and his potential to be a STAR RB in the NFL.  The Buffalo Bills have too much talent at the RB position to feel safe about Spiller every week.  The second C.J. goes into a week questionable, not being 100%.  The floodgates for a RBBC (Running Back By Committee) open, and there will be no stopping it.  Once Anthony Dixon scores a goal line TD, he will be the goal line back.  Once Fred Jackson rushes for 80 Yards in a game, he will get 8-10 carries a game.  Once Bryce Brown takes one to the house, he will get a play here and there.
You do not want to constantly be worried about your RB #2 falling into a RBBC that would be too good to complain about.  The fact you are spending a 3rd Round Draft Pick with no clear handcuff makes it even worse.
Do not draft C.J. Spiller this season.  He is too BOOM or BUST.
FantasyPros did an interview with me in Mid-July.