FANTASY FOOTBALL 2018 RECAP (TESTIMONIALS WELCOMED) & THE CHOICE WINNER
FANTASY FOOTBALL 2018 RECAP
(TESTIMONIALS WELCOMED) & THE CHOICE WINNER
By Muntradamus
BEAST DOME NATION.
HAPPY HOLIDAYS!
WON $30,000 WITH DRAFT ADVICE
MORE TESTIMONIALS ON THE BOTTOM OF THE ARTICLE
Before I jump into a recap of the Draft Strategy, and all the Champions this year. I want to take a moment to recap my life in 2018. All my clients know, I am a man on a mission. A soldier on my horse with my sword up in the air ready to go into battle and make sure I am the last man standing. Every single night, I went all in at the DFS Circuit making sure I got a W and doing no matter what it takes. I was not going for the smart investment strategy of doubling my money, I was going for the turn $3 into $100K every single day. While I have won a lot in my past, and I also had a great streak in 2018. It is not the responsible thing to do or live life.
I used to spend all my time building 100s of lineups by hand, sometimes over 2000 lineups on a Football Sunday, but now I am turning the chapter in my life as I am going to be a personality first and build up Muntradamus and BEAST DOME. You will see me posting Daily, Doing Podcasts/Twitch Streams and constant content on Youtube all starting in 2019.
NBC THE CHOICE FINALE PART 1
NBC THE CHOICE FINALE PART 2
NBC THE CHOICE WINNER
FULL REEL FROM SHOW
THE 2018 BEAST DOME FANTASY FOOTBALL SEASON
The Fantasy Football Season was another BEAST one for BEAST DOME.
Once all the research is done, every year the key is to identify the BUST picks. Especially at RB where you can ruin your entire Draft if you pick the wrong RB too early.
5 RBS THAT WILL BUST YOUR DRAFT 2018
It is important to find those players at WR, and you can read the full article below, but here is what you get when you search Google.

Once that step is complete, it is time to navigate the Draft Matrix and come up with the BEAST Draft Strategy.
BEAST DOME QB PICKS 2018
Big Ben was my #1 QB of 2018 according to my rankings. Nobody had him close to #1. You will not find a better QB Strategy than BEAST DOME's in 2018..
Wait until about Round 7, draft Ben Roethlisberger (My #1 QB of 2018) a little bit early, then wait a couple more rounds and draft Jared Goff as a backup.
The RESULT. Big Ben had his best NFL Season in his 15th year, career High in Passing Yards/TDs and the most rushing TDs since 2005. He finished as the #2 QB in Fantasy Football despite having the most passing Yards and Attempts. If it was not for Patrick Mahomes and his 45 TDs, Big Ben could have been MVP.
While Big Ben had a great year no doubt, do not forget to praise Jared Goff who had a carer year as well.
Most important stat for Big Ben. In the last 3 games, Week 14-16, the Fantasy Playoffs. Only Matt Ryan threw more TDs than Big Ben (8 vs. 7), and Big Ben missed nearly the entire 2nd half against the Raiders in Week 14.
BEAST DOME 2018 RB PICKS

This list says a lot. The key guys that everyone grabbed in Round 3 + Round 5 was Lamar Miller + Carlos Hyde. Carlos Hyde was a Top 10 RB before somehow getting traded away to Jacksonville mid-season for no reason at all. That trade did hurt a lot of BEAST DOME MVPs, though Lamar Miller, he had a great stretch run scoring over 90 Fantasy Points in 7 games during the middle season. Miller was on pace for career highs before getting injured during the Fantasy Playoffs.
The Key Sleepers, Chris Carson + Marlon Mack. These guys were available Round 8-10. They both had huge upside games and both had career seasons for their young careers. Guys that could easily be on the target list next year depending on how those situations clear up. Both players have a lot of talent on their team so it is too early to say, but both Mack and Carson showed huge BEAST upside.
Alfred Morris was a miss, but he was not part of the Draft Strategy. He was going around Round 7…Draft Big Ben or draft Alfred Morris. We did not think twice and went heavy for Big Ben.
BEAST DOME 2018 WR PICKS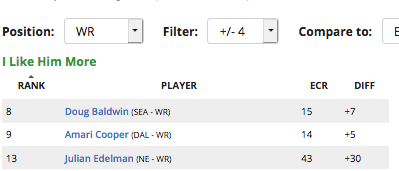 This year the WR Strategy for BEAST DOME was very different than previous seasons. The strategy was to grab one stud WR in Baldwin or Cooper around Round 4. Then go after Julian Edelman in Round 6.
While Baldwin and Cooper were definitely headaches to own for a majority of the year, Amari Cooper finished as the #3 WR during the Fantasy Playoffs, while Doug Baldwin finished as the #9 WR during the Fantasy Playoffs.
The real glue piece at WR was Julian Edelman who was the steal of the draft. In standard leagues Julian Edelman's average of 10.1 Points per Game was the #15 WR on the board. During the Fantasy Playoffs he was as rock solid as they come with 14 Points in Week 14, 9 Points in Week 15, and 13 Points in Week 16. In PPR Leagues, he was a Top 10 WR in Points Per Game.
The WR Sleeper game this year in Fantasy Football in general was pretty soft. Tyler Boyd was the #1 sleeper WR in Fantasy Football, Tyler Lockett was #2, Calvin Ridley was #3. Besides those 3 guys, nobody really stood out as a sleeper.
BEAST DOME 2018 TE PICKS
I will admit when I was wrong, and I was wrong at TE with my Top Guy. I gave Rob Gronkowski too much love after he dominated during the playoffs last year including the Super Bowl 2017 with 100+ Yards and 2 TDs. Maybe Gronk had something left in the tank? He was part of the Draft Strartegy in the 2nd Round.
After watching him very closely this year, that Gronk is done. His mindset is not the same. Despite missing so hard on my BEAST TE. I did have the best Sleeper Backup TEs ranked higher than any site. So while Gronk was a big swing and miss, I continue to prove I do know what I am talking about.
PPR Leagues. Eric Ebron finished as the #4 TE in Fantasy Football/Jared Cook finished as the #5 TE in Fantasy Football. Austin Hooper Finished as the #6 TE in Fantasy Football.
BEAST DOME 2018 D/ST BUST PICKS
This year the D/ST Strategy was simple. Draft the Jaguars in Round 8, after Big Ben. Draft the Texans in Round 10, after Jared Goff.
Jaguars Finished as the #8 D.ST while the Texans finished as the #5 D.ST. However in the last 3 games during the Fantasy Playoffs, the Jaguars were the #4 D.ST overall scoring 2 TDs in that span.
Regardless, I did a good job avoiding the bombs on the floor and having you draft any of these Super BUST D.ST units.
EARLY EARLY BEAST SPECIAL
BEAST DOME 2019 PRESEASON BEAST