FANTASY FOOTBALL 2015: SHEEP PICK OF THE YEAR (JAMAAL CHARLES)
FANTASY FOOTBALL 2015:
SHEEP PICK OF THE YEAR (JAMAAL CHARLES)
By Muntradamus
BEAST DOME NATION.
The gig is up. Jamaal Charles is nowhere near a Top 10 RB in Fantasy Football anymore. If you want to lose your Fantasy Football League this season, go ahead and Draft Jamaal Charles in the 1st Round.
JAMAAL CHARLES 2015 FANTASYPROS RB RANK (#2)
Last season I wrote a Preseason article calling out Jamaal Charles as the BUST pick of the Year, got a lot of heat for it, but was obviously more than correct.
Before I say anything about 2015, let us look at evidence from last season of what Jamaal Charles was able to put out for those Sheep Fantasy Football Owners.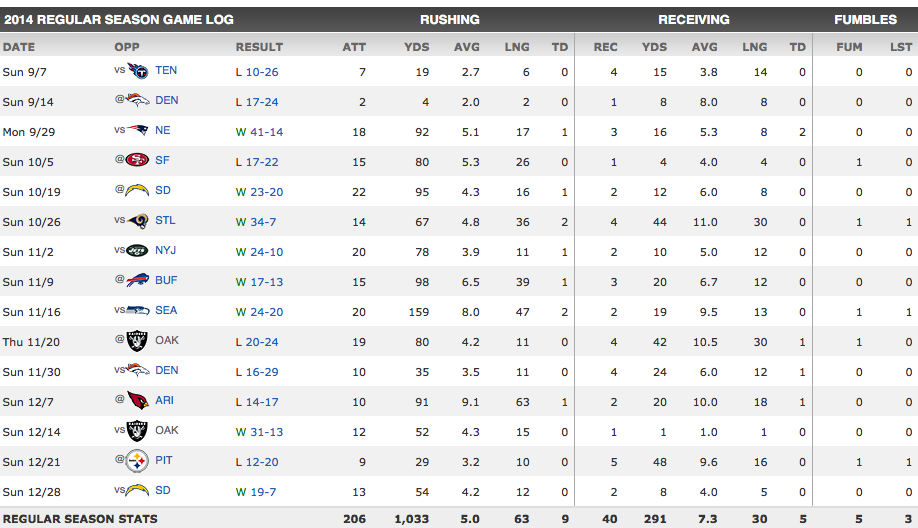 JAMAAL CHARLES 2015 BUST
First thing that stands out. Jamaal Charles is no longer a Running Back who is seeing 20+ Carries a game. Jamaal only saw 20 Carries or more three games last season. Week 13-Week 17, Charles averaged under 11 Carries a game and failed to rush for over 60 Yards in 4 of those 5 games. He also had a few cupcake matches in there with the Steelers/Chargers/Raiders.
Second thing that stands out. Jamaal Charles was not clutch combining for an average of 6 Fantasy Points in Standard Leagues against the Raiders and Steelers in the Fantasy Championship Week 15 & 16. For someone to be the #1 or #2 or even Top 5 RB and have them consistently get less than 15 carries, okay. If you think it is going to get better for the tiny lady bug in Jamaal Charles, you are delusional.
Third thing that stands out. Chiefs Offense is still garbage in 2015. While Jeremy Maclin was a nice upgrade over Dwayne Bowe, it is still Alex Smith at QB. The same Alex Smith that did not complete a TD pass to a WR nearly all season. The same Alex Smith that has ruined Dwayne Bowe and arguably Michael Crabtree. Alex Smith is not a good QB and the Chiefs offense will not be driving down the field scoring 28+ Points a game. Even 17+ would be very nice.
Last thing that stands out. The Chiefs this preseason have been featuring Knile Davis a lot. Knile believes he is better than Jamaal Charles if not on the same level at the very least, he may not be wrong. Jamaal Charles looks very small this preseason, did not put on weight, does not look like a stronger player from 2014. With the Chiefs not improving much on offense, and Knile Davis only getting better and more hungry, the Jamaal Charles train is about to crash. Knile Davis only has a couple years left to prove he is worth that big NFL Contract, and he is worth it.
Conclusion. Drafting Jamaal Charles is equivalent to writing a Fantasy Football Suicide note before the season even starts. You are letting everyone know that you are donating your money to the Pot and that you will be having a lot of Sundays where you yell at your TV regarding how bad Alex Smith is, or Knile Davis vulturing key Fantasy Points throughout the season. Jamaal Charles and is his situation is looking so bad this season, I have him confidently ranked #15 with small upside of reaching Top 12 before the Preseason ends, or potentially falling all the way to #17 before the season starts. Mark Ingram will be scoring more Touchdowns this season than Jamaal Charles no questions asked at #14, and if you think Jamaal Charles will get way more touches to make up for it, read above.
MUNTRADAMUS RB RANKINGS