FANTASY FOOTBALL: BLINDED BY THE LIGHT (JAMAAL CHARLES 2014 BUST)
FANTASY FOOTBALL:
BLINDED BY THE LIGHT
(JAMAAL CHARLES 2014 BUST)
By Muntradamus
BEAST DOME NATION.
If you select Jamaal Charles on your Fantasy Football team this season.  You are as blind as every Fantasy Football Site in the industry.
Jamaal Charles does not even rank in MY Top 5 at the RB spot.  Here is the difference between following the Goats and winning your Fantasy Football league.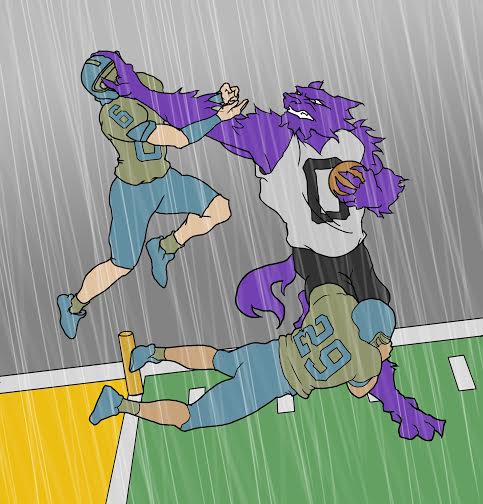 BLINDED BY THE LIGHT
(JAMAAL CHARLES 2014 BUST)
Last season I was the only Expert to Rank Peyton Manning #1 in the Industry.  The season he broke all the records and lead many BEAST DOME users to Fantasy Football Championships.
PEYTON MANNING AND JAMAAL CHARLES
The reason I ranked Peyton Manning #1 in 2013 was due to a lot of variables.
One of those variables is the same reason Jamaal Charles was such a BEAST last season.  My anticipation of the AFC West and Schedule they all went through.
DENVER 2013 SCHEDULE
Besides the Patriots, Texans, and possibly the Ravens.  I was confident Peyton was going to be a BEAST last season.
The Chiefs had a very similar schedule to the Broncos, and the reason Jamaal Charles ended up being the #1 Fantasy RB was due to the Chiefs amazing turnaround where they finished (11-5) from (2-14) in 2012.  Playing the Cowboys/Redskins/Jaguars/Raiders definitely helped along the way.
AFC WEST
No longer is the AFC West the cupcake defensive division it once was.  In fact, you can make a case for any team to be the #2 spot in the AFC WEST behind Denver.
The Raiders added a completely upgraded front 7 with Justin Tuck/LaMarr Woodley/Khalil Mack (Young Patrick Willis).  As well as upgraded offensive toys with Matt Schaub/Maurice Jones-Drew/James Jones.
The Broncos added Aqib Talib/DeMarcus Ware/TJ Ward.
The Chargers are still below average on defense, but did steal Brandon Flowers from the Chiefs.  Rivers always keeps that team competitive.
What really makes the AFC West tough this season, is that they are all facing the NFC WEST and AFC EAST teams in 2014.  That means SF/SEA/ARI/NE/MIA, all very tough defenses.  Will be going up against the offensively challenged Chiefs.  Not the Cowboys/Eagles/Jaguars of the world.  Or even the same horrible Raiders defense from last season.
KANSAS CITY 2014 SCHEDULE
PROJECTED RECORD (6-10)
CHIEFS OFFENSE
The Chiefs offense does not get people excited.  They do not score points, they just play old school football.  Alex Smith is good at managing clock and moving the Chains.  Even his superstar WR Dwyane Bowe put up his worst season with Alex Smith at QB in 2013.
DWAYNE BOWE
People want to blame Bowe for this low production.  Most of it has to do with the lack of talent surrounding Bowe in the passing game.  Defenses game planned to shutout Bowe and it worked.
Worst Part Is
The Chiefs did not make any upgrades at any position on offense.  Donnie Avery is still the #2 WR, while Anthony Fasano who just turned 30 is still the TE.  The Chiefs do not have enough dynamic weapons on offense to score a lot of points.  This is a football team that needs to win low scoring games by the score of 17-10.  Not shootouts where it is 35-21.  That is not Chiefs football.  That is how they lost in the 1st Round of the Playoffs.  Jamaal getting a 1st Quarter concussion did not help either.
JAMAAL HEALTH
The guy is small,  5'11/199.  The Raiders/ Broncos will be hitting harder this season than they did last season.  The Seahawks/49ers/ Cardinals will be hitting a lot harder than the Cowboys/Eagles/Giants.  The Patriots and Dolphins will be crushing skulls as well this year.
Jamaal and that cupcake schedule last season does not compare to 2014.  He is no lock to feeling 100% healthy all season, even if he plays.  Jamaal will be facing hard shots which will fatigue him, and possibly have him sit out a series or two.  This season will be a different journey for Jamaal Charles.
CONCLUSION
If you draft Jamaal Charles in the Top 5 of your Fantasy Football draft.  Be prepared to watch a lot of Kansas City Drives last less than 30 yards constantly.  Be prepared to draft Knile Davis just in case the tiny Charles is a game-time decision because of all the big hits he will be facing this season.
The Chiefs offensive woes and tough schedule coming into 2014 will throw a lot of Jamaal Charles Owners at the back of their Standings.  Jamaal will still perform when the matchup is right, but Jamaal will also leave you with single digit Fantasy Points more often than you would ever expect from your 1st Round Pick.  Yet alone #1 Pick.
MUNTRADAMUS PREDICTION
JAMAAL CHARLES – RB – KC
1200 TOTAL YARDS . 12 TDs
RB RANKING #7
VIP PACKAGES COME OUT THURSDAY
Muntradamus Awards