FANTASY FOOTBALL 2014 QB RANKINGS (June)
FANTASY FOOTBALL
2014 QB RANKINGS (June)
By Muntradamus
BEAST DOME NATION.
WE ARE BACK!
It is time to get you ready to BEAST your Fantasy Football Leagues in 2014.  It is time to talk trash to the co-worker you hate deep down inside but you pretend everything is 'all good' at work.  It is time to win money and bring home the Championship Trophy.
This Preseason, I will have you ready to BEAST your Fantasy Football League.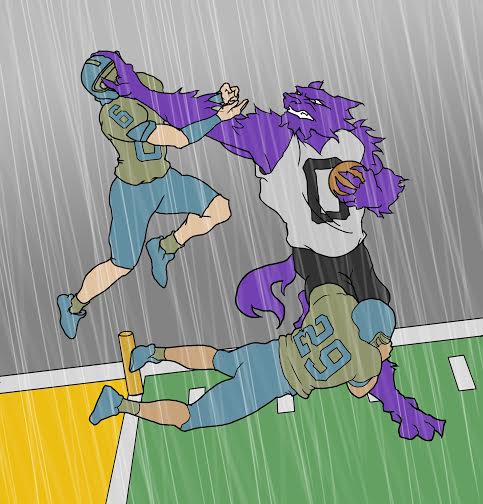 2014 PRELIM (JUNE) QB RANKINGS
*There is still a lot of information to be learned this preseason. Rankings are not Final.*
PEYTON MANNING – QB – DEN
MUNTRADAMUS QB RANKING #1
Peyton Manning.  Nobody better in the game and easily the best Fantasy QB of all-time.  Yet still, I was the only Expert to Rank him #1 in the preseason 2013.  Now it is 2014, things are different.  Besides the Montee Ball show coming to Denver, the Broncos no longer own Eric Decker.  They did replace him quickly with a very talented/faster Emmanuel Sanders.  The Broncos offense is explosive, and besides the hard hitting NFC West teams in Seattle and San Francisco, it is hard to imagine Peyton having any trouble against any opponent this season.
Drafting Peyton Manning is a Must.  He is the #1 Overall Pick in Every Fantasy Football League.
AARON RODGERS – QB – GB
MUNTRADAMUS QB RANKING #2
Aaron Rodgers is a special QB.  What makes him lethal is his ability to throw for 300+ Yards and a handful of TDs every game, almost at the same rate as Peyton Manning.  What used to make him #1, is his ability to be a Redzone monster as he is not afraid to pile up on those rushing TD stats.  After that collarbone injury in 2013, Rodgers will rely on the pocket and continue to decrease his rushing attempts.
Rodgers is ready to have a Monster 2014 season after injuries slowed him down in 2013.  No more JerMichael Finley is not as big of a loss as some will think, especially when it comes to the advantage of more targets for Jordy Nelson, Randall Cobb, and a HUGE WR#3 sleeper BEAST in Jarrett Boykin.
Owning Aaron Rodgers will give your Fantasy Team a foundation to win your matchup every week.  Do not expect a lot of rushing stats, but he will give you the threat if the defense leaves it open.
ROBERT GRIFFIN III – QB – WAS
MUNTRADAMUS QB RANKING #3
RGIII and the Redskins were a joke in 2013.  The team looked horrible on defense, and RGIII with his gimpy leg had no chance to carry this team to vicotries.  Alfred Morris was fumbling too often, and teams were able to shutdown Pierre Garcon who was double-teamed on nearly every play.
Things are different in 2014.  The first big move was adding Jay Gruden to be the head coach. Gruden was an Arena Football League Hall of Famer at the QB position.  Which means he knows how to get points up on the board quickly and one could only imagine how dominant he would be with the skill set of RGIII.
The Big Move that changes everything and makes the Redskins potentially the best offense in the NFC, is the addition of Desean Jackson.  Desean Jackson will make teams play Safeties 20 yards deep.  Which will not only give RGIII room to run, but it can create space for Jordan Reed and Pierre Garcon to have monster breakout seasons that were untapped in 2013.  RGIII is ready to have a monster season and I would take the injury concern with a grain of salt and just draft a good backup QB in case Plan B comes into play.
DREW BREES – QB – NO
MUNTRADAMUS QB RANKING # 4
Hard to get a read on Drew Brees.  Of course he is a rock solid 400+ Yard QB who will easily finish in the Top 4.  The question you have to wonder is about the potential of an increased rushing attack.  The Saints have a lot of talent in the backfield with the emergence of Khiry Robinson who seemed to be the unspoken hero of the Saints 2013 Playoff run.  Pierre Thomas and Mark Ingram are also very talented players who can really eat the clock.
With Darren Sproles now in Philly, the Saints can actually be a running football team and dominate time of possesion while defenses fear for their life that Drew Brees could strike a long TD pass at any moment.  The Saints will be scoring a ton of points this season with Jimmy Graham and Marques Colston 100% healthy heading into 2014.  The only concern is the loss of potential redzone TDs to the powerful Mark Ingram and Khiry Robinson.  Especially when the Saints are blowing team out by the 3rd Quarter.
MATT STAFFORD – QB – DET
MUNTRADAMUS QB RANKING #5
The Lions finally got a #2 WR to distract attention from Calvin Johnson.  He is not the sexiest name in Fantasy Football, but Golden Tate will be the difference maker for Matt Stafford to finally be the consistent 400+ Yard QB everyone knows he can be.  The Lions have too many weapons on offense, especially with Reggie Bush and his ability to catch passes and take them to the house on any play.  The Lions also invested a 1st Round pick on TE Eric Ebron who is going to be a Top 10 TE.  Likely the next Julius Thomas.
The Lions offense will be scoring TDs at will, Golden Tate will do too much damage if teams decide to sellout on stopping Calvin Johnson, which means everyone will be scoring TDs.  Grab Matthew Stafford this season and feel confident that you have easily a Top 5 Fantasy QB if not Top 3.
ANDREW LUCK – QB – IND
MUNTRADAMUS QB RANKING #6
The Colts offense is going to be putting up points at a very high rate.  Andrew Luck is one year more mature, but most importantly he was able to be a Fantasy BEAST with TY Hilton as his go-to guy when Reggie Wayne went down.  Not only does TY Hilton return, and Reggie Wayne come into 2014 healthy.  The Colts also added Hakeem "The Dream" Nicks.  Last season Nicks was the victim to a horrible Giants team that had trouble from the snap of every play.  Now Hakeem is on a high scoring offense that looks to throw the ball downfield often with no problems at all.  Nicks will be a monster and the trio of Reggie Wayne/TY Hilton/Coby Fleener will make Andrew Luck a Fantasy Superstar.
Trent Richardson and Ahmad Bradshaw are both healthy this season, which does give defenses the threat to protect the run.  As far as my analysis on that situation and who to take.  Standby as we learn more in the preseason, but Trent Richardson who dropped 15 LBs to become more lean is a threat to be a MONSTER.
MATT RYAN – QB – ATL
MUNTRADAMUS QB RANKING #7
The entire Falcons team had the injury bug hit them hard.  When Julio Jones season ended right before the midway point of 2013, the Falcons knew it was going to be a stretch to make a playoff run.  When Roddy White and Steven Jackson both went down from time-to-time throughout the season, the Falcons were destined for doom.  This season, the entire Falcons squad comes in healthy.
That is all Matt Ryan needs to throw for 4,000+ Yards with a potential 30 TDs easily.  The Falcons will always be a high scoring, high flying offense.  The loss of Tony Gonzalez does hurt, but the emergence of Levine Toilolo should turn him into a potential low-end TE#1.  He is a player to monitor during the preseason.  The Falcons need Ryan to put big numbers to win games.  This defense does it's job on a very inconsistent basis.
COLIN KAEPERNICK – QB – SF
MUNTRADAMUS QB RANKING #8
In 2013 Colin Kaepernick busted out Week 1 with a 432 Yard passing performance, and never came close to anything like that in the air the rest of the season.  Throughout the 2013 season, the 49ers wanted to decrease the amount of rushing attempts for Kaepernick in order to keep him healthy for the playoffs.  Anquan Boldin was not able to beat double teams.  Michael Crabtree was not himself until the very end of the regular season.
This season we can expect Kaepernick to finally be the consistent 275 Yard QB through the air like we need him to be.  The addition of Stevie Johnson was HUGE, and a healthy Michael Crabtree makes Colin lethal.  Anquan and Vernon Davis are both BEASTS when it comes to broken tackles in the secondary.  There is no reason for Kaepernick not to have a big year in the air, especially when you factor in that the 49ers finally see Frank Gore's time coming to an end with the announcement of running a RBBC (Running Back By Committee.)
IF Colin runs, he can run you to a title.  When the defense shuts down other teams, Kaepernick will be handing the ball off a lot in the 4th Quarter.
TOM BRADY – QB – NE
MUNTRADAMUS QB RANKING #9
Tom Brady could be the greatest QB of all-time.  The fact he is able to perform like a must-start QB#1 material with Julian Edelman as his #1 WR is beyond amazing.  Rob Gronkowski at this point will be ready for Week 1.  Last season it took Gronk nearly half of the season to be healthy, and when Gronk was healthy, Brady was getting big numbers.  He had a 432 Yard/4 TD performance against the Steelers and was still able to throw for over 4,300 yards on the season.  Despite the fact that Brady had 6 games with less than 200 Yards Passing.
Time to get your Brady vision ready, which means to not worry who he is throwing to.  If he slips on Draft Day, you can be drafting a Future Hall of Famer who should be better statistically than he was last season.
JAY CUTLER – QB – CHI
MUNTRADAMUS QB RANKING #10
Jay Cutler has potentially the best #1/#2 WR punch in Fantasy Football.  Brandon Marshall we all know is one of the most talented in the game.  The history of Cutler to Marshall dating back to the Denver Broncos days makes this QB/WR combo unstoppable.  Now add to the equation that Alshon Jeffery emerged into a BEAST, and Jay Cutler just has to play the better matchup each time for an easy big play.
Cutler is capable of throwing for 300+ Yards consistently which would make him a fine low-end QB#1.  There are games he is going to blow up, but there will also be games where Matt Forte gets a lot of carries to take care of business in the second half.  However you take the good with the bad and realize that Jay Cutler will be able to lead your team to a lot of quality blowouts against your opponent, especially with how late he will slip in your draft as you build your team before him.
NICK FOLES – QB – PHI
MUNTRADAMUS QB RANKING #11
Foles either has BUST written all over him, or he will become the next Drew Brees.  The reason Foles could and should be a BUST is the loss of Desean Jackson to the Redskins.  Desean Jackson made Nick Foles the BEAST he was last season as teams had no idea how to defend his speed.  They would over-compensate and leave the entire field open for him to pick and choose how he wanted his Fantasy Stats.
The reason why Nick Foles could also be the next Drew Brees is simple.  The loss of Desean Jackson is HUGE, but the gain of a healthy Jeremy Maclin is very big.  Maclin is a superstar and if he is 100% healthy, they will not lose as much as you would think.  Maclin will easily be a WR#1 who is a great target on Draft Day.  The other reason Foles could be like Brees is the addition of Darren Sproles.  Darren Sproles made Drew Brees a lethal QB having him in the slot.  Add to the equation that you have Lesean McCoy in the backfield who can catch, Darren Sproles in the slot, and Jeremy Maclin/Riley Cooper on both sides.  Defenses will have a lot of trouble figuring out how to contain the Eagles.
TONY ROMO – QB – DAL
MUNTRADAMUS QB RANKING #12
If there is one superstar QB that will be overlooked in Fantasy Football Drafts this August, it will likely be Tony Romo.  Romo is the type of player that will make you so angry, you may throw your remote into the TV.  On the otherside, he could have a 400 Yard/3 TD performance which will allow you to trash talk like there is no tomorrow on all the haters.
However, the bad always comes with the good, and this could be a season where there is a lot of bad in Dallas.  The loss of Sean Lee makes the Cowboys an 8-8 Football team at best.  The offense still has Superstars in Dez Bryant/DeMarrco Murray/Jason Witten and a very good Fantasy Sleeper in Terrance Williams.  On the flip side, the Cowboys could see little Time Of Possesion and you will be left with 4-5 possesions each half with your starting QB.  The good news is the Cowboys will be throwing more than they need to, but the bad news is, Romo tends to throw careless passes which will lead to a lot of INTs.
BUST OF THE YEAR

CAM NEWTON – QB – CAR
MUNTRADAMUS QB RANKING #13
'SuperCam' Newton threw for 300+ Yards only once all season in 2013.  The Panthers bailed out on the Steve Smith/Cam Newton combo by letting him walk to Baltimore.  The Panthers no longer have Brandon LaFell who is now a Patriot.  All of a sudden the Panthers only have Greg Olsen and the reincarnation of Plaxico Burress in Rookie Kelvin Benjamin.  What would make me feel better is knowing that Cam is running a lot, but he rushed for 60+ Yards only three times last season with 6 TDs.  Zero games with multiple Rushing TDs.
I love Cam Newton as a Player, he is a Superstar WR away from being the next Daunte Culpepper.  However, I am not paying anything close to a mid-late draft pick on Cam this season.  The Panthers are asking him to do too much with no weapons, and it is not possible for him to succeed consistently.  Panthers want to win close grind games.
Muntradamus Awards