FANTASY BASKETBALL STILL #1
FANTASY BASKETBALL
STILL #1
By Muntradamus
BEAST DOME NATION.
This is a Testimonial from Team M&M. It is a team I manage and draft year after year for every sport. The cover image of the Fantasy Basketball Draft Guide this year was Paul George, a little free hint for everyone.
Once again pure domination in Fantasy Basketball as we head towards the stretch run of the season. Last year finished in 2nd Place, year before that finished in 1st Place. The strategies were both on BEAST DOME.
So who would have you had this year in Fantasy Basketball if you followed the strategy?
ROSTER FROM OPENING NIGHT
1st Round Pick, John Wall ended his season early.
2nd Round/3rd Round Pick in Paul George + Blake Griffin was HUGE. It was like drafting two 1st Rounders in the 2nd and 3rd Round, something you will be doing this Fantasy Baseball season.
Next two picks included Nurkic and CJ McCollum, who were HUGE in bringing the Blazers to one of the best teams in the West this season.
Despite that noise, this team has been in First Place since mid December 2018
Free Agent Moves + Trades

Huge Free Agent adds in Siakam + Oubre + Wade to kick things off. Batum/Hayward/Waiters are all good role players, and Hart can see an extended run to close out the year. Plus we had to drop Brandon Ingram who was just ruled out for the season, another early pick.
Adding Siakam + Oubre led us to being able to trade for Andre Drummond. Trade has been pretty even, but Drummond + Blake is curising us to the finish line.
CURRENT ROSTER
Why do I show you all this?
To let you know you should be signing up for the MLB Season and dominating your season.
Even if you do not play Fantasy Baseball,
you can still play the game through me.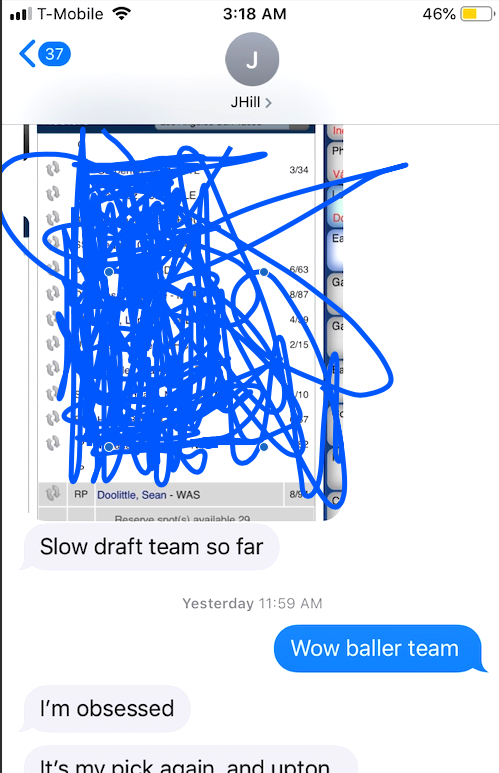 GET A BEAST PACKAGE
BEAST HEDGE $100
You get my advice for the entire season. You can ask Waiver Wire/Start Sit Questions. All $100 will goto a BEAST Hedge where I play Daily Fantasy Baseball and make the lineups, the profits are split 50/50.
6x MLB DFS BASEBALL CHAMPION QUALIFIER. 4x FANTASYPROS HR CHAMPION
WON $10,000
OPTION 2
BEAST SEASON $350 LEAGUE BUY IN
We enter a team into the same tournament that won Jason $30,000! this past Football Season, but for Baseball. I manage/Draft/Watch the team all year. You get to sit back and relax and watch the team occasionaly when you have the time. We split the Profits 50/50. 1st Place $150K.
E-Mail me to learn more. [email protected]
OPTION 3
You get my Rankings + can ask me Start/Sit Waiver Wire Questions all season for MLB. Lets get it!