FANTASY BASEBALL WAIVER WIRE: STEALING A PLAYOFF SPOT
FANTASY BASEBALL WAIVER WIRE:
STEALING A PLAYOFF SPOT
By Muntradamus
BEAST DOME NATION.
The time to step up is coming to a close in all of your Fantasy Baseball Leagues.  You have had since April to build a huge lead in your standings so you can prepare for the Playoffs.  This article is broken down into two Parts.
FANTASY BASEBALL TESTIMONIAL
MUNTZ – I WANTED TO GIVE YOU AND YOUR VIP PROGRAM A HUGE SHOUT OUT. EVERYONE KNOWS HOW AMAZING YOU AND THE BEAST DOME WEBSITE ARE BUT YOUR VIP PROGRAM MAKES YOUR SITE STAND OUT OVER THE REST. OVER THE PAST FEW WEEKS, YOU HAVE TAKEN MY FANTASY FOOTBALL AND BASEBALL TEAMS TO THE NEXT LEVEL.
AS IT STANDS NOW, MY FOOTBALL TEAM IS 3 – 1 AND I AM TIED FOR FIRST IN MY DIVISION. NOT ONLY DID I FOLLOW YOUR DRAFT STRATEGY TO DRAFT A GREAT TEAM BUT YOUR WEEKLY VIP GUIDANCE IS TAKING MY TEAM TO THE NEXT LEVEL. THE FACT THAT YOUR VIP SERVICE INCLUDES REVIEWING MY TEAM AND GIVING THE TOP FREE AGENT RECOMMENDATIONS IS AMAZING. YOU CAN'T BEAT THAT! I CAN'T WAIT FOR THE REST OF THE YEAR.
AS YOU KNOW, I JUST WON THE CHAMPIONSHIP IN MY BASEBALL LEAGUE. I MADE SOME WRONG MOVES EARLY IN THE WEEK AND FOUND MYSELF 100 POINTS DOWN BY WEDNESDAY. I ASKED YOU FOR A LITTLE ADVICE AND YOU GAVE ME THE WORLD. I CAN'T BELIEVE YOU LOOKED AT MY TEAM/LEAGUE ON A DAILY BASIS AND RECOMMENDED THE HITTERS AND PITCHERS I SHOULD PICKUP/START. YOU COMPLETELY TURNED MY TEAM AROUND IN FIVE DAYS.  I DON'T BELIEVE IT MYSELF, WITHIN FIVE DAYS YOU HELPED ME GAIN 180 POINTS ON THE COMPETITION!!!
*STARTED VIP PROGRAM THE NIGHT OF SEPTEMBER 27TH.
LASTLY, THANKS FOR THE BETTING ADVICE YOU RECENTLY GAVE ME WHILE IN LAS VEGAS. YOUR NFL PARLAY OPTION THAT YOU SENT ME EARNED ME A QUICK $100. I USUALLY DON'T BET ON SPORTS BUT YOU MADE IT SO EASY AND PROFITABLE. JUST SAYING….THIS MIGHT BE A GOOD SERVICE TO THE REST OF THE BEAST DOME NATION!
HANDS DOWN, YOUR VIP SERVICE STANDS OUT AMONGST THE COMPETITION. MOST FANTASY PAY SERVICES GET YOU ACCESS TO ONLINE TOOLS, CHARTS, GRAPHS, ETC… YOUR VIP SERVICE GET THE BEAST DOME MEMBERS ACCESS TO YOU! YOU CAN NOT FIND A BETTER DEAL ANYWHERE. THANKS SO MUCH FOR EVERYTHING. I CAN'T WAIT TO SEE HOW MANY CHAMPIONSHIPS I CAN WIN!!!
– JOHN D.
HITTING/PITCHING
First we will talk about Pitching.
If you are not in the Playoffs right now because of your pitching.  You have one move, and one move only.
STREAM STARTING PITCHERS
If you can stream Pitchers Daily in your Fantasy Baseball League, and you need to make up ground in the Pitching category.  You have to start streaming some of your starters.  Below is the Current Top 50 SP.
TIER 1
These guys can be waived under no circumstance.  If you are in a position to make the Playoffs in Fantasy Baseball, start making trades to acquire these players if it is not too late.  Teams that are struggling for the Playoffs have to make moves, and strengthening their staff for two weeks might be the price they pay to give up DAVID PRICE.
TIER 2
This Tier of Pitchers you should not waive as well.  These guys will win nearly every start, and give you solid numbers across the board.  Johnny Cueto is injured, but when he returns he can start pitching like a Tier 1 Pitcher out of the gates.  Jordan Zimmerman is starting to wear down, I would trade him away.  James Shields ruined me in the DraftStreet Championship, still a good pitcher..I guess.  Cole Hamels is now hittable as well.
TIER 3
These are the last Tier of Pitchers I would keep on my Fantasy Roster.  All of these pitchers are too good to be Free Agents in any league.  CC Sabathia will rebound, R.A. Dickey is pitching much better in the 2nd half, Ivan Nova is the best pitcher on the Yankees right now performance wise, Dan Haren is starting to regain his Arizona Diamondbacks pitching skills.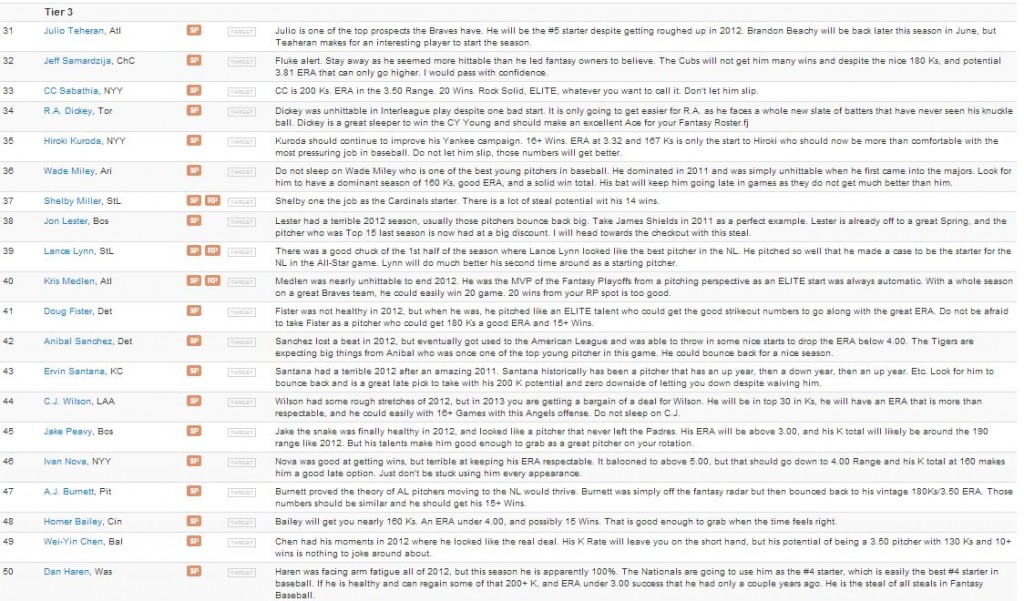 STRATEGY
IF YOU HAVE A PLAYOFF SPOT LOCKED UP
– Trade for Tier 1 Pitchers.  You have a few Tier 3 Pitchers, and a team has Max Scherzer to go along with a weak pitching staff.  Offer those Tier 3 Pitchers to gain the Star.
In the Playoffs you cannot have your Pitchers choke on you.
IF YOU DO NOT HAVE A PLAYOFF SPOT LOCKED UP
STREAM.STREAM.STREAM
Chances are you do not have a lot of the Pitchers on this list, or you would not be in the position of making the Playoffs.
V.I.P. DAILY PITCHER RANKINGS
*SIGNUP FOR THE EARLY BEAST SPECIAL.
GET THE REST OF THE BASEBALL SEASON V.I.P. FREE*
E-Mail [email protected] if interested.
RANKINGS (8/11)
*RANKINGS ARE BASED ON  PITCHING PERFORMANCE. PROBABILITY TO GET WIN*
*These are usually posted on Muntradamus.NET (VIP only)*
BEAST
FELIX HERNANDEZ VS. MIL (8 INN/1 ER/7 K)
CLAYTON KERSHAWN VS. TB (7 INN/2 ER/8 K)
ELITE
MIKE MINOR VS. MIA (7 INN/2 ER/7 K)
JUSTIN MASTERSON VS. LAA (7 INN/2 ER/7 K)
STEPHEN STRASBURG VS. PHI (7 INN/2 ER/6 K)
MIKE LEAKE VS. SD (7 INN/2 ER/5 K)
JUSTIN VERLANDER @ NYY (8 INN/3 ER/6 K)
GOOD
BUD NORRIS @ SFG (7 INN/3 ER/6 K)
JAMES SHIELDS VS. BOS (7 INN/3 ER/6 K)
MATT CAIN VS. BAL (7 INN/3 ER/5 K)
JOE KELLY VS. CHC (6 INN/3 ER/5 K)
R.A. DICKEY VS. OAK (6 INN/3 ER/5 K)
MARTIN PEREZ @ HOU (6 INN/3 ER/4 K)
AVERAGE
JOHN LACKEY @ KC (7 INN/4 ER/5 K)
KYLE KENDRICK @ WAS (6 INN/3 ER/4 K)
HENDERSON ALVAREZ @ ATL (6 INN/3 ER/4 K)
JOSE QUINTANA VS. MIN (6 INN/4 ER/5 K)
WILY PERALTA @ SEA (6 INN/4 ER/5 K)
IAN KENNEDY @ CIN (6 INN/4 ER/5 K)
EDWIN JACKSON @ STL (7 INN/4 ER/4 K)
JONATHAN NIESE @ ARI (5 INN/3 ER/3 K)
ZEKE SPRUILL VS. NYM (5 INN/3 ER/ 3 K)
JEREMY HELLICKSON @ LAD (6 INN/4 ER/4 K)
A.J. GRIFFIN @ OAK (6 INN/4 ER/4 K)
JEFF LOCKE @ COL (6 INN/4 ER/4 K)
JEROME WILLIAMS @ CLE (6 INN/4 ER/4 K)
ANDY PETTITTE VS. DET (6 INN/4 ER/4 K)
KEVIN CORREIA @ CWS (6 INN/4 ER/4 K)
RISKY
DALLAS KEUCHEL VS. TEX (5 INN/4 ER/4 K)
CHAD BETTIS VS. PIT (5 INN/4 ER/4 K)
HITTING
If you do not have a Playoff spot locked up, and your hitting is bringing you down.
It is time to start playing the Waiver Wire for the Hot Hitters.
MUST-OWN
B.J. UPTON – OF – ATL
OWNED IN 59% OF CBS LEAGUES
The B.J. is back in fashion ladies and gentleman.  He is going to carry you to your championship if you grab him now.
The player who has hit below .200 is regaining his form since coming off the DL.  Yes he is Zero for his last 7 ABs.  Still, he can hit a HR and steal a base in the same game just as easily as Carlos Gomez.
Maybe not as easily, but it could happen at a similar rate.
Grab B.J. now, he is a 3rd Round talent who is becoming one of the key players to the Braves World Series run.
POWER
JOSH REDDICK – OAK – OF
OWNED IN 58% OF CBS LEAGUES
There is not a hotter hitter in baseball than Josh Reddick.  He came into this weekend Series against the Blue Jays with only 5 HRs on the season.  This is the same player that exploded out of nowhere for 32 HRs in 2012.
Still, I liked his matchup so I used him in Daily Fantasy Baseball on Friday.  Below is the results.
He ended up hitting 2 HRs the next day, to bring his season total to 10 HRs on the season.  There is a good chance he hits at least 5 more HRs this season, and possibly 10 to bring his total to 20.  This is the first time all year Josh Reddick has his power stroke going, and he is hitting HRs off of Lefties also.
OSWALDO ARCIA – MIN – OF
OWNED IN 15% OF CBS LEAGUES
If you missed out on Reddick.
Oswaldo is a big guy who can swing the bat.  He has been a little inconsistent this season, but he is finally getting it together.  He has hit a HR in 3 Straight games, bring his season total to 10.  His batting average sits around .258 and he strikes out more than you would like, but if he swinging a hot bat you have to use this guy if you are wasting the spot on someone cold.
SB/RUNS
EMILIO BONIFACO – TOR – 2B/OF
OWNED IN 13% OF CBS LEAGUES
RAJAI DAVIS – TOR – OF
OWNED IN 36% OF CBS LEAGUES
If you need Stolen Bases.  These two players can easily steal a base a game they get the start.
Rajai is the type of player who would lead the league in SBs if he got the chance to play everyday.
Emilio Bonifacio stole 30 bases in 64 Games in 2012 just to give you an idea on his potential.
Both of these players platoon with each other.  
If you really need SBs.
You play in a league where you can switch your lineup daily, own both of these players.  Platoon them.
CATCHER
Lots of catchers go down this time of the season.  There knees start to ware down, or they want to move them to 1st Base to preserve their future.  There is one catcher who can step up now and be your go-to guy if you feel your current starter is wasting his spot.
YAN GOMES – 1B/C – CLE
Many of you remember Yan from his days with Toronto.  He was almost good enough to steal the job from J.P. Arencibia, but not good enough as J.P. is a living legend here at BEAST DOME.
Gome is hitting over .300 against both lefties and righties, with an equal amount of power from both side of the plate (8 Total HRs).  If you are struggling at catcher, he is the hot bat.
CURRENT RANKINGS OF PLAYERS WHEN HEALTHY
*RANKINGS LINK WILL BE FIXED MONDAY*
Muntradamus is a Fantasy Sports Expert who specializes in Fantasy Football/Baseball/Basketball. He is currently in his second season as a Pro on FantasyPros coming off of an impressive Rookie Campaign where he landed the #8 Overall In-Season Fantasy Football Rankings Expert.  Which also included #1 WR of all Expert Sites.  He is also one of two people to qualify for all DRAFTSTREET CHAMPIONSHIPS (MLB/NFL/NBA) in 2012. Most Historically, Muntradamus was the #1 Fantasy Football Expert of IDP & Overall Rankings in One Week, first and only time in Fantasy Sports History.