FANTASY BASEBALL WAIVER WIRE: Do not Over Estimate Players (Week 2)
FANTASY BASEBALL WAIVER WIRE:
Do not Over Estimate Players (Week 2)
By Muntradamus
BEAST DOME NATION.
What an opening Week of Fantasy Baseball it was.
You can check my Preseason Predictions here
(Ranked Chris Davis Higher Than Any Expert)
STARTSTREET
Finished 15/1400 for Championship
FANDUEL
Finished 8th of 1962 Entries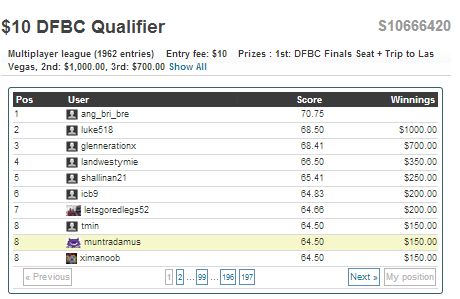 DRAFTKINGS
Finished 13th of 600 in a 3 Day Tournament
WAIVER WIRE WEEK (2)
C
CHRIS IANNETTA – LAA
Ianetta has always been a catcher with 20 HR potential with the Rockies.  Moving to the Angels in 2012 was not the best situation for his power, but the Angels offense was good enough to give him a 65 RBI season.
Right now Ianetta is crushing the ball and looks like a legitimate potential 20 HR/70 RBI season.  Of course the season is very young, but we all know the talent is there.
OF
GERARDO PARRA – ARI
Parra is hitting leadoff every game now for the D-Backs.  His balanced power/speed could find himself near the 20 HR/20 SB range, but 15/15 is more like it.
While this nice almost .500 batting average is nice to start the season, we all know .267 is a more realistic number.  Ride this streak out as long as you can before they start playing Eaton full-time.  Cody Ross and Jason Kubel are the two solid OF options.
FRANKLIN GUTIERREZ – SEA
Did not take Franklin long to make noise in the Fantasy Baseball world.  2 HRs in the 1st week is good, but to have a .304 batting average makes him very attractive.  The 20 SB potential form the past appears to be in the past, which means Franklin will have to club 25 HRs to have big fantasy value.
For now ride it out.
COLBY RASMUS – TOR
Every season people write off Colby Rasmus as not a quality starting Fantasy OF option.  He is now looking like a solid 25 HR player with consistent pop.
The Blue Jays offense will give Colby a lot of run support, which means we can expect a nice 20 HR/80 RBI season at the worst if he stays healthy.
JEFF FRANCOUER – KC
Just in case you really wanted to do some soul searching for an OF option, look no forther than the lefty crusher Jeff Francouer.  Jeff has the chance to be a Jonny Gomes type of player for the Royals, who do appear to be an offense that can get more hot before they cold.
If you can use him in situation players, he is a decent start.  Otherwise keep him on the bench, but play him while he is hot.
1B
TRAVIS HAFNER – NYY
Hafner already batting a cool .350 with 1 HR.  Hafner is going to continue to kill it in that Yankees ballpark that is built for lefties to crush 30 HRs.
Travis is looking comfortable, and he will only get better as the Yankees get healthier with more bats surrounding him.
LANCE BERKMAN – TEX
We see the .450 average with 1 HR after 1 Week, and we have to automatically assume that the 2011 Lance Berkman is still in there.
There is no reason to leave him on your waiver wire as he is the everyday #3 Hitter for this potent Rangers offense.
SS
PETE KOZMA – STL
Kozma was one of the bright spots for the Cardinals in Spring Training, and in 2013 he is continuing to hit the ball strong with a .333 batting average and 1 HR in Week #1.
While his speed is likely below double digit, and his power is likely to be less than 15 HRs.  Kozma is more or less a backup but a good warm body.
RP
KYUI FUKIJAWA – CHC
Did not take long for Carlos Marmol to remind the world that he is a horrible closer.   Nearly 3 Blown Saves in every appearance he had in this young season.  We have seen Fujikawa dominate teams, but the other day he was dominated giving up 4 ER in 1 INN.
JOAQUIN BENOIT – DET
The Tigers are really losing a lot of hope in their bullpen as they should.  Next up in musical chair is Joaquin Benoit, and it is very possible he is good enough to run with that job for at least the rest of April.  We will see.
Starting Pitchers is a Game-by-Game situation since the match up determines so much.
Muntradamus is a Fantasy Sports Expert who specializes in Fantasy Football/Baseball/Basketball. He is currently in his second season as a Pro on FantasyPros coming off of an impressive Rookie Campaign where he landed the #10 Overall In-Season Fantasy Football Rankings Expert.  Which also included #1 WR of all Expert Sites.  He is also one of two people to qualify for allDRAFTSTREET CHAMPIONSHIPS in 2012. Most Historically, Muntradamus was the #1 Fantasy Football Expert of IDP & Overall Rankings in One Week, first and only time in Fantasy Sports History.