Fantasy Baseball: Daily Pitcher Rankings (September 7th)
Fantasy Baseball
Daily Pitcher Rankings (September 7th)
By Muntradamus
To see yesterday's Daily Pitcher Rankings follow the link.
BEAST DOME NATION.
It's now or never time.  Ask me your fantasy baseball questions as we head towards the end stretch of the season!  #NowOrNever. Tell me how your teams are doing!
Feel Free to Leave Testimonials throughout the Playoffs.
*UPDATED HITTER/PITCHER RANKINGS COMING THIS WEEKEND*
ADAM LAROCHE: The HR machine is getting hot. *Is what I wrote Monday.  Two HR game on Tuesday. Why not add another HR Wednesday. Why not hit another HR Thursday.
MARK REYNOLDS: Is one more bad game away from calling the hot streak over. *Is what I wrote Monday.  He hit a HR Tuesday. Why not add another HR Wednesday.  Why not hit two more HRs on Thursday.
ADRIAN BELTRE: Is secretly playing at a MVP level.  6 HRs in the last 7 games.  5 of those HRs were solo shots.
JAY BRUCE: ON MVP fire right now. * Is what I wrote Monday, and he hit a HR Tuesday. He hit another Wednesday. *No game Thursday.
ANTHONY RIZZO: Back-to-Back days with a HR.  He is a Must-Own in all keeper leagues.
BJ UPTON: HR/SB combo, he is a great player to own. * Is what I wrote Monday, and he hit another HR Tuesday.  Took the day off Wednesday. No game Thursday.
LEADING CANDIDATES FOR DOUG FISTER AWARD: Minor Minor and Kris Medlen
LEADING CANDIDATES FOR RYAN RABURN AWARD: Mark Reynolds and Adam LaRoche.
Still anyone's game.
DAILY PLAYER RANKINGS (September 7th)
*Players I like by position. Is now exclusive to only V.I.P. #2 Package members.  Try it out for a week, if you do not win any day you get a 50% refund.  That is the Muntradamus guarntee.  Along with daily salary cap teams, you get all the players I like at each position to create your own.  Send me an e-mail at [email protected].
HR picks and Pitcher Rankings are still below for you seasonal owners to win that championship!


HR PICKS OF THE DAY (September 7th)
Take a moment of silence as I was just able to edge out my 9th straight week of 20% or greater.
*NEW NOTABLE MUNTRADAMUS HR SHOTS CALLED OF THE WEEK.

Monday: Chris Carter his 14th of the season.
Tuesday: BJ Upton was my lone highlight..
Wednesday: Give me some of that LaRoche.
Thursday: 4/6 day including LaRoche and Reynolds.

Week 13= 22.8%
Week 14= 20.2%

Week 15= N/A.

Week 16= 20.2%
Week 17 = 23.9%
Week 18 = 26.8%
Week 19 =  23.01%
Week 20: = 23.31%
Week 21 = 20.4%
Week 22 =20/86 = 23.26%
Week 23 =12/58 = 20.6%

SELECTIONS:

ADAM LAROCHE
JOE MAUER
ANDREW MCCUTCHEN
JARROD SALTALAMACCHIA
MARK REYNOLDS
MATT WIETERS
ADAM DUNN
RYAN HOWARD
PRINCE FIELDER
JASON KUBEL
BJ UPTON
JOSH HAMILTON
JAY BRUCE
EDWIN ENCARNACION

DAILY DRAFTSTREET TEAM (September 7th)
*To say thank you for my picks all week.  Please use the BEAST DOME logo below as your DRAFTSTREET ICON.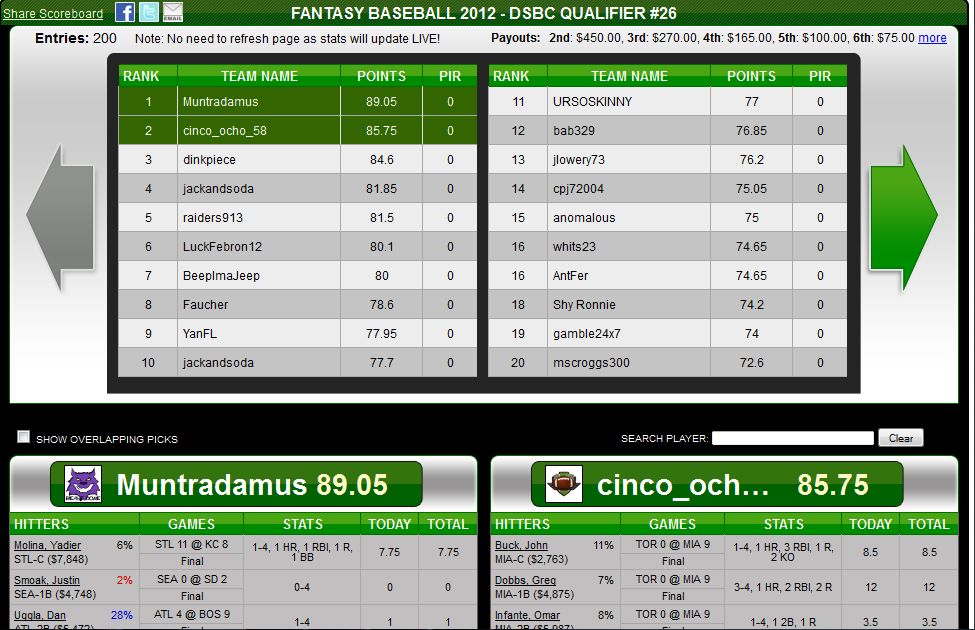 No more free picks.  If you want my picks for the week you can check out V.I.P package #2.  [email protected]. 50% money back guarantee if you do not win any games that week.

BET OF THE DAY (September 7th)
OVERALL RECORD = 53-23
*Want all my picks to do parlays?  E-mail [email protected]
Week 12: 6-1
Week 13: 5-2
Week 14: 3-4
Week 15: 1-2
Week 16: 4-3
Week 17: 5-2
Week 18: 5-2
Week 19 : 4-3
Week 20: 5-0
Week 21: 5-2
Week 22: 6-1
Week 23: 3-1
WAS MONEY LINE
Stephen Strasburg against a Marlins team that has Jacob Turner on the mound.  Sign me up.  The Nationals offense is one of the hottest in baseball thanks to Adam LaRoche.  I like his chances to go yard again.
DAILY PITCHER RANKINGS (September 7th)
ELITE STARTS:

1. FELIX HERNANDEZ VS.OAK
2. CLIFF LEE VS. COL
3. STEPHEN STRASBURG VS. MIA
4. A.J. BURNETT VS. CHC

GOOD STARTS:
5. HOMER BAILEY VS. HOU
6. PAUL MAHOLM @ NYM
7. TIM LINCECUM VS. LAD

ROLL THE DICE:
8. JONATHAN NIESE VS. ATL
9. TYLER SKAGGS @ SD
10. FELIX DOUBRONT VS. TOR
11. KYLE LOHSE VS. MIL
12. YOVANI GALLARDO @ STL
13. MAX SCHERZER @ LAA
14. A.J. GRIFFIN @ SEA
15. LUCAS HARRELL @ CIN
16. JOSH BECKETT @ SF
17. WEI-YIN CHEN VS. NYY
18. JEREMY HELLICKSON VS. TEX
19. FRANCISCO LIRIANO VS. KC
20. DEREK HOLLAND @ TB
21. ANDREW CASHNER VS. ARI
22. ERVIN SANTANA VS. DET
23. JEFF FRANCIS @ PHI
24. LUIS MENDOZA @ CWS
RISKY:

25. PHIL HUGHES @ BAL
26. HENDERSON ALVAREZ @ BOS
27. TRAVIS WOOD @ PIT
28. JEANMAR GOMEZ @ MIN
29. LIAM HENDRIKS VS. CLE
30. JACOB TURNER @ WAS
Muntradamus is a Fantasy Sports Expert who specializes in Fantasy Football/Baseball/Basketball. He is currently in his first season as a Pro on FantasyPros where he is the only expert to have Adam Dunn, Mike Aviles, Mark Trumbo, Ian Desmond, Jarrod Saltalamacchia, and Wilin Rosario in his top 20 at each position. Muntradamus not only leads many to championships with his great advice, and outlooks into the future. He is also consistently on the top of leaderboards in DraftStreet.