Fantasy Baseball Daily Pitcher Rankings (September 5th)
Fantasy Baseball
Daily Pitcher Rankings (September 5th)
By Muntradamus
To see yesterday's Daily Pitcher Rankings follow the link.
BEAST DOME NATION.
It's now or never time.  Ask me your fantasy baseball questions as we head towards the end stretch of the season!  #NowOrNever.
ADAM LAROCHE: The HR machine is getting hot. *Is what I wrote Monday.  Two HR game on Tuesday.
DELMON YOUNG: On some serious fire..leading candidate of the Ryan Raburn award.
MARK REYNOLDS: Is one more bad game away from calling the hot streak over. *Is what I wrote Monday.  He hit a HR Tuesday.
MATT HOLLIDAY: Left with back problems.  Should be back soon as the Cards chase a playoff spot.
JORDAN PACHECHO: A good sleeper candidate if you need a fill in corner INF hitter.
DALE THAYER: Blew the game earlier for the Padres, they come back to win and Gregerson locked down the save.  Job is Gregerson's for now.
BRANDON MOSS: Really came alive as a viable option this season.  16 HRs out of nowhere.
ALFONSO SORIANO: Kill lefties.
HANLEY RAMIREZ: 10 HRs in 38 games with the Dodgers. 14 HRS in 93 games with MIA.
RICKY NOLASCO: Starting to pick it up a bit.
JASON VARGAS: Looking like a must-start pitcher at home.
IAN KENNEDY: Can be waived for the next best pitcher.
ALEJANDRO DE AZA: Should be owned in every league.  2 SBs yesterday, HR Monday.  He is ready to roll.
JOSE QUINTANA: Can call it quits on his 2012 Fantasy Baseball season.
JAY BRUCE: ON MVP fire right now. * Is what I wrote Monday, and he hit a HR Tuesday.
BJ UPTON: HR/SB combo, he is a great player to own. * Is what I wrote Monday, and he hit another HR Tuesday.
DAILY PLAYER RANKINGS (September 5th)
*Players I like by position. Is now exclusive to only V.I.P. #2 Package members.  Try it out for a week, if you do not win any day you get a 50% refund.  That is the Muntradamus guarntee.  Along with daily salary cap teams, you get all the players I like at each position to create your own.  Send me an e-mail at [email protected].
HR picks and Pitcher Rankings are still below for you seasonal owners to win that championship!


HR PICKS OF THE DAY (September 5th)
Take a moment of silence as I was just able to edge out my 9th straight week of 20% or greater.
*NEW NOTABLE MUNTRADAMUS HR SHOTS CALLED OF THE WEEK.

Monday: Chris Carter his 14th of the season.
Tuesday: BJ Upton was my lone highlight..

Week 13= 22.8%
Week 14= 20.2%

Week 15= N/A.

Week 16= 20.2%
Week 17 = 23.9%
Week 18 = 26.8%
Week 19 =  23.01%
Week 20: = 23.31%
Week 21 = 20.4%
Week 22 =20/86 = 23.26%
Week 23 =6/43 = 13.9%

SELECTIONS:
ADAM DUNN
ADAM LAROCHE
GIANCARLO STANTON
ADRIAN BELTRE
NELSON CRUZ
FREDDIE FREEMAN
CHASE HEADLEY
HANLEY RAMIREZ
KYLE SEAGER
DAILY DRAFTSTREET TEAM (September 5th)
*To say thank you for my picks all week.  Please use the BEAST DOME logo below as your DRAFTSTREET ICON.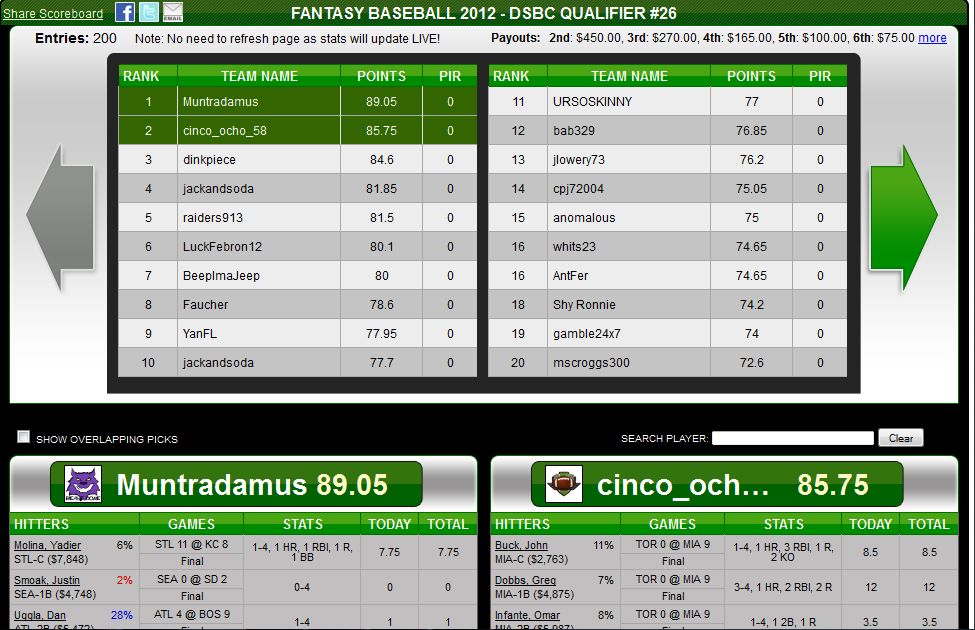 No more free picks.  If you want my picks for the week you can check out V.I.P package #2.  [email protected]. 50% money back guarantee if you do not win any games that week.

BET OF THE DAY (September 5th)
OVERALL RECORD = 50-23
*Want all my picks to do parlays?  E-mail [email protected]
Week 12: 6-1
Week 13: 5-2
Week 14: 3-4
Week 15: 1-2
Week 16: 4-3
Week 17: 5-2
Week 18: 5-2
Week 19 : 4-3
Week 20: 5-0
Week 21: 5-2
Week 22: 6-1
Week 23: 1-1
WAS MONEY LINE
The matchup is too good with Gio Gonzalez at home against a Cubs team that is counting down the days until next season.  Gio and gainst Volstad is not a matchup worth the price of admission, unless you want to see Gio dominate.
DAILY PITCHER RANKINGS (September 5th)
ELITE STARTS:

1. GIO GONZALEZ VS. CHC

GOOD STARTS:
2. R.A. DICKEY @ STL
3. MADISON BUMGARNER VS. ARI
4. ADAM WAINWRIGHT VS. NYM
5. MATT MOORE VS. NYY
6. MIGUEL GONZALEZ @ TOR

ROLL THE DICE:
7. KEVIN CORREIA VS. HOU
8. DOUG FISTER VS. CLE
9. RYAN DEMPSTER @ KC
10. TREVOR CAHILL @ SF
11. HIROKI KURODA @ TB
12. DAN HAREN @ OAK
13. MIKE MINOR VS. COL
14. KEVIN MILLWOOD VS. BOS
15. JAKE PEAVY VS. MIN
16. ROY HALLADAY @ CIN
17. BRANDON MCCARTHY VS. LAA
18. AARON COOK @ SEA
19. MIKE LEAKE VS. PHI
20. BRANDON MORROW VS. BAL
21. CLAYTON RICHARD @ LAD
22. NATE EOVALDI VS. MIL
23. UBALDO JIMENEZ @ DET
24. AARON HARANG VS. SD
RISKY:

25. ALEX WHITE @ ATL
26. FERNANDO ABAD @ PIT
27. EVERTT TEAFORD VS. TEX
28. WILY PERALTA @ MIA
29. CHRIS VOLSTAD @ WAS
30. P.J. WALTERS @ CWS

Muntradamus is a Fantasy Sports Expert who specializes in Fantasy Football/Baseball/Basketball. He is currently in his first season as a Pro on FantasyPros where he is the only expert to have Adam Dunn, Mike Aviles, Mark Trumbo, Ian Desmond, Jarrod Saltalamacchia, and Wilin Rosario in his top 20 at each position. Muntradamus not only leads many to championships with his great advice, and outlooks into the future. He is also consistently on the top of leaderboards in DraftStreet.