Fantasy Baseball: Daily Pitcher Rankings (September 10th)
Fantasy Baseball:
Daily Pitcher Rankings (September 10th)
By Muntradamus
BEAST DOME NATION.
It's now or never time.  Ask me your fantasy baseball questions as we head towards the end stretch of the season!  #NowOrNever. Tell me how your teams are doing!
Feel Free to Leave Testimonials throughout the Playoffs.
Playoff Strategy #1 – Pitching
Playoff Strategy #2 – Hitting
*UPDATED HITTER/PITCHER RANKINGS COMING THIS SUNDAY*
Here is a recap of what I wrote after last Mondays games.  If you took the advice, chances are you won your week.
ADAM LAROCHE: The HR machine is getting hot.
MARK REYNOLDS: Is one more bad game away from calling the hot streak over. *Hit a HR that day.
EVERTH CABRERA: Is a SB machine, now with 26.
CHASE HEADLEY: Is in Monster Mode.
RICKY NOLASCO: Starting to pick it up a bit.
JASON VARGAS: Looking like a must-start pitcher at home.
JAY BRUCE: ON MVP fire right now.
BJ UPTON: HR/SB combo, he is a great player to own.
LEADING CANDIDATES FOR DOUG FISTER AWARD: Kris Medlen
LEADING CANDIDATES FOR RYAN RABURN AWARD: Mark Reynolds
Still anyone's game.
DAILY PLAYER RANKINGS (September 10th)
*Players I like by position. Is now exclusive to only V.I.P. #2 Package members.  Try it out for a week, if you do not win any day you get a 50% refund.  That is the Muntradamus guarntee.  Along with daily salary cap teams, you get all the players I like at each position to create your own.  Send me an e-mail at [email protected].
HR picks and Pitcher Rankings are still below for you seasonal owners to win that championship!

HR PICKS OF THE DAY (September 10th)
Day of silence to reflect on another great week of picking HRs as I reach my 10th straight week over 20%.
*NEW NOTABLE MUNTRADAMUS HR SHOTS CALLED OF THE WEEK.

Monday: Chris Carter his 14th of the season.
Tuesday: BJ Upton was my lone highlight..
Wednesday: Give me some of that LaRoche.
Thursday: 4/6 day including LaRoche and Reynolds.
Friday: Edwin Encarnacion showing consistency.
Saturday: Give me more of that Mark Reynolds.
Sunday: Alfonso Soriano the cover man gets me my 10th straight week of 20%.

Week 13= 22.8%
Week 14= 20.2%

Week 15= N/A.

Week 16= 20.2%
Week 17 = 23.9%
Week 18 = 26.8%
Week 19 =  23.01%
Week 20: = 23.31%
Week 21 = 20.4%
Week 22 =23.26%
Week 23 =18/84 = 21.4%
Week 24 =

SELECTIONS:
 CARLOS QUENTIN
RYAN BRAUN
ALFONSO SORIANO
MIGUEL CABRERA
BUSTER POSEY
PABLO SANDOVAL
DAILY DRAFTSTREET TEAM (September 10th)
*To say thank you for my picks all week.  Please use the BEAST DOME logo below as your DRAFTSTREET or any Daily Fantasy Sports ICON.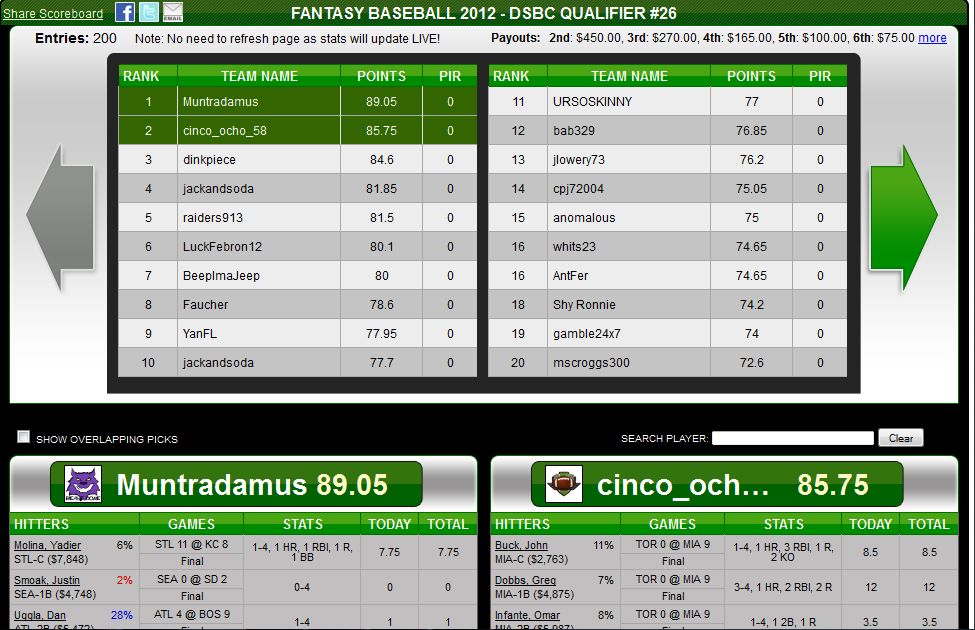 No more free picks.  If you want my picks for the week you can check out V.I.P package #2.  [email protected]. 50% money back guarantee if you do not win any games that week.
BET OF THE DAY (September 10th)
OVERALL RECORD = 54-25
*Want all my picks to do parlays?  E-mail [email protected]
Week 12: 6-1
Week 13: 5-2
Week 14: 3-4
Week 15: 1-2
Week 16: 4-3
Week 17: 5-2
Week 18: 5-2
Week 19 : 4-3
Week 20: 5-0
Week 21: 5-2
Week 22: 6-1
Week 23: 4-3
Week 24: 0-0

Washington Money Line
Gio is pitching too well, and the Nationals offense is too hot to lose to the bottom of the barrel Mets.  Expect the Nationals to continue their playoff march.
DAILY PITCHER RANKINGS (September 10th)
ELITE STARTS:

1. GIO GONZALEZ @ NYM

GOOD STARTS:
2. MAT LATOS VS. PIT
3. DAN HAREN VS. OAK
ROLL THE DICE:
4. JARROD PARKER @ LAA
5. KYLE KENDRICK VS. MIA
6. JAIME GARCIA @ SD
7. MIKE MINOR @ MIL
8. ERIC STULTS VS. STL
9. JUSTIN MASTERSON @ MIN
10. WANDY RODRIGUEZ @ CIN
11. RYAN VOGELSONG @ COL
12. RICK PORCELLO @ CWS
13. DALLAS KUECHEL VS. CHC
14. WADE LEBLANC @ PHI
15. WILLY PERALTA VS. ATL
16. SAMUEL DEDUNO VS. CLE
RISKY:
17. JOSE QUINTANA VS. DET
18. CHRIS VOLSTAD @ HOU
19. COLLIN MCHUGH VS. WAS
20. ALEX WHITE VS. SF
Muntradamus is a Fantasy Sports Expert who specializes in Fantasy Football/Baseball/Basketball. He is currently in his first season as a Pro on FantasyPros where he is the only expert to have Adam Dunn, Mike Aviles, Mark Trumbo, Ian Desmond, Jarrod Saltalamacchia, and Wilin Rosario in his top 20 at each position. Muntradamus not only leads many to championships with his great advice, and outlooks into the future. He is also consistently on the top of leaderboards in DraftStreet.