Fantasy Baseball: Daily Pitcher Rankings (August 8th)
Fantasy Baseball: Daily Pitcher Rankings (August 8th)
By Muntradamus
You Can see my Pitcher Rankings From yesterday by clicking here.
BEAST DOME NATION.
After winning my second seat in the Q, I hope you enjoy my content even more below.
CHRIS JOHNSON/DEREK NORRIS: Hit a total of three HRs, both were recommended in this weeks waiver wire article.
STEVE CISHEK: Is looking really good as the Marlins closer, could run away with job.
SANTIAGO CASILLA: Lost the closer job.  Romo and Affeldt will split opportunities.  Romo should win it eventually.
RYAN HOWARD: The player I am watching this week goes DEEP.
MATT WIETERS:  Hits 2 HRs to show why he is a top 5 catcher despite the slump.
MIGUEL CABRERA: Back-to-Back-to-BACK games with a HR.  Red Hot.
BRANDON PHILLIPS: Managed a sac fly in his return to the lineup.
EVAN LONGORIA: Managed a sac fly in his return to the lineup.
COLBY RASMUS: Hit a HR Tuesday, could be the start of something special.
ERIK AYBAR: Hit a HR in his first game back.
GIANCARLO STANTON: Nearly got a double to the wall in his first game back. Managed a sac fly in his return to the lineup.
REDS PITCHING: Losses more momentum not getting a W with Cueto on the mound.
TEXAS HITTING: Starting to come back to life.
DODGERS HITTING: Continues to do nothing against poor Rockie pitching.  Team is heading south at the moment.
Ask me any fantasy questions about players.
PLAYER RANKINGS (August 8th):
*Top 5 at each Position.

C:
A.J. PIERZYNSKI
BUSTER POSEY
CARLOS SANTANA
BRIAN MCCANN
SALVADOR PEREZ
1B/DH:
PAUL KONERKO
RYAN HOWARD
JUSTIN MORNEAU
BILLY BUTLER
GARRETT JONES
2B:
BEN ZOBRIST
DUSTIN PEDROIA
IAN KINSLER
DANNY ESPINOSA
BRANDON PHILLIPS
3B:
MIGUEL CABRERA
WILL MIDDLEBROOKS
ARAMIS RAMIREZ
KYLE SEAGER
TODD FRAZIER
SS:
JOSE REYES
J.J. HARDY
ALCIDIES ESCOBAR
STARLIN CASTRO
MIKE AVILES
OF:
CARLOS BELTRAN
MATT KEMP
ALEX RIOS
JOSH HAMILTON
CARLOS GONZALEZ
HR PICKS OF THE DAY (August 8th):
Slow week, time to go big to get my numbers up.  If you play DRAFTSTREET, you should use these players below.  Going to go now or never mode.
Week 13= 22.8%
Week 14= 20.2%

Week 15= N/A.

Week 16= 20.2%
Week 17 = 23.9%
Week 18 =18/67 = 26.8%
Week 19 = 3/23= 13%

SELECTIONS:
RICKIE WEEKS
ARAMIS RAMIREZ
ASDRUBAL CABRERA
WILL MIDDLEBROOKS
CODY ROSS
OMAR INFANTE
JOSH HAMILTON
JUSTIN MORNEAU
JOSH REDDICK
KYLE SEAGER
BEN ZOBRIST
COLBY RASMUS
KELLY JOHNSON
JEFF FRANCOUER
BILLY BUTLER
SALVADOR PEREZ
GORDON BECKHAM
ALEX RIOS
PAUL KONERKO
KEVIN YOUKILIS
ADAM DUNN
JAY BRUCE
TODD FRAZIER
DREW STUBBS
CARLOS QUENTIN
ALFONSO SORIANO
STARLIN CASTRO
GARRETT JONES
NEIL WALKER
CHRIS YOUNG
CHRIS JOHNSON
RYAN HOWARD
JOHN MAYBERRY JR.
BRIAN MCCANN
JASON HEYWARD
IKE DAVIS
JOSE REYES
CARLOS BELTRAN
ALLEN CRAIG
MELKY CABRERA
BUSTER POSEY
ADAM LAROCHE
MATT KEMP
HANLEY RAMIREZ
CARLOS GONZALEZ
DAILY DRAFTSTREET TEAM (August 8th):
*To say thank you for my picks all week.  Please use the BEAST DOME logo below as your DRAFTSTREET ICON.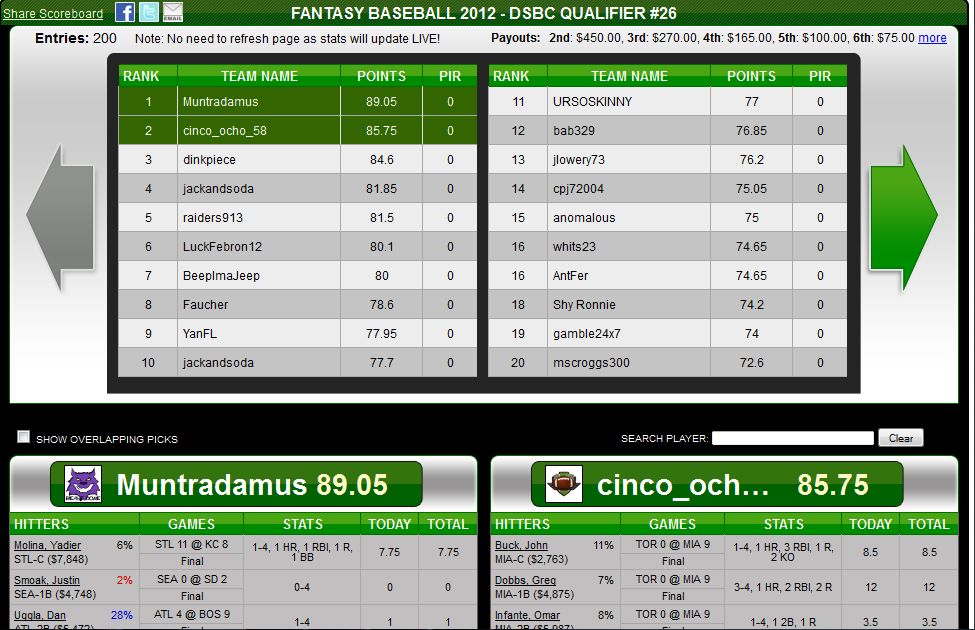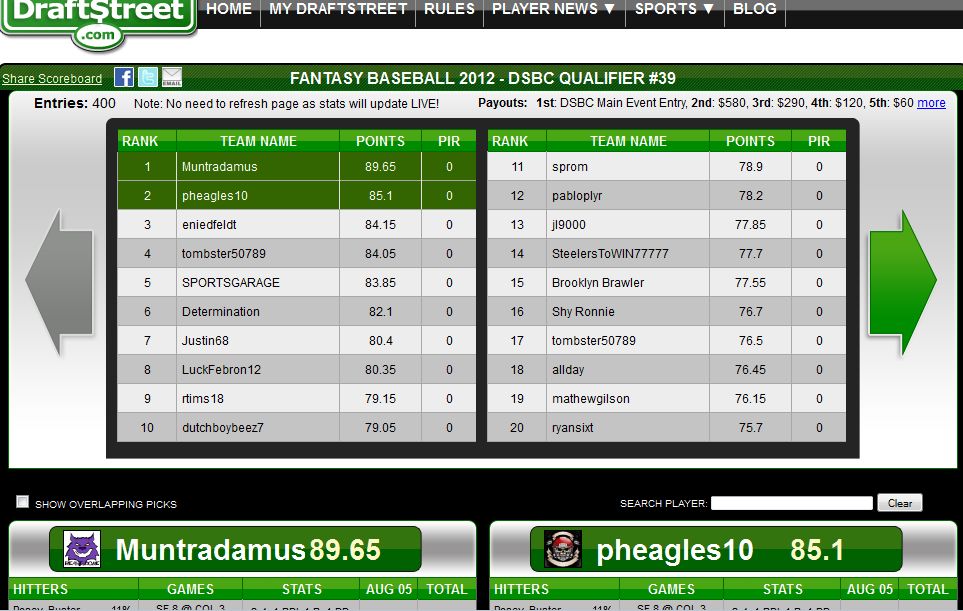 I will give my Pick'em Teams for now the next two weeks.  Since I have two seats in the upcoming DSBC, I will not be showing my hand of strategy.
Feel free to use this in the survivor.
Tier 1: CARLOS VILLANUEVA
Tier 2: ADAM LAROCHE
Tier 3: CHRIS YOUNG (METS PITCHER)
Tier 4: MICHAEL MORSE
Tier 5: PAUL KONERKO
Tier 6: BEN ZOBRIST
Tier 7: COLBY RASMUS
Tier 8: BILLY BUTLER

Here is the low cost pitching staff I would be using in the Q if I could be in the tournament.  I have won the max amount of seats, I cannot enter.  If you use this rotation, please use the BEAST DOME icon as your DRAFTSTREET icon.
SP: JEFF FRANCIS
SP: KEVIN CORREIA
RP: CASEY JANNSEN
SP: JOSE QUINTANA

 1B: RYAN HOWARD ($4,892) = Best Value of the day.
*The More BEAST DOME icons I see all-around DRAFTSTREET, the more info I will publish publicly.  If you want a team e-mailed use the BEAST DOME icon, and e-mail BEAS[email protected] saying you've uploaded the icon and want a team.

BET OF THE DAY (August 8th:)
Week 12: 6-1
Week 13: 5-2
Week 14: 3-4
Week 15: 1-2
Week 16: 4-3
Week 17: 5-2

Week 18: 5-2
Week 19 : 2-0
WASHINGTON MONEY LINE
NO way Gio Gonzalez losses this game on the road to a nothing Astros team.  The Astros have Armando Gallaraga taking the hill, and that could mean a lot of runs for the Nationals.
Daily Pitcher Rankings (August 8th):
ELITE STARTS:
1. GIO GONZALEZ @ HOU
GOOD STARTS:
2. DAN STRAILY VS. LAA
3. CC SABATHIA @ DET
4. CARLOS VILLANUEVA @ TB
5. CLAYTON RICHARD VS. CHC
6. JEFF SAMARDZIJA @ SD
7. TIM HUDSON@  PHI
8. RYAN VOGELSONG @ STL
9. CHAD BILLINGSLEY VS. COL
ROLL THE DICE:
10. MAT LATOS @ MIL
11. ZACK GREINKE @ OAK
12. CHRIS YOUNG VS. MIA
13. MATT HARRISON @ BOS
14. JUSTIN MASTERSON VS. MIN
15. IAN KENNEDY @ PIT
16. KEVIN MILLWOOD @ BAL
17. ANIBAL SANCHEZ VS. NYY
18. KEVIN CORREIA VS. ARI
19. JEFF FRANCIS @ LAD
20. BRIAN DUENSING @ CLE
RISKY:
21. JOSE QUINTANA VS. KC
22. NATE EOVALDI @ NYM
23. JOE KELLY VS. SF
24. KYLE KENDRICK VS. ATL
25. ALEX COBB VS. TOR
26. JOSH BECKETT VS. TEX
27. RANDY WOLF VS. CIN
28. ARMANDO GALARRAGA VS. WAS
29. STEVE JOHNSON VS. SEA
30. JEREMY GUTHRIE @ CWS
Muntradamus is a Fantasy Sports Expert who specialize in Fantasy Football/Baseball/Basketball. He is currently in his first season as a Pro on FantasyPros where he is the only expert to have Adam Dunn, Mike Aviles, and Wilin Rosario in his top 20 at each position. Muntradamus not only leads many to championships with his great advice, and outlooks into the future. He is also consistently on the top of leaderboards in DraftStreet. In August he will compete in a $200K tournament that he qualified for of 40 people, he won two seats.