FANTASY BASEBALL 1st ROUND PICK WHO IS #1
FANTASY BASEBALL 1st ROUND PICK
WHO IS #1
By Muntradamus
BEAST DOME NATION.
Drafting your first overall pick is giving you the opportunity to chose how you want to build your team. It is like that scene from Pokemon when Ash chooses between Squirtle/Charmander/Bulbasaur. In this situation, you are choosing. Which Position do you want to fill, and what type of player do I want to draft.
#1 MIKE TROUT
If you have the chance to take one of the greatest hitters of All-Time, you have no choice but to take him. He will be in the Hall of Fame and is still in his prime, Trout also has to play well to earn that $500 Million contract coming up.
#2 JOSE RAMIREZ
It is rare to find 30 HR/30 SB and 100+ RBIs from a 3B position. While I much prefer waiting on Wil Myers at 3B, I cannot blame you for taking a guy who will automatically put up All-Star numbers.
#3 TREA TURNER
Trea has been challenged by his manager to steal 80 Bases this season. He already has shown that 20 HRs is more than possible, when you add in even 60 SB, he is putting his historic numbers. All this from a SS? Do yourself a favor and draft Turner in the 1st Round.
#4 NOLAN ARENADO
Arenado just got a huge payday, while that is good for him, it also could be bad for him. However playing in Colorado it does not really matter, Arenado will still end up with 100+ RBIs and potentially 40 HRs. Arenado is an All-Star and that Rockies team will be setting him up all game.
#5 TREVOR STORY
Available in the 3rd Round of all Drafts, Story is the new BEAST on the Block. No site had Story Ranked higher than BEAST DOME last year, and that will continue again this year. Story can hit HRs he can steal bases, and he will have a stacked Rockies lineup hitting around him. Story is about to reach a new chapter. 40+ HRs/20+ SBs is definitely possible for Story this season.
#6 JAVIER BAEZ
Baez will safely be available in the 2nd Round of every draft, but I see him as a Top 5 Pick. The guy can hit a HR and Steal a base at any time. Even in a bad year for the Cubs, Baez put up his 34 HR/21 SB and 111 RBIs. With Kris Bryant and Anthony Rizzo due for a comeback year, expect Baez to scorch those numbers to a higher level.
#7 BRYCE HARPER
Staying in the NL East, Bryce-mania will be in a good position to be hitting with runners in scoring position nearly every at bat. This Phillies roster is STACKED and Harper can easily hit over 120+ RBIs this season. Harper is on a mission to prove everyone he is worth the money as he is one of the most fearce baseball players in the game today. You draft Bryce, you could have the NL MVP.
#8 AARON JUDGE/#9 GIANCARLO STANTON
Might as well combine these guys on the same line. Judge and Stanton are ready to rake this season. Yankees Stadium is way too small for those guys, and Stanton should be more focused after a full season on the Yankees. He will be more comfortable, and his big hits will build momentum for the entire team around him. Judge could end up leading the Majors in HRs, he hits for a solid average, and he is too good.
#10 MOOKIE BETTS
I know Mookie Betts has been historically one of the best OF options in Fantasy Baseball over the last few years. He will also continue to produce like a superstar. I like the upside of the other OF options more. Mookie will get it done and I am not ruling him out of a good season, but he will not get enough Stolen Bases to be a HUGE impact player, his Power is about average, his Runs will be top notch, his RBIs should be good enough to help contribute. His batting average will be good.
In the end, Mookie is more of a great role player who gets low-end Triple Doubles. While that is rock solid, the other OF options can make a HUGE impact in the HR/RBI category.
You want the whole strategy?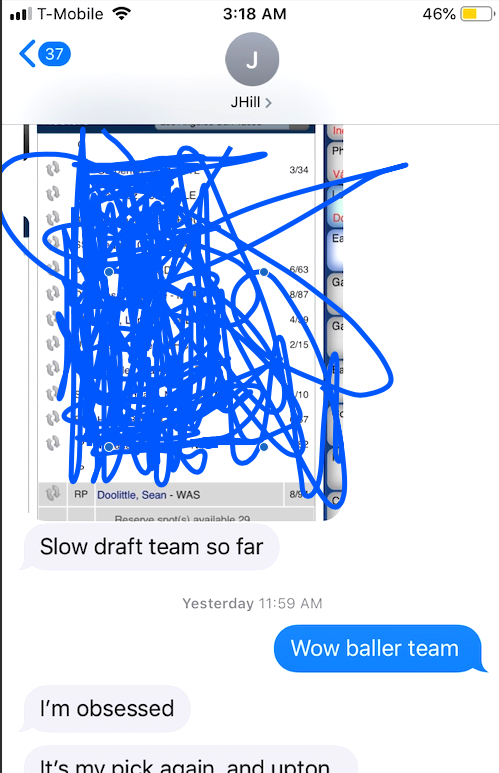 GET A BEAST PACKAGE
BEAST HEDGE $100
You get my advice for the entire season. You can ask Waiver Wire/Start Sit Questions. All $100 will goto a BEAST Hedge where I play Daily Fantasy Baseball and make the lineups, the profits are split 50/50.
6x MLB DFS BASEBALL CHAMPION QUALIFIER. 4x FANTASYPROS HR CHAMPION
WON $10,000
OPTION 2
BEAST SEASON $350 LEAGUE BUY IN
We enter a team into the same tournament that won Jason $30,000! this past Football Season, but for Baseball. I manage/Draft/Watch the team all year. You get to sit back and relax and watch the team occasionaly when you have the time. We split the Profits 50/50. 1st Place $150K.
E-Mail me to learn more. [email protected]
OPTION 3
You get my Rankings + can ask me Start/Sit Waiver Wire Questions all season for MLB. Lets get it!