TEAM BEAST DOME (WEEK 1 – WEEK 2)
TEAM BEAST DOME
(WEEK 1 – WEEK 2)
By Muntradamus
BEAST DOME NATION.
It is not how you start, it is how you finish.  Key words to remember moving forward in what will be a very long (too short) of a Fantasy Football Season.  It is all about the journey.
Rough Week 1 for the entire BEAST DOME NATION as RGIII was running for his life and throwing off of his back foot more than we would hope for.  We saw RGIII start every possesion inside his own 20.  We saw RGIII throw with accuracy completeing 27/35 passes (converting a lot of key 3rd Downs).  We saw RGIII go up against a Texans Defense that is as good as advertised.
Am I worried about RGIII.  Absolutley not.  Am I worried about the QB/K Combo with Kai Forbath.  Absolutley not.  The Texans Defense is for Real, they are going to make a lot of QBs look like garbage this season.  It is tough to drive the ball 80+ Yards, Shane Lechler is a future Hall-Of-Fame Punter as he really pins teams deep in their own territory.

TEAM BEAST DOME started out the season
(0-1)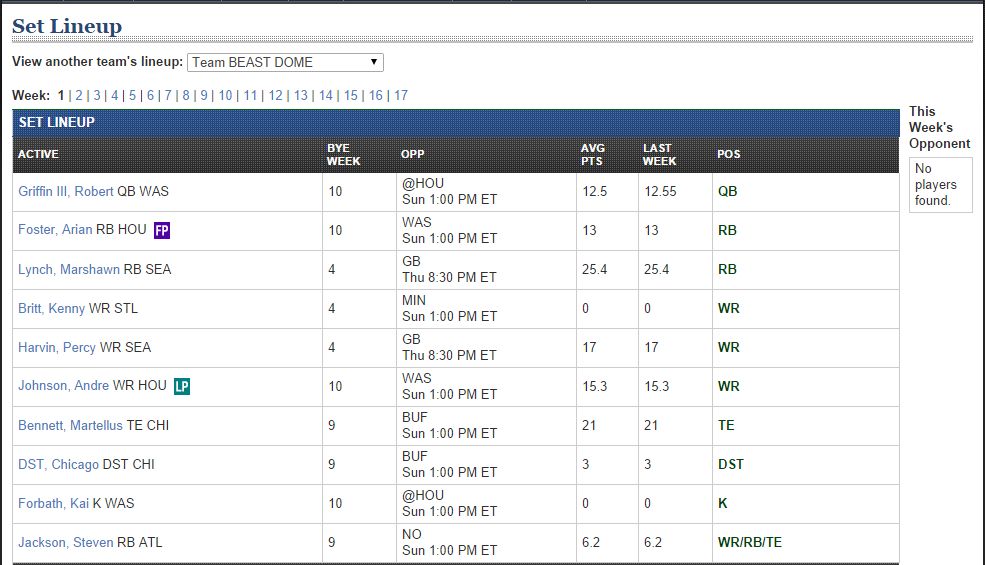 Just when I thought things were at their low.  I woke up Monday morning only to find out I lost Ray Rice for the season.
*PHOTO CREDIT: VIP CLIENT Eric F.*
I decided to put in a bid for Josh Gordon (22.1% of Budget).  I decided to put in a minor bid for Justin Forsett not really upset if I did not pick him up.  I did not want to break up this team, too much talent.  Not enough talent really on the wire to begin with.  I waited.  I waited.  Finally the Waiver Wire Deadline hit Wednesday night.
Just like that.  I learned I missed out on Josh Gordon.  It is okay, I still have faith in my WR core.  Now I head into Week 2 with the same team I have in Week 1.  I have my BEAST RBs in Arian Foster and Marshawn Lynch who I am loving more than ever.  I have my BEAST Andre Johnson, and I have the great TE Sleeper pick with Martellus Bennett.  I just need RGIII to play like RGIII, which I am expecting against a Jacksonville pass rush which will give RGIII his time to make big things happen.
TEAM BEAST DOME rolls Strong.  All the confidence in the world with my squad heading into Week 2 with a Base that nobody can touch.
Tune in next week to see what players I went with, as well as the results.
BEAST