TEAM BEAST DOME OH HO HO FITZMAGIC (WEEK 3-4)
TEAM BEAST DOME
OH HO HO FITZMAGIC
(WEEK 3-4)
By Muntradamus
BEAST DOME NATION.
It's been a rough season for a lot of the BEAST DOME NATION.
PLAY SONG
ITS MAGIC = FITZPATRICK
Week 1
No expert Ranked Ray Rice higher than me this preseason, then TMZ ruined everything. The situation would have been beautiful in Baltimore as Bernard Pierce cannot stay Healthy. OUT FOR THE SEASON.
Week 2
No expert Ranked RGIII higher than me this preseason, injured in 1st Quarter ruining all BEAST DOME users. OUT FOR A MONTH+.
Week 3
Arian Foster hamstring injury came back to life. Left a lot of Fantasy Teams bone dry hours before kickoff. Not to mention another early QB injury to Josh McCown. I guess that is mentioning it.
Now we head into Week 4
Teams can be 0-3 looking strong as ever. All that matters is you make the playoffs.
Do not panic and get trade raped.
If you want to see original VIP Teams follow link below and read the comments.
Week 3 proved to be magical as I somehow was able to overcome Josh McCown and his .9 Points, as well as Arian Foster and his late scratch.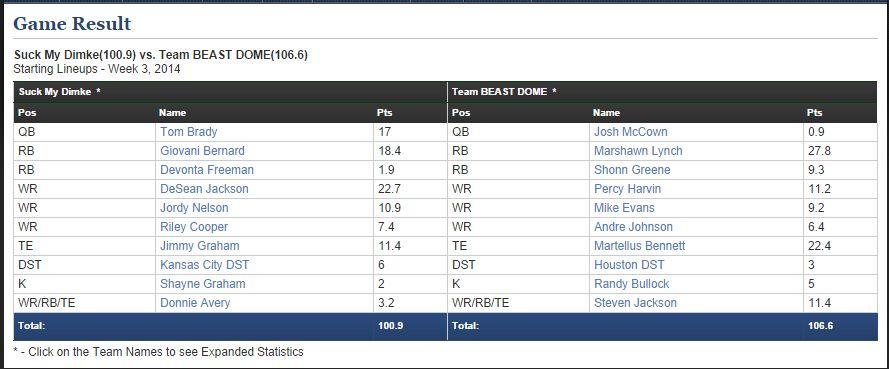 While many can argue the MVP goes goes to Martellus Bennett who scored a huge 22+ Points when I needed 16 from him on Monday Night to win. The real MVP award goes to Shonn Greene who was a final second sub-in for Arian Foster. With Greene and the Titans down 33-0 in the 4th Quarter, Shonn Greene scored the most worthless 1 Yard TD run in the 33-7 Tiants Loss, which proved to be the difference in my first win of the season.
For all of those still waiting for Win #1. The feeling is truly amazing. Imagine taking Britney Spears out on a date when she was in her Prime and she decided to come in for Coffee at the end.
That's what it feels like to win game #1. Which reminds me
Time to hit the Waiver Wire and add Garrett Graham.
Someone went way over their budget to get Lorenzo Taliaferro. A player that will likely become laughable and known as Mr.T especially when the Ravens turn into a 3 Headed Monster with Pierce and Forsett in the picture. Roy Helu Jr. was a nice add, but my team is good enough where I just want an extra option at TE in case something were to happen to Martellus. See you later Josh McCown thanks for the Bust in Week 3.
I am holding onto Ray Rice until I see what happens with the Adrian Peterson situation. If AP is allowed to play, would it be crazy to think the Ravens re-sign Ray Rice? Ya it is a little crazy, but then again it is not even Week 4 yet and I cannot afford to let someone else add Ray Rice and play him against me. Call me paranoid. He is still next man up to be cut if I need him to be.
Now we move onto Week 4. Team BEAST DOME got a nice break in the Fantasy Schedule as I face Peyton Manning's Team during his Bye. He also owns Julius Thomas.
A lot of people will critcize my selection of Ryan Fitzpatrick over Kirk Cousins after 1 Week into the competition. Are people still feeling that way after Thursday Night?
How about in Week 5 when Fitzpatrick is @Dallas while Kirk Cousins has to face the Seattle Seahawks on Monday Night Football.
We will hear about RGIII and his return date all week as the Redskins cannot wait for RGIII to somehow save this season for Washington. Kirk Cousins was a wreck looking like Eli Manning circa 2013. The offensive system should help Kirk from time-to-time, but in general this is RGIII's job when he returns. Make sure RGIII is not a Free Agent, and roll with Fitzpatrick for the time being.
The best part about having Ryan Fitzpatrick and Arian Foster on my team is, I would not feel like it is the end of the world if Arian Foster had to miss Sunday's game. If Arian does not play, I can expect Aaron Rodgers, sorry I meant Ryan Fitzpatrick who has nearly the same amount of Fantasy Points as Aaron Rodgers/Drew Brees/Matt Stafford to continue his momentum from last week. Going up against his old Buffalo Bills this week, I am looking forward to seeing what he can do.
TEAM BEAST DOME is 1-2, but the season is still looking strong and I am as optimistic as ever, especially after seeing the Kirk Cousins disaster that easily will put him on every waiver wire after this week.
My advice to you if you are 1-2 or 0-3 and your team still looks strong but not having a QB put up statistics for three straight weeks keeping you down. Time to sit back, relax, and Sing.
OH HO HO FITZMAGIC