2014-15 FANTASY BASKETBALL NBA SEASON PACKAGE
2014-15 FANTASY BASKETBALL
NBA SEASON PACKAGE
By Muntradamus
BEAST DOME NATION.
While other Fantasy Football Sites were telling you to take Jamaal Charles in Round 1, or Keenan Allen in Round 3, or even Toby Gerhart before Round 5. Even most sites hyping Cord Patterson to be the next Josh Gordon…
BEAST DOME was the only site that had a direct strategy of you drafting ARIAN FOSTER/MARSHAWN LYNCH in Round 1 & 2. Starting off your team with the perfect nucleus to BEAST your league. Add other great sleeper WRs in Steve Smith Sr. to Jeremy Maclin to Golden Tate. and every BEAST DOME user has the perfect team to win their league when the playoffs begin.
Fantasy Basketball is going to be that way again, and this season we are taking the VIP PACKAGE to the next level.
Last Season there was no NBA VIP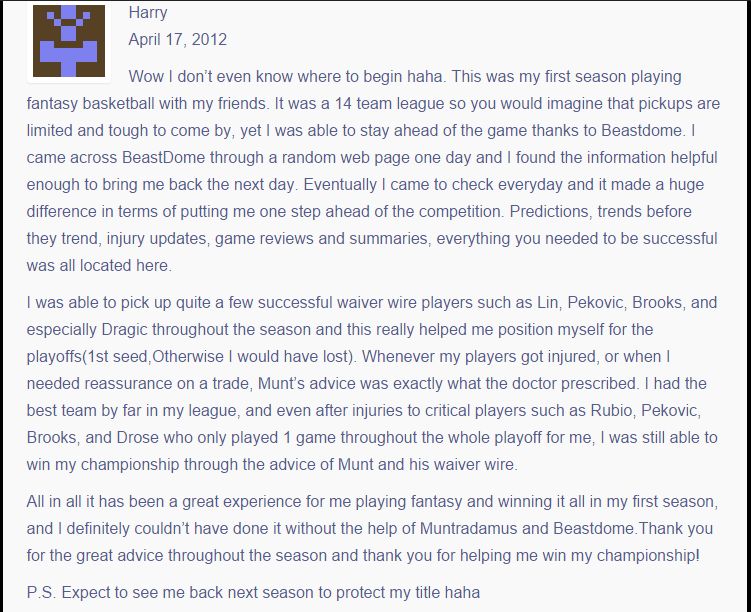 OVER $2,000 WON FRIDAY.
-EMGE
MUNTRADAMUS' RANKINGS ARE AN AMAZING TOOL FOR DAILY FANTASY PLAYERS.  THE FIRST DAY I LOOKED AT HIS RANKINGS MADE A HUGE IMPACT IN MY LINEUPS.  I WAS DECIDING BETWEEN 2 PLAYERS, WHEN I LOOKED AT HIS RANKINGS, I WENT WITH THE ONE HE HAD RANKED HIGHER, AND IT MADE A HUGE DIFFERENCE.  I WOULD HAVE SCORED ABOUT 30 PTS LESS WITH ONE PLAYER DIFFERENCE.  HE HAD PAUL PIERCE RANKED HIGHER THAN GEORGE PAUL, AND ON A NIGHT WHERE ABOUT 50% OF ALL PLAYERS HAD GEROGE, I HAD PIERCE, AND PIERCE OUTSCORED GEORGE PAUL BY 26 PTS.  I THINK MAYBE ONLY ABOUT 10% OF PEOPLE HAD PIERCE WHO WAS $100 CHEAPER THAN GEORGE.  THAT ALONE HELPED ME FINISH IN TOP 10 IN ALL TOURNAMENTS, INCLUDING 4TH & 7TH IN DFBBC FOR $400+,  I WOULD HAVE FINISHED 126TH AND OUT OF THE MONEY WITH GEORGE.  HE ALSO HELPED ME FINISH 2ND IN THE NBA SLAM FOR $620 AND 4TH IN THE NBA SWISH FOR $250.  NEEDLESS TO SAY MY TEAMS WERE A BEAST THANKS TO BEAST DOME!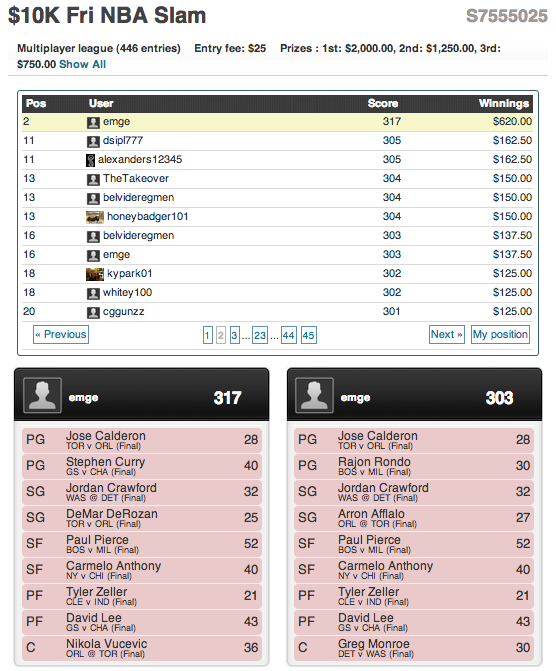 Today is the opening day of the NBA PACKAGE.
$250 – BEAST BASIC
1. ACCESS TO MUNTRADAMUS.NET. RANKINGS.STRATEGY. EXPIRES 11/1
2. I DRAFT YOUR TEAM WITH YOU FOR EVERY LEAGUE YOU ARE IN.
3. WAIVER WIRE ADVICE/START.SIT (1x/Week)
4. $100 (1%) Goes Towards BEAST HEDGE.
5. 1 Week Free of Daily Fantasy Basketball Teams I send to you ($600).
6. $10 to BEASTDYNASTY (Coming Soon)
7. IF YOU SIGNUP FOR A NFBKC NBA LEAGUE. I knock $50 Off the Price.
While some of you may think that $250 Price tag is too high. Here is what I have to say to that.
2x DRAFTKINGS CHAMPION QUALIFIER (2013-14)
1x DRAFTSTREET CHAMPION QUALIFIER (2012-13)
This package not only puts you ahead of the game in Daily Fantasy Basketball, it gives you the chance to make your money back in the BEAST HEDGE as well as Daily Fantasy Basketball teams for a Week straight to make money before the season even gets underway.
There will be packages for VEGAS PICKS and DAILY FANTASY BASKETBALL TEAMS. At the end of the October.