FANTASY FOOTBALL RANKINGS: UNLEASH THE BEAST (RB RANKINGS)
FANTASY FOOTBALL RANKINGS:
UNLEASH THE BEAST (RB RANKINGS)
By Muntradamus
BEAST DOME NATION.
The moment is here.  The 2013 Fantasy Football RB Rankings.  Is this season different than most at the RB position?  Maybe a little.  There is certainly a lot of uncertainty once you get into the Mid-20s, but there is also a lot more talent in the Top 20 with players like Ryan Matthews/Chris Johnson on the bubble.  CJ2K was a Top 5 Pick in Fantasy Leagues two years ago!
WANT A CHEATSHEET FOR YOUR DRAFT?
WANT TO TRY OUT THE V.I.P. PACKAGE?
Signup Through this Link to DraftStreet Below.  Deposit a minimum of $10.
*click image*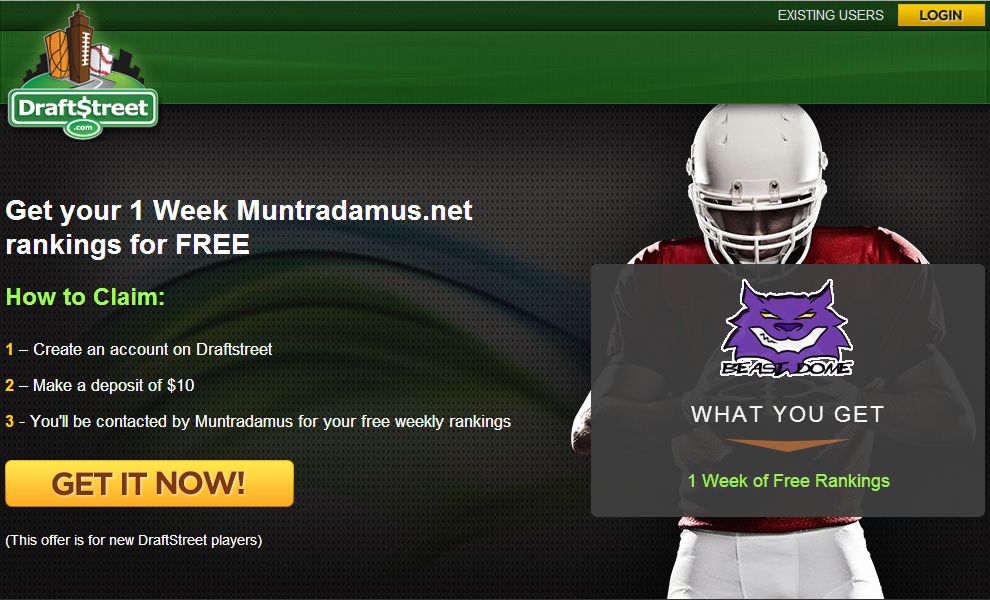 Get an automatic 30% loading bonus.
You will get access to Muntradamus.NET (Weekly Rankings). 1 Week.
As well as V.I.P. #3 Service as an Assistant Coach. For 1 Week of your choice.
You will also get the Cheat Sheet a month before the release date.
(That I will be using on Draft Day).
*promotion is for new DRAFTSTREET USERS*
TESTIMONIAL
 Mike G
Before 2012 I had never tried any fantasy sports. I got tempted to join a free NBA league on ESPN, and then found Muntradamus' site to get advice. I didn't know what I was doing in the draft so I ended up joining 3 free leagues. I didn't have anyone too special but by following Muntz posts over the season I was able to upgrade from the waiver wire and via trades. Well, all 3 of those teams ended up winning their championship and I don't think it was beginner's luck! I continued with 10 man leagues in MLB and NFL and won championships there as well! Fantasy sports Trifecta for a total newbie!  The quality of insight you get from Muntz is unparalleled. He is a one man army! He watches every game including preseason and is a top ranked expert on fantasy pros. The best part is he sees great moves before you would ever hear about them anywhere else, meaning you can get that clutch upgrade from waivers before your opponents. Week in and week out he puts out quality player rankings and I have been nothing short of amazed. Now I have moved on to daily sports and Muntz is helping me win money! His VIP packages are well worth the price if you want to win for sure. He sees matchups and great daily spot-starts that I wouldn't find in a million years. So far each team has scored ridiculously high. If you want to start dominating in fantasy sports I highly recommend beastdome.com – my only regret is I didn't start this all sooner!
2013 FANTASY FOOTBALL RB RANKINGS
Muntradamus is a Fantasy Sports Expert who specializes in Fantasy Football/Baseball/Basketball. He is currently in his second season as a Pro on FantasyPros coming off of an impressive Rookie Campaign where he landed the #8 Overall In-Season Fantasy Football Rankings Expert.  Which also included #1 WR of all Expert Sites.  He is also one of two people to qualify for all DRAFTSTREET CHAMPIONSHIPS (MLB/NFL/NBA) in 2012. Most Historically, Muntradamus was the #1 Fantasy Football Expert of IDP & Overall Rankings in One Week, first and only time in Fantasy Sports History.