FANTASY FOOTBALL PRESEASON RECAP WEEK 1
FANTASY FOOTBALL PRESEASON RECAP WEEK 1
By Muntradamus
BEAST DOME NATION.
At this point and time, you have to know I know what I am talking about. When I am predicting TDs from a 3rd string QB, and a 6th string WR. It is time to listen. I have all the news and notes you need here.
MUNTRADAMUS DFS ROSTER
This is only a preview. When you are a MVP, which is FREE this season when you follow these steps, then E-mail [email protected].
DAMIAN WILLIAMS
Everyone knows Damian Williams has been on my BUST list since day 1.
It did not take long for one of my calls to come true, my 3rd Round Pick. We have not even played a game yet, and Damian has already been nicked by coach Andy Reid saying the Chiefs will run a 3 Headed monster RBBC. Carlos Hyde will lead the way near the goal line, which ends all of Damian Williams value to begin with. We will see if rookie Darwin Thompson can get more involved, but as of now, Damian Williams is officialy the quickest to bust in the NFL.
KYLER MURRAY
Murray was perfect. 6/6. Everyone in the fantasy world is going nuts right now. How bout we look at the fact that all of his passes were;
Screen Pass
3 Out Patterns.
2 Comeback patterns.
His arm strength looks good, I will give him that on the out pattern. However he is being way over valued and you will see his name fly off of draft boards very very quickly. Murray and that Cardinals team is going to be losing a lot of games this year, especially starting out 2-4 without Patrick Peterson. Murray did not prove anything to make his fantasy value go up, but everyone will draft him sooner.
JOSH ALLEN
There was a point in June when Josh Allen was loved by the Fantasy Experts more than Tom Brady. Was going to write about it in July, people wised up. Yet still everyone believes Josh Allen has QB2 potential in this league, and I will tell you right now. He has not improved enough to even consider that.
Yes it was great watching him run for a 1st Down like he is capable of. However he will come out of that 1st Down, then throw two wild passes and the Bills have to punt. The Bills are a very bad team, and there is not one player in the Fantasy Football world you should consider drafting from this team. The RB situation is flooded, and unless you play in a BEST BALL league and you want one wild upside week, Zay Jones has the best chance to make any of that happen. Bills offense is going to be garbage.
CJ ANDERSON
There is Eddy Lacy Fat, there is Jabbah The Hut Fat. Then there is CJ Anderson.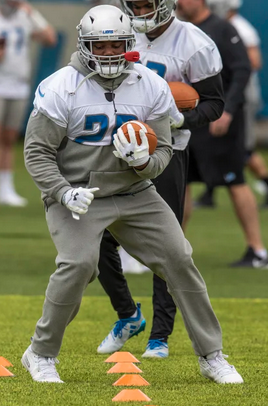 Smart he keeps those sweats on. This week during the game, I would describe him as a stick of butter. He is looking extra thick these days, which means. Kerryon Johnson has the job to himself. With that being said, Kerryon is not part of the Draft Strategy.
Get the rest of my Presesaon REPORT &
GET THE BEAST DOME DRAFT GUIDE FREE