FANTASY FOOTBALL IT'S MILLER TIME (WEEK 2 IDP)
FANTASY FOOTBALL
IT'S MILLER TIME (WEEK 2 IDP)
By Muntradamus
BEAST DOME NATION.
Week 2 and the Fantasy Football season rolls on.  It is Christmas for another 15 weeks after this, but whose counting.

LIVE BEASTdome CHAT SUNDAY MORNING
8-10:00am PST
Look to the left
I will be posting IDP Rankings for the BEAST DOME NATION every week of the season.  Coming off of a FantasyPros season where I was ranked #1 in the Industry at IDP DL with my preseason Rankings.  I am ready to come out BEASTING my way to the Top across the board.
WEEK 2 MUNTRADAMUS IDP RANKINGS
BEAST SACK MASTER OF THE WEEK
VON MILLER – LB – DEN
Fast forward the Jamaal Charles video above to 1:50 and you will see this exact same play on Sunday.  Von Miller is ready to get his BEAST on as he BEASTS a weak front 7 that will have too many assignments to worry about.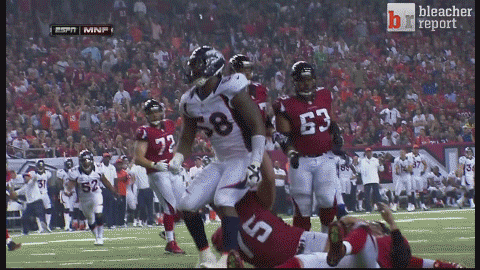 BEAST LB OF THE WEEK
PATRICK WILLIS – LB – SF
Sunday Night Football.  Home.  Going up against a Bears team that will likely be shorthanded in the passing game.  Look for Patrick Willis to show us flashes of his 2012 self as he comes up in a MONSTER SHOWCASE game.  A lot of hard hits coming Matt Forte's night as Willis easy gets his 10+ Tackles.
BEAST PICK 6 OF THE WEEK
PATRICK PETERSON – DB – ARI
We should just name any star CB going up against Eli Manning.  Eli is looking as garbage as ever, and a BEAST DB like Patrick Peterson can easily step in front of a bad throw to take it to the house.  With Victor Cruz as the only true good WR on this team, Patrick knows he will get his action this Sunday.