FANTASY FOOTBALL: I'M JUST TRYING TO BE THE BEST FANTASY FOOTBALL EXPERT I CAN BE (ARIAN FOSTER PART II)
FANTASY FOOTBALL:
I'M JUST TRYING TO BE THE BEST FANTASY FOOTBALL EXPERT I CAN BE
(ARIAN FOSTER PART II)
By Muntradamus
BEAST DOME NATION.
Since my "I want to be Like Arian" article.  Arian Foster has made just about every wrong move to convince the BEAST DOME nation he is worth the #1 Pick.  Not only the BEAST DOME NATION, but the entire Fantasy Football Nation.
First was the "minor hamstring injury."  To start off, not worried about this.  It is early August, Arian Foster is going to touch the ball 350 times this season, at least.  He is the Marshall Faulk of the Texans.  With no Ben Tate, the Stage is set for Arian Foster to have a MVP Historic season.  I am sure if it was a Week 8 matchup against the Titans, this hamstring injury would not keep him out. Not only would he not be out, Arian would be the #1 RB in Fantasy Football Rankings across the Industry.
But then there was media day.

First of all, stupid joke about his 1 TD at the end.
Not making a big deal about this interview.  Arian has always been a controversial superstar.  He hates the media and never seems to be on the good side.  The truth, he is just staying focused and not letting the Media questions get to him.
What I say.  "It's Arians world, we're just living in it."  Right after the Interview, Arian sent this tweet.
Ok.  Everything is finally good again.  But then we see this a week later.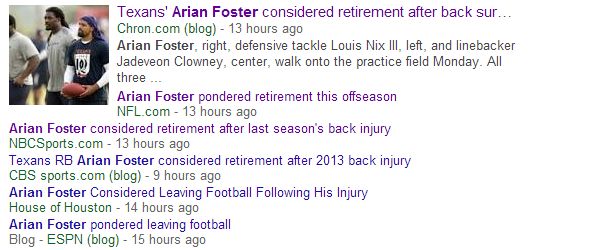 Now we have to ask ourselves.
IS ARIAN FOSTER WORTH THE RISK
The answer is Yes. Yes. Yes. and Yes.
The Texans schedule is so cupcake that even Andre Brown would be the "BEAST DOME SLEEPER OF THE YEAR."  Do not worry about Arian and his off the field problems.  We are talking about a NFL superstar that is ready for the biggest role that any RB has seen since Marshall Faulk in 2000.
*IF YOU DRAFT ARIAN. YOU HAVE TO DRAFT ANDRE BROWN*
Arian Foster will be having the type of season that puts him on the Cover for Madden Next Season.  Yes it is hard to ignore what the media is putting out there, and the possibility that Arian Foster can retire if he wants to is a true statement.
The reality is this.  Arian Foster is the focal point of the Texans Offense.  Arian Foster is only 27 Years Old.  Arian Foster is in the most perfect situation to improve upon his 2010 season where he recorded 2220 Yards/64 Receptions/18 TD.   So I ask you this.
If Arian is playing Week 1 against the Redskins.  It is the 1st Pick of your draft.
Are you really going to let Arian slip?