FANTASY FOOTBALL: I'M JUST TRYING TO BE THE BEST EXPERT I CAN BE (WEEK 1 FANTASYPROS)
FANTASY FOOTBALL:
I'M JUST TRYING TO BE THE BEST EXPERT I CAN BE
(WEEK 1 FANTASYPROS)
By Muntradamus
BEAST DOME NATION.
This is a new segment I will be doing moving forward where I evaluate how I did on the FantasyPros circut each week.  As many of you know, I was esentially the #1 Expert on FantasyPros in 2012.  In 2013 I became so busy that my business model did not allow me to submit Rankings on Time as I had to juggle 741+ Clients each Week as well as manage over 100's of Daily Fantasy Football Teams.  I would not submit my Rankings until 10 Minutes before the deadline on FantasyPros as people were paying good money for them.  There were times I had too much to deal with. When a Reggie Bush late scratch would happen on a Sunday Morning, my morning was consumed and I would submit my Rankings late and still left Reggie Ranked as if he was starting.  Between Skype Clients/Fixing Daily Fantasy Teams, you have no idea how much of a Zoo it was.
To start out this 2014 Fantasy Football Season, I thought I was on top of the World after a HUGE Week 1.  Only Website to Rank Marshawn Lynch the #1 RB, when he was the actual #1 RB.  I called the Steve Smith SR. explosion since the Preseason, and FantasyPros gave me my props after the call for Week 1.
Despite all this FantasyPros came back with a Big "YOU SUCK." With a 105/135 Ranking on the circut with my Week 1 Rankings.
Despite all the Big Tournaments I killed on Daily Sites.  Despite all the great calls this Preseason.  I feel there was no Fantasy Site that rankings better than me last week.  To prove it, here are my biggest differentials between the Expert Sites from Week 1.
#1 FANTASYPROS EXPERT AFTER
(WEEK 1)
JAMEY EISENBERG – CBSSPORTS
READ HIS START/SIT FROM WEEK 1
(CLICK IMAGE BELOW)
*JAMEY'S START OF THE WEEK (1)* 
*FRANK GORE*
MUNTRADAMUS
WEEK 1 QB RANKINGS
LIKE HIM MORE
So I was on the Matt Ryan Bandwagon.  I liked Jay Cutler.  RGIII/Brady were BUSTS, Carson Palmer was a great Sleeper.  Josh McCown turned out to be fine scoring nearly 20 Points, Fitzpatrick was ok, Joe Flacco was great.  Shaun Hill was injured, Matt Cassel makes up the pick.
LIKE HIM LESS
Bad call on Andrew Luck who got all of his numbers in garbage time.  Colts down 24-0 at halftime. Nick Foles was garbage until the 4th quarter. Tony Romo was a good pick, Philip Rivers was a good pick, Big Ben was a bad pick.
QB OVERALL
Not too bad, not too great either, ended up with #42 Overall at QB. The fact I was on the Matt Ryan Train should help me, as well as Cutler and Palmer.  What killed me the most was Andrew Luck and Nick Foles with their late comebacks, it's okay I know I was right on the call all along, garbage time saved their ass.
THESE RANKINGS BELOW WON #22
Really Matt Ryan #8 and Romo/Rivers Top 14? I can't complain too much Luck hit me hard.

MUNTRADAMUS
WEEK 1 RB RANKINGS
LIKE HIM MORE
BEAST pick with Marshawn Lynch. Only site to Rank him #1. AP did nothing.  Montee got the job done and outperformed Charles/McCoy/Forte. Arian is going to be a BEAST this season.  Steven Jackson needed the goal line TD, still outscored Jamaal Charles and Eddie Lacy.  Doug Martin was a BUST.  Reggie was less than average.  Trent Richardson was a BUST. Vereen was great with the TD. Mark Ingram was one of the picks of the week with 2 TDs. Pierre Thomas did his thing with nearly 100 Total Yards. Shonn Greene with a solid 70+ Rushing Yards. MJD was a BUST. Hyde and GO BEAST. J-Stew picked up the damage. Darren Sproles stole the Lesean McCoy TD. Ivory had a HUGE game. DeAngelo Williams put up nice numbers.  Khiry Robinson with the TD.
LIKE HIM LESS
Great Pick with Lesean McCoy and Jamaal Charles.  No expert had them lower. Forte came back late to have a solid game.  Eddie Lacy good pick.  Murray/Bell Bad Picks, not by much.  Frank Gore BEAST PICK, no site had him lower this Week.    Gerhart/Spiller good picks as both did nothing.  Zac Stacy BEAST pick, no site had him lower.  Giovani Bernard, did nothing.  Rashad Jennings, bad pick with late TD.  Fred Jackson okay pick, did not score. Bernard Pierce BEAST PICK.  Moreno bad pick, but not really off from ECR.  Stevan Ridley BEAST Pick.  Dwyer/Hill, BEAST PICKs.
OVERALL RB
#38 Overall at RB.  What a joke. What a joke. No Fantasy Site produced better rankings than me from the RB positon, I want them to prove it.
THESE RANKINGS BELOW WON #7 at RB
Jamaal #1. McCoy #2. Gore #8. No Mark Ingram. How is that #7?
MUNTRADAMUS
WEEK 1 WR RANKINGS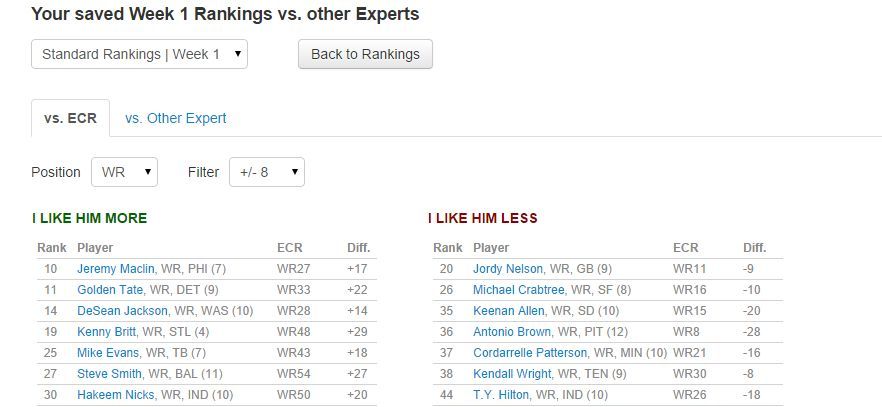 LIKE HIM MORE
Jeremy Maclin. One of the picks of the week. Golden Tate BEAST pick. Desean Jackson put up numbers, little too high.  Kenny Britt, BUST. Mike Evans, BUST sure.  Steve Smith BEAST OF THE WEEK.  Hakeem Nicks, BEAST.
LIKE HIM LESS
Jordy Nelson, solid pick with only 8 Points.  Michael Crabtree BEAST PICK. Keenan Allen BEAST PICK.  Antonio Brown, 0 Points in 2nd Half, does not matter bad pick on my part, that hurt.  Cord Patterson, fluke pick. All Experts that are high on Cord Patterson don't understand the concept of what a Fantasy Football WR is. Kendall Wright, bad pick.  T.Y. Hilton BEAST PICK.
OVERALL WR
Antonio Brown and Cord Patterson were really bad.  Jeremy Maclin and Steve Smith were very BEAST.  Hakeem Nick/Tate/Britt vs. Hilton/Allen/Crabtree.  About even, I feel I deserve better than #133 out #135 at WR.  I did have two of the picks of the week as well as three HUGE BUST BEAST picks.
Brad Evans of Yahoo who Ranked #1 at WR for Week 1 Ranked Steve Smith SR. #67 and Jeremy Maclin #30.  I'll give him props for some good picks, but to miss on two of the big-time WRs as to say bench them no matter what.  That's hard for me to like.
FINAL THOUGHTS
Obviously I am the best Fantasy Football Expert in the field by far.  I don't care what any haters say when they were considering drafting Jamaal Charles/Bishop Sankey/Andre Ellington/Toby Gerhart/Giovani Bernard/Frank Gore at any point.
I want to see Fantasy Football Experts on any site compete against this from Week 1.
I want to see Fantasy Football Sites compete against this in general.
No Fantasy Site is a one man army that is able to dominate the industry on an underground level like me.  Even if it is on an underground level, I will be the last one laughing as I become more succesful than all of these jokers who are probably sleeping as I write this article at 3am.
BEAST. BEAST. BEAST 
It's a lifestyle
ARTICLES ON BEASTDOME THIS WEEK:
MORE COMING THIS WEEKEND