FANTASY FOOTBALL 2019 WE ARE BACK (DISCOUNT DOUBLE BEAST)
FANTASY FOOTBALL 2019
WE ARE BACK (DISCOUNT DOUBLE BEAST)
By Muntradamus
BEAST DOME NATION.
To get into who is the best fantasy option is way too early. Anyone that has any Rankings out now, will change them guaranteed in a second. We got the Draft Coming up next week, we have more moves to be made in Free Agency, maybe even a trade. Rankings cannot start when teams are nearly set.
As we approach teams being set and the NFL Draft, let us concentrate on something we do know. That is the 2019 NFL Schedule.
The Schedule is the closest thing to the bible of NFL. Well not really, but is has significant importance. How to read the schedule everyone has their own ways of looking at it. For every team, they get a story. A story that has led BEAST DOME away from Aaron Rodgers these past few seasons despite being Aaron Rodgers, is his schedule. At first glance you may think, isn't it bad not to draft Aaron Rodgers? When the last 4 years of QBs have been; Big Ben/Jared Goff 2018, Brady 2017, Ryan 2016, Stafford 2015. You realize it was the right move.
The reason I never like to choose Aaron Rodgers is his schedule in December. When it is snowing outside, he is nearly unuseable in Fantasy Leagues. The last time Rodgers was a good QB in December was when Jordy Nelson was healthy in 2016. With another year of age to tack on, maybe things will heat up for Rodgers and his schedule in 2019?
PACKERS 2019 SCHEDULE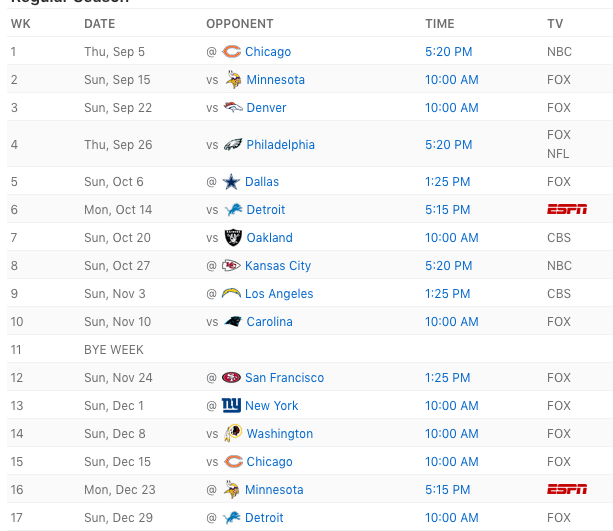 At first glance, the schedule for the Packers is not bad. 6 of the first 8 games are at home, always good for them to get their home games out of the way early. Even spend a little time in the West Coast for the back of the schedule, however when it matters the most. Week 13 in likely snowy New York, Week 14 in snowy Green Bay, Week 15 in Snowy Green Bay. Even if the Packers had strong games in the weather conditions, which can make Rodgers worthless, a tough Fantasy Football Championship game against the Vikings on the road? No thank you, rather player in the snow against a non playoff team.
While Aaron Rodgers still has talent left in the bag, I will not be Discount Double Checking on the Expert Consensus Rank #3 QB Aaron Rodgers. I can guarantee you he will not finish in that range. I also guarantee you, he will not be the BEAST DOME QB of 2019.
Does not help anyone that the Packers thought it was a good idea to bring the Jaguars OC into town to be the Packers OC..
SIGNUP FOR EARLY BEAST SPECIAL PRICE
WON $30,000! With 2018 BEAST DOME FANTASY FOOTBALL DRAFT STRATEGY