Fantasy Basketball Rankings (Sunday): What To Do When Football Is Over Vol. III (VIP #5)
Fantasy Basketball Rankings (Sunday):
What To Do When Football Is Over Vol. III (VIP #5)
By Muntradamus
BEAST DOME NATION.
LAST DAY of the Preview boot camp V.I.P. program #5.
Here are a couple of Testimonials that I received yesterday.
Over $2,000 won Friday.
-Emge
Muntradamus' rankings are an amazing tool for daily fantasy players.  The first day I looked at his rankings made a huge impact in my lineups.  I was deciding between 2 players, when I looked at his rankings, I went with the one he had ranked higher, and it made a huge difference.  I would have scored about 30 pts less with one player difference.  He had Paul Pierce ranked higher than George Paul, and on a night where about 50% of all players had Geroge, I had Pierce, and Pierce outscored George Paul by 26 pts.  I think maybe only about 10% of people had Pierce who was $100 cheaper than George.  That alone helped me finish in top 10 in all tournaments, including 4th & 7th in DFBBC for $400+,  I would have finished 126th and out of the money with George.  He also helped me finish 2nd in the NBA Slam for $620 and 4th in the NBA Swish for $250.  Needless to say my teams were a BEAST thanks to Beast Dome!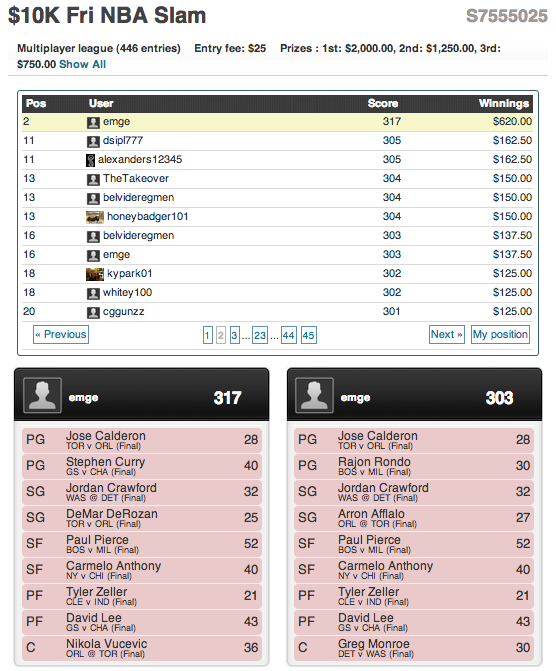 Besides getting the Rankings. You can add the "Baller Shot Caller" Package where I pick a team for you.
-AJB
Since opening night of the NBA season I have played on Starstreet with very little success due to my lack of knowledge.  Following Muntradamus during the football season with success I gave him a chance to prove himself for Basketball.  1 day and I'm convinced trusting in his service is the best thing for me and my $.  Its so easy, just sit back and wait for his email enter my team and reap the rewards.  Thank you Munt!
..I have so much confidence in Munts that I am going to be playing Fantasy Basketball this season through his service without ever playing Fantasy Basketball before…        
JDS
"As you can see from the screenshot, a pretty dominating week. Has every week been this way? No, but they don't have to be – playing in the 50/50 games, all we need is to finish in the top half to double up. And the green number is clear – we have had success. His lineups have won for me 7 of 9 weeks – I only wish I had started with him earlier in the season.
As long as Munts is helping, I'm done with traditional lines and games…this has been pretty easy. He picks the lineup, you enter the games and amounts, then sit back and enjoy the wins. I have so much confidence in Munts that I am going to be playing Fantasy Basketball this season through his service without ever playing Fantasy Basketball before."            
JDS
I was a FINALIST IN THE DSFC
I was a Two Time Finalist in the DSBC
And currently working my way as a DSBBC Finalist
VIP #5
(Fantasy Basketball Gold)
E-mail [email protected] if interested.
Option 1: Shot Caller
The Rankings Package which includes Daily Rankings Everyday Except For Thursday.
A) $100/Week = $16.67 a day.
B) $25/Day.
Option 2: Baller Shot Caller
*With E-mail/Text privileges.
The Muntradamus Team Package. I create a Team for you Everyday Except for Thursday. (50/50 Leagues).
A) $200/week = $33.33 a day.
B) $50/Day.
For all You Seasonal Members Do Not Fear.  I will come out with Daily Articles every single day to help guide you to the Championship.  Trade Articles/ Beast or Bust Articles/Haikus/Waiver Wire Deep Sleepers (Currently on Muntradamus.NET due to the VS. THE MACHINE challenge). Most importantly.  We will have a LIVE Chat Room 24/7 where everyone can share strategy and become a deeper part of the community.  All for Free.
Without Further to do here are the Daily Fantasy Basketball Rankings.

SUNDAY DECEMBER 23rd.
BEAST OF THE DAY: CHRIS PAUL – PG – LAC
BUST OF THE DAY: MARCIN GORTAT – C – PHO 
SLEEPER OF THE DAY: MARCUS THORNTON – SG – SAC 
*Kevin Love is out. Blowout Alert in NY*
*DeMarcus Cousins is suspended*
*Tyreke Evans is out*
*Darren Collison questionable with flu*
*Wesley Matthews likely out*
*UPDATES. Come Hour before tip-off (Mon-Fri). Earlier on Weekend*
PG RANKINGS
BEAST
1. CHRIS PAUL @ PHO
ELITE
2. DAMIAN LILLARD @ SAC
GOOD
3. TONY PARKER VS. DAL
4. DERON WILLIAMS VS. PHI
5. JRUE HOLIDAY @ BRK
6. RAYMOND FELTON VS. MIN
7. JAMEER NELSON VS. UTA
8. GORAN DRAGIC VS. LAC
9. JASON KIDD VS. MIN
RISKY
10. EARL WATSON @ ORL
11. AARON BROOKS VS. POR
12. ERIC BLEDSOE @ PHX
13. DARREN COLLISON @ SA
14. RICKY RUBIO @ NYK
15. LUKE RIDNOUR @ NYK
16. RODRIGUE BEAUBOIS @ SA
17. ISIAH THOMAS VS. POR
18. JAMAAL TINSLEY @ ORL
19. J.J. BAREA @ NYK
SG RANKINGS
BEAST 
ELITE
GOOD
1. AARON AFFLALO VS. UTA
2. MARCUS THORNTON VS. POR
3. O.J. MAYO @ SA
4. MANU GINOBLI VS. DAL
5. J.R. SMITH VS. MIN
6. ALEXEY SHVED @ NYK
7. JASON RICHARDSON @ BRK
8. JOE JOHNSON VS. PHI
9.J.J. REDICK VS. UTA
10. SHANNON BROWN VS. LAC
11. JAMAL CRAWFORD @ PHO
RISKY
12. RANDY FOYE @ ORL
13. JIMMER FREDETTE VS. POR
14. NICK YOUNG @ BRK
15. SASHA PAVLOVIC @ SAC
16. GARY NEAL VS. DAL
17. MARSHON BROOKS VS. PHI
SF RANKINGS
BEAST
1. CARMELO ANTHONY VS. MIN
ELITE
2. NICOLAS BATUM @ SAC
GOOD
3. ANDREI KIRLENKO @ NYK
4. EVAN TURNER @ BRK
5. SHAWN MARION @ SA
6. GERALD WALLACE VS. PHI
RISKY
7. MARVIN WILLIAMS @ ORL
8. JOHN SALMONS VS. POR
9. JARED DUDLEY VS. LAC
10. GORDON HAYWARD @ ORL
11. MATT BARNES @ PHO
12. CARON BUTLER @ PHO
13. DANNY GREEN VS. DAL
14. VINCE CARTER @ SA
15. DORRELL WRIGHT @ BRK
16. STEPHEN JACKSON VS. DAL 
17. LUKE BABBIT @ SAC
18. STEVE NOVAK VS. MIN
PF RANKINGS
BEAST 
1. LAMARCUS ALDRIDGE @ SAC
2. BLAKE GRIFFIN @ PHO
ELITE
3. TIM DUNCAN VS. DAL
GOOD
4. PAUL MILLSAP @ ORL
5. JASON THOMPSON VS. POR
6. THADDEUS YOUNG @ BRK
7. DERRICK FAVORS @ ORL
RISKY
8. THOMAS ROBINSON VS. POR
9. DERRICK WILLIAMS @ NYK
10. LUIS SCOLA VS. LAC
11. KRIS HUMPHRIES VS. PHI
12. DANTE CUNNIGHAM @ NYK
13. LAVOY ALLEN @ BRK
14. CHRIS COPELAND VS. MIN
15. REGGIE EVANS VS. PHI
16. MO HARKLESS VS. UTA
CENTER RANKINGS
BEAST 
1. AL JEFFERSON @ ORL
ELITE
2. BROOK LOPEZ VS. PHI
3. J.J. HICKSON @ SAC
GOOD
4. TYSON CHANDLER VS. MIN
5. NIKOLA PEKOVIC @ NYK
6. NIKOLA VUCEVIC VS. UTA
RISKY
7. DEANDRE JORDAN @ PHX
8. MARCIN GORTAT VS. LAC
9. TIAGO SPLITTER VS. DAL
10. CHRIS KAMAN VS. SA
11. SPENCER HAWES @ BRK
12. GUSTAVO AYON VS. UTA 
13. BORIS DIAW VS. DAL
14. CHUCK HAYES VS. POR
Blowout Potential
*Potential Game to Bet on.*
4-0 Record Over this Trial
San Antonio VS. Dallas. Take San Antonio
Muntradamus is a Fantasy Sports Expert who specializes in Fantasy Football/Baseball/Basketball. He is currently in his first season as a Pro on FantasyPros where he is the only expert to have Adam Dunn, Chris Davis, Mark Trumbo, Ian Desmond, Jarrod Saltalamacchia, and Wilin Rosario in his top 20 at each position. Muntradamus not only leads many to championships with his great advice, and outlooks into the future. He is also consistently on the top of leaderboards in DraftStreet. He was also the #1 Fantasy Football Expert of IDP & Overall Rankings, first time in Fantasy Sports History.  To check his Preseason Fantasy Football Rankings Click Here. He also won a 1,000 person tournament in Fantasy Football to qualify for a trip to Vegas to play for $500,000 in Prizes. To Check his Week-By-Week Progress to being the #1 Expert. Follow the Journey.