UPDATE: Fantasy Basketball Rankings (SATURDAY): What To Do When Football Is Over Vol. II (VIP #5)
Fantasy Basketball Rankings (SATURDAY):
What To Do When Football Is Over Vol. II (VIP #5)
By Muntradamus
BEAST DOME NATION.
Day 2 of this boot camp V.I.P. program.
..I have so much confidence in Munts that I am going to be playing Fantasy Basketball this season through his service without ever playing Fantasy Basketball before…        
JDS
If you followed my Rankings from yesterday.  You likely had a HUGE day.
BEAST OF THE DAY: David Lee had a Triple Double.
BUST OF THE DAY: DeMarcus Cousins had a terrible game before getting ejected.
SLEEPER OF THE DAY: Nikola Vucevic had 16 Points and 12 Rebounds to easily be the best value of the day on any Fantasy Site. 
Along with that, there were other spot on calls including a BUST day by Jrue Holiday and many others.
"As you can see from the screenshot, a pretty dominating week. Has every week been this way? No, but they don't have to be – playing in the 50/50 games, all we need is to finish in the top half to double up. And the green number is clear – we have had success. His lineups have won for me 7 of 9 weeks – I only wish I had started with him earlier in the season.
As long as Munts is helping, I'm done with traditional lines and games…this has been pretty easy. He picks the lineup, you enter the games and amounts, then sit back and enjoy the wins. I have so much confidence in Munts that I am going to be playing Fantasy Basketball this season through his service without ever playing Fantasy Basketball before."            
JDS
I was a FINALIST IN THE DSFC
I was a Two Time Finalist in the DSBC
And currently working my way as a DSBBC Finalist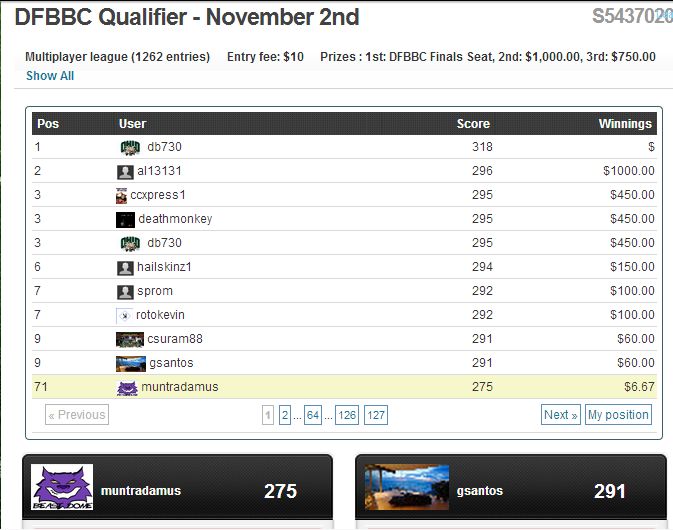 VIP #5
(Fantasy Basketball Gold)
Option 1:
The Rankings Package which includes Daily Rankings Everyday Except For Thursday.
A) $100/Week = $16.67 a day.
B) $25/Day.
Option 2:
*With E-mail/Text privileges.
The Muntradamus Team Package. I create a Team for you Everyday Except for Thursday. (50/50 Leagues).
A) $200/week = $33.33 a day.
B) $50/Day.
For all You Seasonal Members Do Not Fear.  I will come out with Daily Articles every single day to help guide you to the Championship.  Trade Articles/ Beast or Bust Articles/Haikus/Waiver Wire Deep Sleepers (Currently on Muntradamus.NET due to the VS. THE MACHINE challenge). Most importantly.  We will have a LIVE Chat Room 24/7 where everyone can share strategy and become a deeper part of the community.  All for Free.
Without Further to do here are the Daily Fantasy Basketball Rankings.

SATURDAY DECEMBER 22nd.
BEAST OF THE DAY: Zach Randolph – PF – MEM
BUST OF THE DAY: Chandler Parsons – SF – HOU
SLEEPER OF THE DAY: Jodie Meeks – SG – LAL
*Bradley Beal. GT Decision likely, Ranked as if he is going to play*
*LaMarcus Aldridge. GT Decision. All Blazers Ranked as if he is going to play*
*Nene Hilario. Battling Flu, but still sat on bench in uniform?"
*UPDATES. Come Hour before tip-off (Mon-Fri). Earlier on Weekend*
 *Brady Beal is likely going to play*
Cartier Martin and Martell Webster get crushed by the news.
*LaMarcus Aldridge and Wesley Matthews GT Decision*
Game starts late night on the West Coast. I would go with safer players.
*DeMarcus Cousins suspended by team*
Day after I picked him as Bust of the Day.
*Nash is active*
Give him the green light if you're feeling lucky. Could take a game.
*No Chris Bosh. Sick*
Wade and Lebron show.
Good Luck To All!
PG RANKINGS
ELITE
1. STEPHEN CURRY VS. LAL
2. KEMBA WALKER @ DEN
3. DAMIAN LILLARD VS. PHO
4. BRANDON JENNINGS VS. CLE
GOOD
5. TY LAWSON VS. CHA
6. KYRIE IRVING @ MIL
7. GORAN DRAGIC @ POR
8. GEORGE HILL VS. NOH
9. MO WILLIAMS @ MIA
10. STEVE NASH @ GSW
11. GREIVIS VASQUEZ @ IND
12.MIKE CONLEY @ HOU
13. BRANDON KNIGHT @ WAS
14. ANDRE MILLER VS. CHA
15. JEFF TEAGUE VS. CHI
RISKY
16. JEREMY LIN VS. MEM
17. JARRETT JACK VS. LAL
18. KIRK HINRICH @ ATL
19. MARIO CHALMERS VS. UTA
20.RAMON SESSIONS @ DEN
21.NORRIS COLE VS. UTA
22. NATE ROBINSON @ ATL
23. SHAUN LIVINGSTON VS. DET
SG RANKINGS
ELITE
1. KOBE BRYANT @ GSW
2. DWAYNE WADE VS. UTA
3. MONTA ELLIS VS. CLE
4. JAMES HARDEN VS. MEM
GOOD
5. JORDAN CRAWFORD VS. DET
6. ANDRE IGUODALA VS. CHA
7. KLAY THOMPSON VS. LAL
8. JODIE MEEKS @ GSW
9. GERALD HENDERSON @ DEN
10. WESLEY MATTHEWS VS. PHO
RISKY
11. SHANNON BROWN @ POR
12. LOU WILLIAMS VS. CHI
13. DION WAITERS @ MIL
14. MARCO BELINELLI @ ATL
15. TONY ALLEN @ HOU
16. RAY ALLEN VS. UTA
17. BRADLEY BEAL VS. DET
18. AUSTIN RIVERS @ IND
19. LANCE STEPHENSON VS. NOH
20. RANDY FOYE @ MIA
21. KYLE SINGLER @ WAS
22. JIMMY BUTLER @ ATL
23. MARQUIS DANIELS VS. IND
SF RANKINGS
ELITE
1. LEBRON JAMES VS. UTA
GOOD
2. RUDY GAY @ HOU
3. NICOLAS BATUM VS. PHX
4. LUOL DENG @ ATL
5. PAUL GEORGE VS. NOH
6. MICHAEL KIDD-GILCHRIST @ DEN
7. DANILO GALLINARI VS. CHA
8. CHANDLER PARSONS VS. MEM
RISKY
9. JARED DUDLEY @ POR
10. METTA WORLD PEACE @ GSW
11. KYLE KORVER VS. CHI
12. TAYSHAUN PRINCE @ WAS
13. ALONZO GEE @ MIL
14. MIKE DUNLEAVY VS. CLE
15. HARRISON BARNES VS. LAL
16. CARTIER MARTIN VS. DET
17. GORDON HAYWARD @ MIA
18. MARVIN WILLIAMS @ MIA
19. SHANE BATTIER VS. UTA
PF RANKINGS
ELITE
1. ZACH RANDOLPH @ HOU
2. LAMARCUS ALDRIDGE VS. PHO
3. DAVID LEE VS. LAL
4. JOSH SMITH VS. CHI
GOOD
5. PAUL MILLSAP @ MIA
6. DAVID WEST VS. NOH
7. PAU GASOL @ GSW
8. ANTHONY DAVIS @ IND
9. KENNETH FARIED VS. CHA
10. CARLOS BOOZER @ ATL
11. RYAN ANDERSON @ IND
12. BISMACK BIYOMBO @ DEN
13. LUIS SCOLA @ POR
RISKY
14. TRISTAN THOMPSON @ MIL
15. ERSAN ILYASOVA VS. CLE
16. LUC RICHARD MBAH MOUTE VS. CLE
17. DERRICK FAVORS @ MIA
18. CARL LANDRY VS. LAL
19. KEVIN SERAPHIN VS. DET
20. MARCUS MORRIS VS. MEM
21. HAKEEM WARRICK @ DEN
22. TYLER HANSBROUGH VS. NOH
23. JASON MAXIELL @ WAS
24. GREG SMITH VS. MEM
25. UDONIS HASLEM VS. UTA
CENTER RANKINGS
ELITE
1. DWIGHT HOWARD @ GSW
2. AL JEFFERSON @ MIA
3. JOAKIM NOAH @ ATL
4. GREG MONROE @ WAS
5. MARC GASOL @ HOU
6. LARRY SANDERS VS. CLE
7. J.J. HICKSON VS. PHX
GOOD
8. CHRIS BOSH VS. UTA
9. ROY HIBBERT VS. NOH
10. AL HORFORD VS. CHI
11. OMER ASIK VS. MEM
12. MARCIN GORTAT @ POR
RISKY
13. ANDRE DRUMMOND @ WAS
14. BYRON MULLENS @ DEN
15. TYLER ZELLER @ MIL
16. ROBIN LOPEZ @ IND
17. NENE HILARIO VS. DET
18. KOSTA KOUFOS VS. CHA
19. JAVALE MCGEE VS. CHA
20. EMEKA OKAFOR VS. DET
Blowout Potential
*Potential Game to Bet on.*
Denver vs. Charlotte. Take Denver.
Muntradamus is a Fantasy Sports Expert who specializes in Fantasy Football/Baseball/Basketball. He is currently in his first season as a Pro on FantasyPros where he is the only expert to have Adam Dunn, Chris Davis, Mark Trumbo, Ian Desmond, Jarrod Saltalamacchia, and Wilin Rosario in his top 20 at each position. Muntradamus not only leads many to championships with his great advice, and outlooks into the future. He is also consistently on the top of leaderboards in DraftStreet. He was also the #1 Fantasy Football Expert of IDP & Overall Rankings, first time in Fantasy Sports History.  To check his Preseason Fantasy Football Rankings Click Here. He also won a 1,000 person tournament in Fantasy Football to qualify for a trip to Vegas to play for $500,000 in Prizes. To Check his Week-By-Week Progress to being the #1 Expert. Follow the Journey.