Fantasy Baseball Trade Market: Wait Till I Get My Power Right (Week 3)
Fantasy Baseball Trade Market:
Wait Till I Get My Power Right (Week 3)
By Muntradamus
BEAST DOME NATION.
For the first time in the history of BEAST DOME, there has not been content everyday.
The reason for this is due to my success at Daily Fantasy Baseball.  The site is becoming so popular I have to limit the Free Content I put out there, because my competition is now reading me after I claimed my Championship Seat in Fan Duel.  Everything I say goes long ways.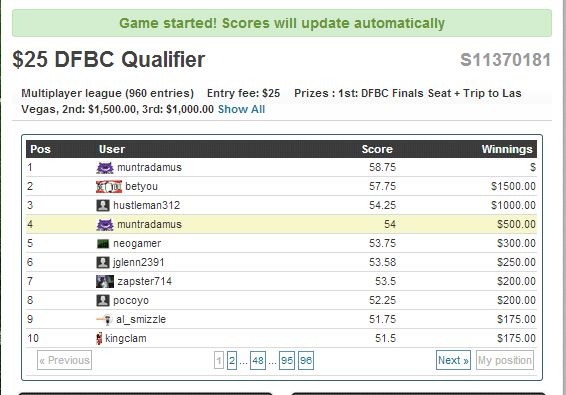 There will be a more consistent schedule going into this weekend with the Classic Waiver Wire and much more to get you ready for Fantasy Baseball Week 4.  Thank you all for keeping the BEAST NATION going strong.  I will be making comments on the questions Saturday Night.
Stay Tuned for special Free Games to get the V.I.P. #3.
Free For A Week
– LASTMILE
"I wanted to give Muntradamus a huge shout out. This is my first year playing fantasy baseball and I was absolutely clueless! I discovered BeastDome on the second or third week of the year and it has been a game changer for me and my team. I now visit the site daily to help me with my lineup decisions. Muntz's advice is dead-on and nine times out of ten published before the other sites. His waiver wire recommendations and player ranking articles are excellent. I can't thank Muntz enough for his help over this past year. I am currently in first place in my division and looking ahead to the playoffs. It ABSOLUTELY BLOWS ME AWAY how helpful and responsive Muntz is to the BeastDome Nation. The fact that he takes the time to look at your individual team and waiver wire is AMAZING! You can not get that anywhere else. Thanks Muntz!!!"
2x DRAFTSTREET BASEBALL CHAMPIONSHIP QUALIFIER
You will get access to Daily Pitcher Rankings on Muntradamus.Net.
You can have private Chats with me Mon-Fri on G-Mail Chat.
You have access to E-mail me questions as well as get trade suggestions/waiver wire claims/lineup moves.

FRIDAY NIGHT DAILY ACTION
HITTERS TO BUY LOW
*The Purpose Of This Trade Market Is To Trade For Struggling Stars. Or Stars who have more potential.*
BUSTER POSEY – C – SFG
STATS AS OF 4/27: .275 Average/2 HR/11 RBI
It is really easy to forget that Posey is a .330/30 HR/100 RBI potential hitter by the way he is starting out this season.  A player that is as good as Posey only get better as the season gets going.  Buster will get on his power surge sooner than you think, and by then you could not trade A.J. Pierzynski or Joe Mauer and a nice pitcher to acquire the star #1 Preseason Catcher.
Look for Posey to get on his positive ways very soon.
ALBERT PUJOLS – 1B – LAA
STATS AS OF 4/27: .268 Average/2 HR/13 RBI
Pujols was never a notorious slow starter, but 2012 he failed to hit his 1st Home Run until May 6th.  At this point of the season last year, Pujols owned a nice .225/0 HR/4 RBI.  This year if you own Pujols you may start to think he is not the same Pujols of his Cardinals day, but do not fear.  "The Machine" is the best pure power hitting 1B options in the game.  He will be a 40 Home Run candidate easily.  See if you can figure out a trade giving up a Rizzo and Solid Starting pitcher in Jake Peavy to land Pujols.
BEN ZOBRIST – 2B/OF – TB
STATS AS OF 4/27: .238 Average/1 HR/15 RBI/2 SB
They call him ZO-BEAST. So I automatically like him more than the standard Fantasy Owner.  What he gives is a low-end 20 HR/20 SB season with the potential of a 25 HR/25 SB season.  Fantasy Owners who have never owned Zobrist, or had a bad experience back in 2010 where he hit only 10 HRs and stole 24 Bases (I was one of those owners).  Now would be a good time to see if you can snag him for something cheap.
Howie Kendrick for Zobrist would be the steal of all steals.
DAVID WRIGHT – 3B – NYM
STATS AS OF 4/27: .297 Average/2 HR/17 RBI/6 SB
Mr. Wright is the face of the Mets Franchise.  When I see his numbers, I see exactly what Fantasy Owners drafted him for.  25 Home Runs and 25 Stolen Bases.  Those numbers are coming, and now is a time where you could slide a Todd Frazier and good pitcher for one of the most dangerous 3B options in Fantasy Baseball.
Every season Wright seems to disappoint in the power department, but this year the ball is flying out of Citi Field, home of the Mets.  Wright is going to surpass 20 Home Runs with ease, see if you can pull the move.
STARLIN CASTRO – SS – CHC
STATS AS OF 4/27: .263 Average/2 HR/8 RBI/2 SB
In every Fantasy Baseball draft, Starlin Castro was a Top 3 SS to go off the board.  Why?  Because he can hit 25 Home Runs and steal 15 Bases before you can get your shirt dry cleaned.  Starlin is a 5 Tool Player and he plays at the rarest position of all positions.
Right now he is playing like a bottom 20 SS option, offer a superstar in Jean Segura for a Power Hitting Superstar in Starlin Castro.  The tides will turn later on.
GIANCARLO STANTON – OF – MIA
STATS AS OF 4/27: .203 Average/0 HR/4 RBI/1 SB
Stanton is the most feared right handed power hitter in baseball when he is hot.  When Stanton gets going, anything and everything will turn into a home run.  Pop Fly to right field, no it has enough to go 350 for a 3-run shot.
Giancarlo started 2012 exactly the same way only hitting 1 Home Run at the end of April.  He ended up with 37 Home Runs.
Muntradamus is a Fantasy Sports Expert who specializes in Fantasy Football/Baseball/Basketball. He is currently in his second season as a Pro on FantasyPros coming off of an impressive Rookie Campaign where he landed the #10 Overall In-Season Fantasy Football Rankings Expert.  Which also included #1 WR of all Expert Sites.  He is also one of two people to qualify for all DRAFTSTREET CHAMPIONSHIPS in 2012. Most Historically, Muntradamus was the #1 Fantasy Football Expert of IDP & Overall Rankings in One Week, first and only time in Fantasy Sports History.