FANTASY BASEBALL TRADE ALERT Don't Be A Keuchel Head (Dallas Keuchel)
FANTASY BASEBALL TRADE MARKET
Don't Be A Keuchel Head
By Muntradamus
BEAST DOME NATION.
In April there were a lot of Fantasy Owners who were ready to turn their ACE Spot in their starting rotation to Dallas Keuchel. In the end, those owners are likely fighting on the back end of ERA battles. We now find ourselves in May, and a lot of Fantasy Owners are ready to hit the panic button on one of the best pitchers in the American League.
BUY LOW
DALLAS KEUCHEL – SP – HOU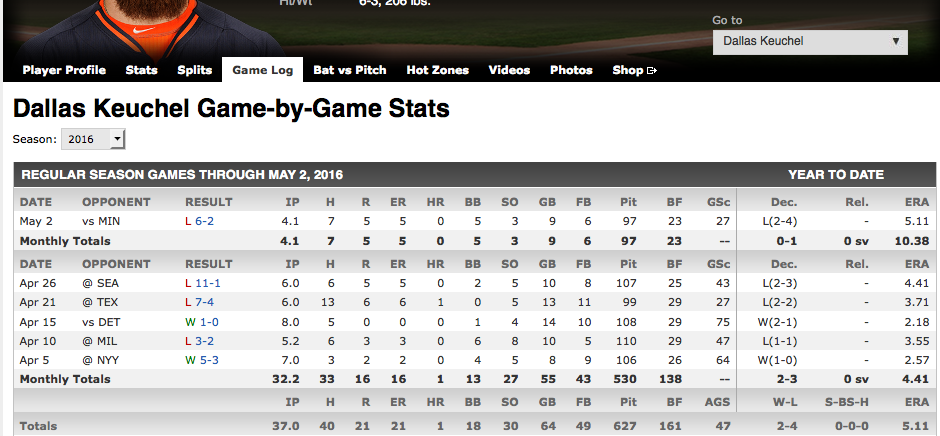 When you look at how bad Kuechel is pitching this season, there is still a statistic that glares out which reminds you how dominant he really is. Only 1 HR allowed in 138 batters faced, that number is more dominant than 99% of the pitchers in the game today. The reason Dallas has been so wildly inefficient this season is the fact he is walking hitters. While allowing double digit hits in a game like he did against the Rangers is never good, Dallas has not been able to consistently find the strike zone. This allows hitters to sit on 3-1 counts just waiting for that fastball to drive somewhere in the field.
You have to remember that Keuchel is one of the most dominant pitchers in the game. Last season he seemed nearly unhittable and was a huge factor in the Astros making it to the playoffs in 2015. Currently the Astros sit in last place of the AL West, something that will not last all season. Dallas is a Strikeout Machine who should go 8 INN/1 ER/10 K more often than not. Is he better than Jon Lester? The answer to that right now is obviously no. However when it is all said and done, it would not surprise me to see Dallas Kuechel with numbers that still are in the Jon Lester range when the season is over.
I would trade just about any starting pitcher that is not an ELITE BEAST to get Keuchel. Would I trade Jordan Zimmermann straight up? Ya I would do it. Would I trade Johnny Cueto? No doubt. Do whatever it takes to get Dallas Keuchel on your fantasy team. His price will not be lower than this, and he is good enough to win CY Young when his stuff is on. The most attractive part about Dallas is the fact he has never had any arm injuries in his young (28 Years Old) MLB Career.