FANTASY BASEBALL POWER OF JESUS
FANTASY BASEBALL
POWER OF JESUS
By Muntradamus
BEAST DOME NATION.
Fantasy Baseball is a long season. It is a reason many of you do not like to get involved in the sport, because you have enough going on in your life then to double check if Jean Segura is going to play through his shin bruise while you sit in 6th Place. If you think winning a Fantasy Baseball Season without paying attention to every team in baseball is going to happen. Think again.
This season you can check previous articles, TEAM BEAST DOME was dominating all 5 hitting categories. Coming out of the All-Star Break, the hitting has Free Fallen to a Cold Streak you would not believe.
For first time readers, the Grand Prize of this League is $150K. Same League format where Jason won $30K last year as the cover of the Draft Guide. https://nfc.shgn.com/football
Usually for the common Fantasy Baseball owner. That means throw in the towel, only two months left. Was in 3rd Place all season. However that is NOT a BEAST DOME state of Mind. We do not just throw the towel in, we make moves to put us back in position to finish in the money!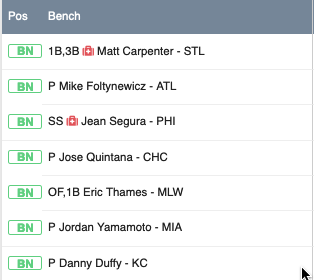 Outside of Schwarber, nobody has been lights out dominant for the team since the All-Star Break. Still a lot of time left in the Fantasy Baseball season to make a comeback.
DREW SMYLY
He's got two starts this week vs. SF/vs. CHW and then the following week @SF. Three great matchups, this is his last chance to make his career work on a winning team. His first start with the Phillies was a QS picking up 7Ks with 1 ER over 6 INN. Got to ride the hot hand with the juicy matchups.
JESUS AGUILAR
Picked up Aguilar off the Waiver Wire right around the All-Star Break. He has been a BUST no doubt this season, for the teams that drafted him, they are done as they burned a 4th Round Pick on a player who is now being scooped up by me.
There is still two months left to get his numbers to where they could be respectable. If Jesus Aguilar ends the season with 20 HRs, currently at 8, last season hit 35. If Aguilar finishes at 20, he will have enough confidence where he can bounce back in 2020. Regardless, great big pop that can get hot. It is important to remember in Baseball unless they are Mike Trout. Players get hot, they get cold. For all of Team BEAST DOME, they have been cold together. The Power of Jesus can light the fire to get them all hot again.
Was in 3rd Place less than a blue moon ago. Regardless, never give up, never surrender.
Stay tuned for how the season develops.