Fantasy Baseball: Forgot To Touch First (TUE)
Fantasy Baseball:
Forgot To Touch First (TUE)
By Muntradamus
BEAST DOME NATION.
This will be the Daily Article that comes to BEAST DOME every single day *More articles coming as well to win your league.*
While this information will help you stay on top of the Fantasy Circuit, the real way to win in Daily Fantasy Baseball and Seasonal Fantasy Baseball is through the VIP #3 Package.  You can e-mail me [email protected] to learn more.
2x DRAFTSTREET BASEBALL CHAMPIONSHIP QUALIFIER
You will get access to Daily Pitcher Rankings on Muntradamus.Net.
You can have private Chats with me Mon-Fri on G-Mail Chat.
You have access to E-mail me questions as well as get trade suggestions/waiver wire claims/lineup moves.

How Did Week 1 of Fantasy Baseball go?
It did not take long for me to make a Splash in the Daily Fantasy Baseball Game nearly claiming a seat in the Star Street Championship and Fan Duel Championship.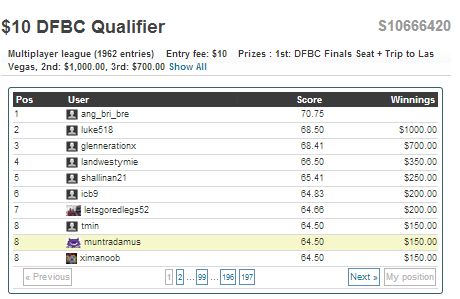 DAILY HEADLINES
JIM HENDERSON LOCKS DOWN SAVE #1.  Did not take Axford to return to his bad habits from 2012.  If you have Axford you can drop him for Henderson, if you have a middle reliever you can drop him for Henderson.
Do keep in mind that Axford will likely have a shot for the closer role again if one of two things happen.
1) Axford starts racking up the 1-2-3 INN consistently.
2) Once Jim Henderson blows 2 Saves in a span of 4 games or less.
JUSTIN UPTON IS FAVORITE FOR MVP. The season is still very young, but Justin Upton is off to a very quick start with 6 HRs and a .423 batting average in his first 7 games.  Justin has always had 40+ HR potential and this appears to be the season where it will come easy.
BUY LOW?
There is no Buy Low opportunity here, but if for some odd reason Upton goes into a huge Cold Streak that turns him into an average player.  Remember how good he can be and make a move.
SELL HIGH?
If it means grabbing Carlos Gonzalez or Matt Kemp?  Definitely make the move.  Baseball is a game of streaks, and those hitters when they are hot become unstoppable.
ROY HALLADAY gets bombed once again.  This time against the Mets which does not bode well for anything.
The way to play Roy Halladay if you are unfortunate enough to own him.
1) Keep him on the back of your bench until he throws a QS.
2) Once he throws a QS throw him in your lineup to show the league you have confidence in him.
3) If he is lucky enough to rack up 1-2 or even 3 QS's in a row.  Look to trade him instantly with a good bat for an ACE.
MITCHELL BOGGS gives up 6 ER in .1 INN.  For all of you who worried about how quickly Jason Motte would get his closer spot back once he returned from injury.  You do not have to wait another day to find out that the Cardinals will hand him the keys to the city after this appearance.  Watch to see if Boggs gets the next save opportunity after this one.
ERVIN SANTANA looks vintage.  It was against the Twins, but 8 INN/1 ER/7 K line from Ervin Santana will certainly bring a tear to your eye.  Especially if he killed your fantasy rotation in 2012.  His next start against Toronto is a big one in his career.  He should be able to bring it, but we will see.
TRAVIS HAFNER Hits a Bomb.  Hopefully you checked out my Weekly Waiver Wire suggestions, Hafner will be claimed in nearly every league by the end of April.  Robinson Cano hit a couple of bombs himself to get his season going.
CARLOS MARMOL throws a Shutout 8th INN.  His ERA has now lowered to 16.88 and it will take at least a few more of these type of appearances to get his job back as closer.  Fujikawa does have the closer job to himself right now, and it is his job to lose.
CLAY BUCHHOLZ turning into a K pitcher.  Somehow racking up 8 Ks in 7 INN, Clay looks to be the pitcher he was in 2010 when he posted a 2.33 ERA and racked up a 17-7 record.  Do not let Clay slip on your waiver wire if he is still there, this Red Sox offense came to hit.
Muntradamus is a Fantasy Sports Expert who specializes in Fantasy Football/Baseball/Basketball. He is currently in his second season as a Pro on FantasyPros coming off of an impressive Rookie Campaign where he landed the #10 Overall In-Season Fantasy Football Rankings Expert.  Which also included #1 WR of all Expert Sites.  He is also one of two people to qualify for allDRAFTSTREET CHAMPIONSHIPS in 2012. Most Historically, Muntradamus was the #1 Fantasy Football Expert of IDP & Overall Rankings in One Week, first and only time in Fantasy Sports History.