Fantasy Baseball: Forgot To Touch First (THU)
Fantasy Baseball:
Forgot To Touch First (THU)
By Muntradamus
BEAST DOME NATION.
It is time for another episode of…
FORGOT TO TOUCH FIRST.
Before we get to that, a word from our sponsors.
How Did Week 1 of Fantasy Baseball go?
It did not take long for me to make a Splash in the Daily Fantasy Baseball Game nearly claiming a seat in the Star Street Championship and Fan Duel Championship.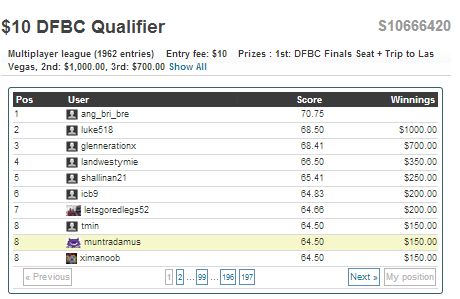 2x DRAFTSTREET BASEBALL CHAMPIONSHIP QUALIFIER
You will get access to Daily Pitcher Rankings on Muntradamus.Net.
You can have private Chats with me Mon-Fri on G-Mail Chat.
You have access to E-mail me questions as well as get trade suggestions/waiver wire claims/lineup moves.

DAILY HEADLINES
PLAYERS I SUGGESTED ON WAIVER WIRE THIS WEEK
Franklin Gutierrez continues his fine start with his 3rd HR of the season.  Do not let him sit on the Waiver Wire.
Brandon League has a shaky 9th INN but does hold onto the 3 run lead.  Kenley Jansen has yet to give up a run, so the leash on League is not as long as a lot of owners want it to be.
Brandon Moss knocks in 5 RBIs on Wednesday.  You can celebrate if you somehow used him in a Daily Fantasy League, that is all he is good for is the random occasional good play.
Kelvin Herrera locks down his 2nd save, the first one being only 1/3 of an INN.  Kelvin did strikeout all three Twins hitters, which makes you think he will get another opportunity.  If you have Holland remain patient before dropping him, if you have a bad reliever.  Drop that reliever for Herrera.
Joel Hanrahan gives up 5 ER in 2/3 of an INN.  Blows the save.  Andrew Bailey has been perfect and after a rough Spring Training and showing some bad signs in his last appearance   Joel's leash is very short at the moment, he must convert his next game.  Andrew Bailey is a good speculative add if you are looking for a closer.
Evan Gattis knocks out another HR.  Evan is hot, if you need a catcher ride him out instead of trading for one.  John Buck and Gattis are turning out to be the two biggest sleepers at the position, neither may survive the long-run.
Lucas Duda hits 2 HRs in the same game, Mets still lose.  Duda is a nice addition off of Waiver Wires while he is this hot.  20 HRs would be the usual expectation from him, at this rate he could go over 25.
Barry Zito is one of the MLB leaders in ERA after throwing his second shutout this season.  Zito now owns a nice 14/0 ER/7 Ks.  He had a nice a Spring and is carrying his success into the season with grace.
A.J. Pollock hits 2 HRs/2B/SB and is the Fantasy Player of the Day.  If he has success against Clayton Kershaw on Friday, people may want to jump the gun on his potential.  It is not often a rookie pulls off this type of game so soon.
Fernando Rodney & Rafael Soriano both have good shutout INNs to make their owners breathe easy.  Both will be fine and keep their jobs the entire season most likely.
Jake Westbrook who always starts the season out hot, throws a CG shutout to secure his 0.00 ERA to put him amongst the league leaders.  This stat is due to change by the end of next month.
J.P. Arencibia plays hero with a huge bases loaded double that scores all 3 runners in the 7th INN for the win.  J.P. has been the man all season and looks to be an automatic top 10 Catcher who comes closer to Top 5 everyday.  Not a bad idea to sell ridiculously high and see what you get in return.
Muntradamus is a Fantasy Sports Expert who specializes in Fantasy Football/Baseball/Basketball. He is currently in his second season as a Pro on FantasyPros coming off of an impressive Rookie Campaign where he landed the #10 Overall In-Season Fantasy Football Rankings Expert.  Which also included #1 WR of all Expert Sites.  He is also one of two people to qualify for allDRAFTSTREET CHAMPIONSHIPS in 2012. Most Historically, Muntradamus was the #1 Fantasy Football Expert of IDP & Overall Rankings in One Week, first and only time in Fantasy Sports History.