Fantasy Baseball Forgot To Touch First: Champion (Wed)
Fantasy Baseball Forgot To Touch First:
Champion (Wed)
By Muntradamus
BEAST DOME NATION.
The Fantasy Baseball season is still very young and it is important not to give up on struggling hitters.  Baseball is a game of streaks, and right now my Daily Fantasy Baseball Streak is at a Barry Bonds Rate.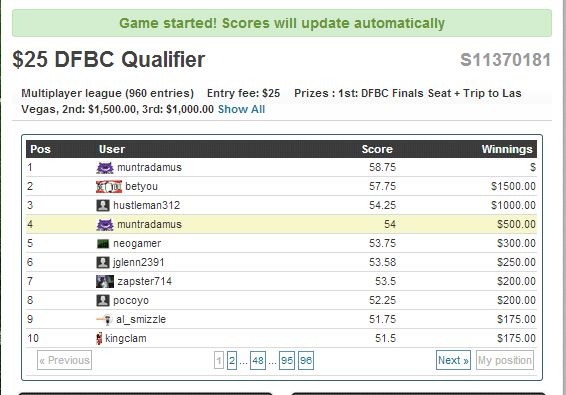 Championship is later this summer.  1st Place makes $200,000.  45 Seats.  Get the V.I.P. #3 to E-mail me questions and talk about your Fantasy Baseball team whenever you need to.
– LASTMILE
"I wanted to give Muntradamus a huge shout out. This is my first year playing fantasy baseball and I was absolutely clueless! I discovered BeastDome on the second or third week of the year and it has been a game changer for me and my team. I now visit the site daily to help me with my lineup decisions. Muntz's advice is dead-on and nine times out of ten published before the other sites. His waiver wire recommendations and player ranking articles are excellent. I can't thank Muntz enough for his help over this past year. I am currently in first place in my division and looking ahead to the playoffs. It ABSOLUTELY BLOWS ME AWAY how helpful and responsive Muntz is to the BeastDome Nation. The fact that he takes the time to look at your individual team and waiver wire is AMAZING! You can not get that anywhere else. Thanks Muntz!!!"
2x DRAFTSTREET BASEBALL CHAMPIONSHIP QUALIFIER
You will get access to Daily Pitcher Rankings on Muntradamus.Net.
You can have private Chats with me Mon-Fri on G-Mail Chat.
You have access to E-mail me questions as well as get trade suggestions/waiver wire claims/lineup moves.

FORGOT TO TOUCH FIRST (WED)
In case you did not read my "Look A Little Closer" save report.  I mentioned that Jose Valverde would get the closer job for Detroit.  If you did not add him already, be sure to jump the gun as you read this sentence.  Automatic 30+ Saves.
Marlins offense puts up runs for the first time all season.  Justin Ruggiano the Waiver Wire player suggested will be a beneficiary of this.
Freddie Freeman returned from the DL.  He should get right back to his 30+ HR pace in no time, playing in Colorado is a good place tog get that started.
Don't look now, Bartolo Colon owns a 2.42 ERA and a 3-0 Record.  His next game against Baltimore is a huge test.
Jean Segura is a BEAST. 12 HR/30 SB potential.  Trade for him if you can without giving up too much.
Mark Ellis 4/5 – 2 HR – 2 RBI on Tuesday made his way onto my Fantasy Team for the Championship.  Nice backup 2B option in deeper leagues.
Carlos Marmol is giving the Cubs every reason to waive him.  Kevin Gregg cleaned up Marmol's Blown Save in the 9th, to get the save in the 10th.  Gregg could give up the bombs easily, for now he is a cheap source of Saves.
Jonathan Niese took a grounder off his ankle.  When I saw the injury I thought it was nothing serious, he should be okay his next start.
Muntradamus is a Fantasy Sports Expert who specializes in Fantasy Football/Baseball/Basketball. He is currently in his second season as a Pro on FantasyPros coming off of an impressive Rookie Campaign where he landed the #10 Overall In-Season Fantasy Football Rankings Expert.  Which also included #1 WR of all Expert Sites.  He is also one of two people to qualify for all DRAFTSTREET CHAMPIONSHIPS in 2012. Most Historically, Muntradamus was the #1 Fantasy Football Expert of IDP & Overall Rankings in One Week, first and only time in Fantasy Sports History.