Fantasy Baseball DAILY PITCHER RANKINGS: END OF WEEK #1 (SUN)
Fantasy Baseball DAILY PITCHER RANKINGS:
END OF WEEK #1 (SUN)
By Muntradamus
BEAST DOME NATION.
Once 600 people, now down to a Field of 30.  I qualified for a 10K championship that starts Sunday.  Top 30 of 150 Advanced in Day #2 to Day #3 (Sunday)
I was a Garrett Jones 2 Run HR away in his last at bat from winning a spot in the Fan Duel Championship.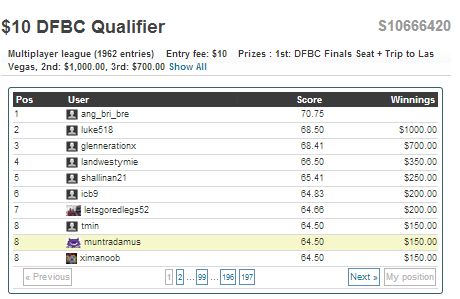 It did not take long for me to make a Splash in the Daily Fantasy Baseball Game nearly claiming a seat in the Star Street Championship.
I am on a mission to win them all.  While everyone else is sleeping, I'm putting together championship caliber teams.
The V.I.P. Experience of Daily Pitcher Rankings and everything you need for Fantasy Baseball continues.  Enjoy the content while it is here, e-mail [email protected] if you are interested.
V.I.P. #3 = $50 for the Season.
V.I.P. 3b = $20 a Month.
Check out V.I.P. #2
You will get access to Pitcher Rankings/Bet Of The Day with that Price.

HR PICKS OF THE DAY
*Due to My accuracy in 2012 and Day 1 of 2013. V.I.P #3 (Season) E-mail only.*
BET OF THE DAY
*Officially Starts Monday*
Money Line Bet: 72-28 in 2012
MOST IMPORTANT FANTASY BASEBALL NEWS SAT (4/6)
– Joaquin Benoit should get the next shot as the Tigers closer.
– Carlos Marmol blew another save. Fujikawa got roughed up as well.  Potential switch could come next game.
– Rafael Soriano blew his 1st save of the season.  Drew Storen and Tyler Clippard are good enough to close games out for Washington.  Soriano will get more chances before they consider a change.
– Clayton Kershawn is possessed.
– Rafael Betancourt has been perfect so far this season. 3/3.
– Greg Holland got crushed, 3 ER in the Blown Save.  Look for him to get a few more chances before a potential change.
– Shleby Miller had a High WHIP of 1.50, but only allowed 2 ER in 5.1 INN for 1st win.
– Ernesto Frieri gave up a meaningless HR.  Still that helps Madson get his job back when he returns.  Tommy Hanson was okay in season debut, got the Win but gave up 2 HR in 6 INN.
– Bobby Parnell is by far the closer for the Mets.
– J.P. Arencibia, who I ranked higher than every Expert is one of the few breakout players so far in 2013.
DAILY PITCHER RANKINGS (4/7)
BEAST
DAVID PRICE VS. CLE
ELITE
CHRIS SALE VS. SEA
STEPHEN STRASBURG @ CIN
GOOD
COLE HAMELS VS. KC
ADAM WAINWRIGHT @ SF
BRETT ANDERSON @ HOU
MATT CAIN VS. STL
R.A. DICKEY VS. BOS
IAN KENNEDY @ MIL
JOHNNY CUETO VS. WAS
JUSTIN VERLANDER VS. NYY
JERED WEAVER @ TEX
JEFF SAMARDZIJA @ ATL
AVERAGE
YU DARVISH VS. LAA
TIM HUDSON VS. CHC
HYUN-JIN RYU VS. PIT
HISASHI IWAKUMA @ CWS
JAMES SHIELDS @ PHI
JASON HAMMEL VS. MIN
JON LESTER @ TOR
LUCAS HARRELL VS. OAK
JUSTIN MASTERON @ TB
C.C. SABATHIA @ DET
RISKY
JHOULYS CHACIN VS. SD
EDINSON VOLQUEZ @ COL
AARON LAFFEY VS. MIA
JOSE FERNANDEZ @ NYM
JEFF LOCKE @ LAD
PEDRO HERNANDEZ @ BAL
Muntradamus is a Fantasy Sports Expert who specializes in Fantasy Football/Baseball/Basketball. He is currently in his second season as a Pro on FantasyPros coming off of an impressive Rookie Campaign where he landed the #10 Overall In-Season Fantasy Football Rankings Expert.  Which also included #1 WR of all Expert Sites.  He is also one of two people to qualify for allDRAFTSTREET CHAMPIONSHIPS in 2012. Most Historically, Muntradamus was the #1 Fantasy Football Expert of IDP & Overall Rankings in One Week, first and only time in Fantasy Sports History.