Fantasy Baseball Daily Pitcher Rankings (September 3rd)
Fantasy Baseball
Daily Pitcher Rankings (September 3rd)
By Muntradamus
To see yesterday's Daily Pitcher Rankings follow the link.
BEAST DOME NATION.
It's now or never time.  Ask me your fantasy baseball questions as we head towards the end stretch of the season!  #NowOrNever.
Jurickson Profar: Hit a HR in his first MLB game.  The Rangers do not really have room for him in their lineup, but they can make it work for the ELITE prospect. Must-Own in all keeper leagues, you can leave him for now in re-draft leagues.
BEASTS OF WEEK 1 PLAYOFFS COMING LATER MONDAY
FANTASY FOOTBALL WEEK 1 RANKINGS COMING LATER MONDAY
DAILY PLAYER RANKINGS (September 3rd)
*Players I like by position. Is now exclusive to only V.I.P. #2 Package members.  Try it out for a week, if you do not win any day you get a 50% refund.  That is the Muntradamus guarntee.  Along with daily salary cap teams, you get all the players I like at each position to create your own.  Send me an e-mail at [email protected]
HR picks and Pitcher Rankings are still below for you seasonal owners to win that championship!


HR PICKS OF THE DAY (September 3rd)
Take a moment of silence as I was just able to edge out my 9th straight week of 20% or greater.
*NEW NOTABLE MUNTRADAMUS HR SHOTS CALLED OF THE WEEK.

Monday: Robinson Cano 2 HR game.
Tuesday: Ryan Howard/Cover man of the day/ Grand Slam.
Wednesday: 7 right picks including Evan Longoria 2 HR game.
Thursday: Ryan Braun does it again.
Friday: Jason Kubel the cover man hits a HR, and I get 6/15 that day.
Saturday: Tyler Colvin, high five anyone?
Sunday: Tyler Colvin, another high five anyone?

Week 13= 22.8%
Week 14= 20.2%

Week 15= N/A.

Week 16= 20.2%
Week 17 = 23.9%
Week 18 = 26.8%
Week 19 =  23.01%
Week 20: = 23.31%
Week 21 = 20.4%
Week 22 =20/86 = 23.26%

SELECTIONS:
MATT HOLLIDAY
PRINCE FIELDER
GARRETT JONES
ADRIAN BELTRE
NELSON CRUZ
JOSH WILLINGHAM
TREVOR PLOUFFE
CHASE HEADLEY
MATT KEMP
ADAM JONES
JAY BRUCE
EDWIN ENCARNACION
CARLOS SANTANA
RYAN BRUAN
CHRIS CARTER
IKE DAVIS
PAUL GOLDSCHMIDT
MIKE TROUT

DAILY DRAFTSTREET TEAM (September 3rd)
*To say thank you for my picks all week.  Please use the BEAST DOME logo below as your DRAFTSTREET ICON.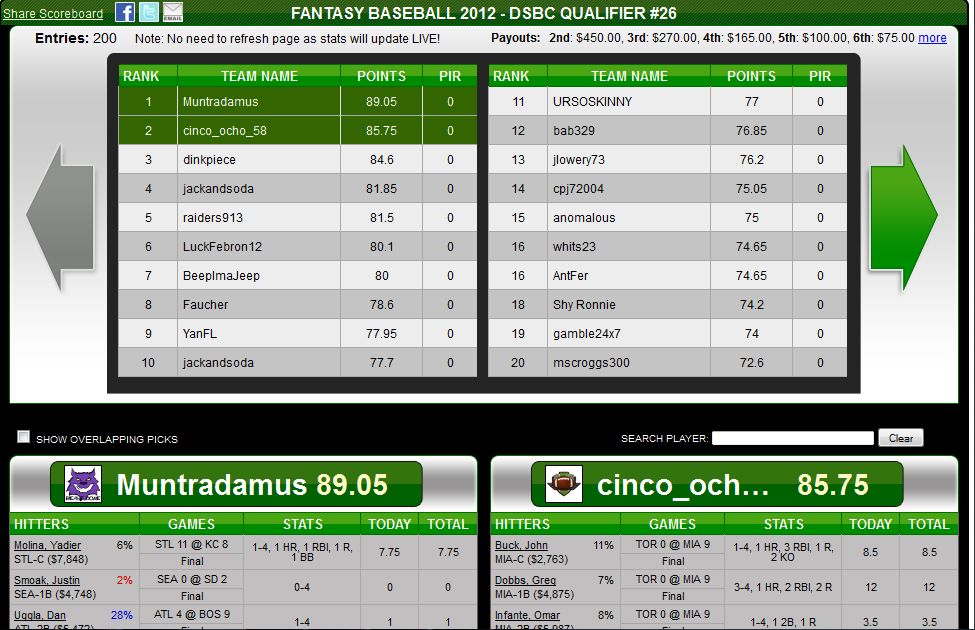 No more free picks.  If you want my picks for the week you can check out V.I.P package #2.  [email protected] 50% money back guarantee if you do not win any games that week.

BET OF THE DAY (September 2nd)
OVERALL RECORD = 46-22
*Want all my picks to do parlays?  E-mail [email protected]
Week 12: 6-1
Week 13: 5-2
Week 14: 3-4
Week 15: 1-2
Week 16: 4-3
Week 17: 5-2
Week 18: 5-2
Week 19 : 4-3
Week 20: 5-0
Week 21: 5-2
Week 22: 6-1
Week 23: 0-0
ATL MONEY LINE
Kris Medlen has been too good to not bet for him.  The Rockies are not as good on the road, and Tyler Chatwood is no lock to breeze through that hot Braves lineup.
DAILY PITCHER RANKINGS (September 3rd)
ELITE STARTS:
1. KRIS MEDLEN VS. COL
2. JOHNNY CUETO VS. PHI
3. MIKE FIERS @ MIA

GOOD STARTS:
4. YU DARVISH @ KC
5. JASON VARGAS VS. BOS
6. CC SABATHIA @ TB

ROLL THE DICE:
7. JEFF SAMARDZIJA @ WAS
8. TOM MILONE VS. LAA
9. JAMES SHIELDS VS. NYY
10. ROSS DETWILER VS. CHC
11. CLAY BUCHHOLZ @ SEA
12. BARRY ZITO vs. ARI
13. JOE KELLY VS. NYM
14. PATRICK CORBIN @ SF
15. CJ WILSON @ OAK
16. RICK NOLASCO VS. MIL
17. JEFF LOCKE VS. HOU
18. ANIBAL SANCHEZ VS. CLE
19. JOE SAUNDERS @ TOR
RISKY:
2o. SAMUEL DEDUNO @ CWS
21. TYLER CLOYD @ CIN
22. J.A. HAPP VS. BAL
23. TYLER CHATWOOD @ ATL
24. ANDREW WERNER @ LAD
25. JOE BLANTON VS. SD
26. HECTOR SANTIAGO VS. MIN
27. BRUCE CHEN VS. TEX
28. EDGAR GONZALEZ @ PIT
29, COREY KLUBER @ DET
30. COLIN MCHUGH @ STL
Muntradamus is a Fantasy Sports Expert who specializes in Fantasy Football/Baseball/Basketball. He is currently in his first season as a Pro on FantasyPros where he is the only expert to have Adam Dunn, Mike Aviles, Mark Trumbo, Ian Desmond, Jarrod Saltalamacchia, and Wilin Rosario in his top 20 at each position. Muntradamus not only leads many to championships with his great advice, and outlooks into the future. He is also consistently on the top of leaderboards in DraftStreet.