Fantasy Baseball Daily Pitcher Rankings (September 2nd)
Fantasy Baseball
Daily Pitcher Rankings (September 2nd)
By Muntradamus
To see yesterday's Daily Pitcher Rankings follow the link.
BEAST DOME NATION.
It's now or never time.  Ask me your fantasy baseball questions as we head towards the end stretch of the season!  #NowOrNever.
* MORE RANKINGS COMING TODAY



BRANDON LEAGUE: Picked up the save for the Dodgers.  Must-Add in all leagues as it is better using him than a starter that is not going that day.
DELMON YOUNG: Getting hot.
PEDRO ALVAREZ: 4th HR of the week, likely player of the week.
DAILY PLAYER RANKINGS (September 2nd)
*Players I like by position. Is now exclusive to only V.I.P. #2 Package members.  Try it out for a week, if you do not win any day you get a 50% refund.  That is the Muntradamus guarntee.  Along with daily salary cap teams, you get all the players I like at each position to create your own.  Send me an e-mail at [email protected]
HR picks and Pitcher Rankings are still below for you seasonal owners to win that championship!


HR PICKS OF THE DAY (September 2nd)
Take a moment of silence as I was just able to edge out my 8th straight week of 20% or greater.
*NEW NOTABLE MUNTRADAMUS HR SHOTS CALLED OF THE WEEK.

Monday: Robinson Cano 2 HR game.
Tuesday: Ryan Howard/Cover man of the day/ Grand Slam.
Wednesday: 7 right picks including Evan Longoria 2 HR game.
Thursday: Ryan Braun does it again.
Friday: Jason Kubel the cover man hits a HR, and I get 6/15 that day.
Saturday: Tyler Colvin, high five anyone?

Week 13= 22.8%
Week 14= 20.2%

Week 15= N/A.

Week 16= 20.2%
Week 17 = 23.9%
Week 18 = 26.8%
Week 19 =  23.01%
Week 20: = 23.31%
Week 21 = 20.4%
Week 22 =18/73 = 24.65%

SELECTIONS:
TYLER COLVIN
MATT JOYCE
JOHN MAYBERRY JR.
HUNTER PENCE
CARLOS QUENTIN
BRANDON MOSS
EVAN LONGORIA
MIKE MOUSTAKAS
KENDRYS MORALES
DAN UGGLA
ROBINSON CANO
ADAM LAROCHE
CHRIS DAVIS
PAUL GOLDSCHMIDT
EDWIN ENCARNACION

DAILY DRAFTSTREET TEAM (September 2nd)
*To say thank you for my picks all week.  Please use the BEAST DOME logo below as your DRAFTSTREET ICON.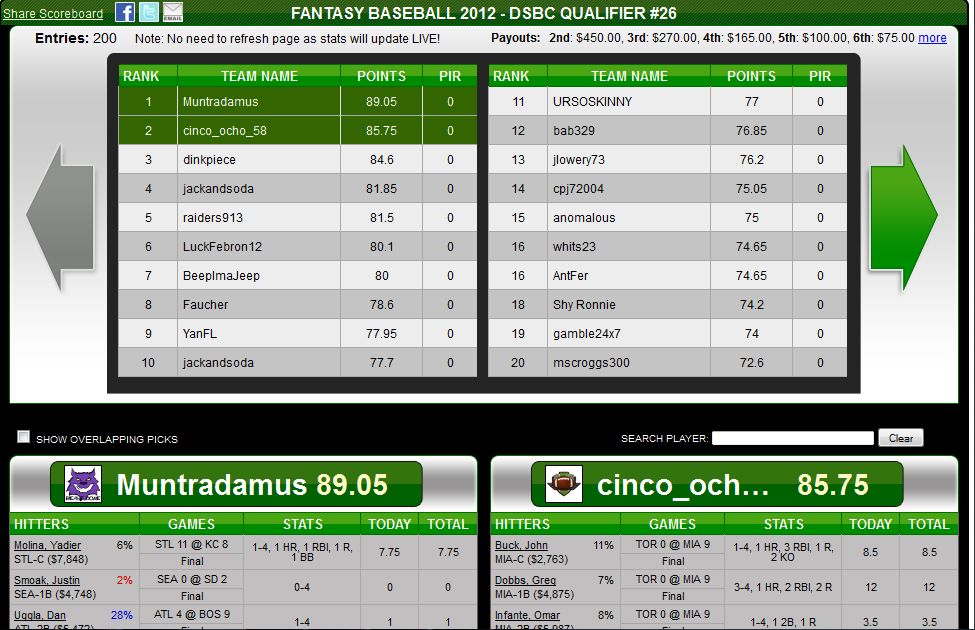 No more free picks.  If you want my picks for the week you can check out V.I.P package #2.  [email protected] 50% money back guarantee if you do not win any games that week.

BET OF THE DAY (September 2nd)
OVERALL RECORD = 45-22
*Want all my picks to do parlays?  E-mail [email protected]
Week 12: 6-1
Week 13: 5-2
Week 14: 3-4
Week 15: 1-2
Week 16: 4-3
Week 17: 5-2
Week 18: 5-2
Week 19 : 4-3
Week 20: 5-0
Week 21: 5-2
Week 22: 5-1
SF MONEY LINE
Look for Matt Cain to put the dagger in the heart of the Chicago Cubs as they leave the series in a position to make a big run in September.  Travis Wood has no chance to get out of this one safe.
DAILY PITCHER RANKINGS (September 2nd)
ELITE STARTS:
1. DAVID PRICE @ TOR
2. JUSTIN VERLANDER VS. CWS
3. JERED WEAVER @ SEA
4. MATT CAIN @ CHC

GOOD STARTS:
5. BRETT ANDERSON VS. BOS
6. CHRIS SALE @ DET
7. STEPHEN STRASBURG VS. STL
8. MARK BUEHRLE VS. NYM

ROLL THE DICE:
9. YOVANI GALLARDO VS. PIT
10. BRONSON ARROYO @ HOU
11. COLE HAMELS @ ATL
12. WADE MILEY @ LAD
13. CHRIS CAPUANO VS. ARI
14. DEREK HOLLAND @ CLE
15. BUD NORRIS VS. CIN
16. PAUL MAHOLM VS. PHI
17. JAMES MCDONALD @ MIL
18. JAKE WESTBROOK @ WAS
19. CHRIS TILLMAN @ NYY
20. LUIS MENDOZA VS. MIN
21. RICKY ROMERO VS. TB
22. CHRIS YOUNG @ MIA
23. HISASHI IWAKUMA VS. LAA

RISKY:
24. PHIL HUGHES VS. BAL
25. DAISUKE MATSUZAKA @ OAK
26. ESMERLING VASQUEZ @ KC
27. JEFF FRANCIS VS. SD
28. CASEY KELLY @ COL
29. TRAVIS WOOD VS. SF
30. ZACH MCALLISTER VS. TEX
Muntradamus is a Fantasy Sports Expert who specializes in Fantasy Football/Baseball/Basketball. He is currently in his first season as a Pro on FantasyPros where he is the only expert to have Adam Dunn, Mike Aviles, Mark Trumbo, Ian Desmond, Jarrod Saltalamacchia, and Wilin Rosario in his top 20 at each position. Muntradamus not only leads many to championships with his great advice, and outlooks into the future. He is also consistently on the top of leaderboards in DraftStreet.