Fantasy Baseball: Daily Pitcher Rankings (September 11th)
Fantasy Baseball:
Daily Pitcher Rankings (September 11th)
By Muntradamus
BEAST DOME NATION.
It's now or never time.  Ask me your fantasy baseball questions as we head towards the end stretch of the season!  #NowOrNever. Tell me how your teams are doing!
Feel Free to Leave Testimonials throughout the Playoffs.
Playoff Strategy #1 – Pitching
Playoff Strategy #2 – Hitting
*UPDATED HITTER/PITCHER RANKINGS COMING THIS SUNDAY*
*Moment of silence for 9/11, be thankful we are all here today and doing well.
Cameron Maybin: HR comes Monday, should see a big week with speed.
Hunter Pence: Knocks one out in Colorado, all Giants should get in the action.
Ryan Doumit: Was hot last week, continues the streak to Monday. Should have over 20 HRs this season.
Kyle Kendrick: Is making a big run for the Doug Fister award.
Ryan Vogelsong: Can be dropped if you need more pitching this week to win your playoff matchup.
LEADING CANDIDATES FOR DOUG FISTER AWARD: Kris Medlen
LEADING CANDIDATES FOR RYAN RABURN AWARD: Mark Reynolds
Still anyone's game.
DAILY PLAYER RANKINGS (September 11th)
*Players I like by position. Is now exclusive to only V.I.P. #2 Package members.  Try it out for a week, if you do not win any day you get a 50% refund.  That is the Muntradamus guarntee.  Along with daily salary cap teams, you get all the players I like at each position to create your own.  Send me an e-mail at [email protected].
HR picks and Pitcher Rankings are still below for you seasonal owners to win that championship!

HR PICKS OF THE DAY (September 11th)
Posey stops me from being shutout, Tuesday is my big day.
*NEW NOTABLE MUNTRADAMUS HR SHOTS CALLED OF THE WEEK.

Monday: Buster Posey bomb.

Week 13= 22.8%
Week 14= 20.2%

Week 15= N/A.

Week 16= 20.2%
Week 17 = 23.9%
Week 18 = 26.8%
Week 19 =  23.01%
Week 20: = 23.31%
Week 21 = 20.4%
Week 22 =23.26%
Week 23 =18/84 = 21.4%
Week 24 = 1/6 = 16.67%

SELECTIONS:
JOSH HAMILTON
ADRIAN BELTRE
HUNTER PENCE
ANGEL PAGAN
EDWIN ENCARNACION
BRANDON MOSS
RYAN HOWARD
JOSH WILLINGHAM
PEDRO ALVAREZ
KENDRYS MORALES
JAY BRUCE
SALVADOR PEREZ
ANDRUW JONES
FREDDIE FREEMAN
CHASE HEADLEY
PRINCE FIELDER
WILIN ROSARIO
PAUL GOLDSCHMIDT
DAILY DRAFTSTREET TEAM (September 11th)
*Please use the BEAST DOME logo below as your DRAFTSTREET or any Daily Fantasy Sports ICON.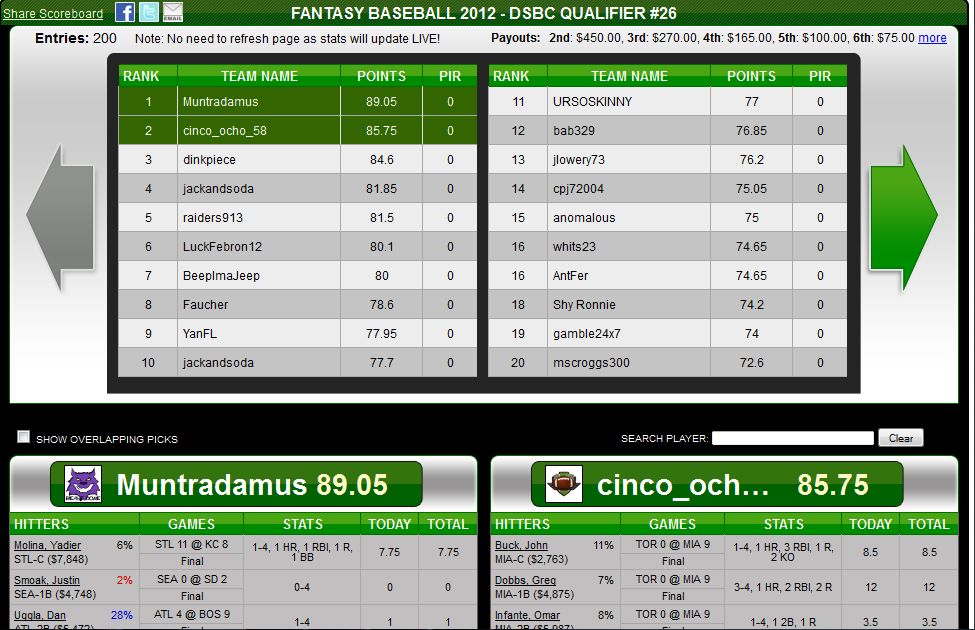 No more free picks.  If you want my picks for the week you can check out V.I.P package #2.  [email protected]. 50% money back guarantee if you do not win any games that week.
BET OF THE DAY (September 11th)
OVERALL RECORD = 54-25
*Want all my picks to do parlays?  E-mail [email protected]
Week 12: 6-1
Week 13: 5-2
Week 14: 3-4
Week 15: 1-2
Week 16: 4-3
Week 17: 5-2
Week 18: 5-2
Week 19 : 4-3
Week 20: 5-0
Week 21: 5-2
Week 22: 6-1
Week 23: 4-3
Week 24: 1-0

TEX MONEY LINE
Matt Harrison on the mound against a team full of lefty bats.  Not looking good for the Indians.  It gets even worse when Ubaldo Jimenez pitches in Texas to give up the bombs.
DAILY PITCHER RANKINGS (September 11th)
ELITE STARTS:

1. JORDAN ZIMMERMAN @ NYM
2. MATT HARRISON VS. CLE


GOOD STARTS:
3. R.A. DICKEY VS. WAS
4. CLAYTON KERSHAW @ ARI
5. TIM HUDSON @ MIL
6. HIROKI KURODA @ BOS
7. MATT MOORE @ BAL
8. MADISON BUMGARNER @ COL
9. ROY HALLADAY VS. MIA

ROLL THE DICE:
10. BRANDON MORROW VS. SEA
11. JASON HAMMEL VS. TB
12. EDINSON VOLQUEZ VS. STL
13. DOUG FISTER @ CWS
14. IAN KENNEDY VS. LAD
15. JAKE PEAVY VS. DET
16. ADAM WAINWRIGHT @ SD
17. MARCO ESTRADA VS. ATL
18. JON LESTER VS. NYY
19. SCOTT DIAMOND VS. KC
20. KEVIN CORREIA @ CIN
21. DAN STRAILY @ LAA
22. MIKE LEAKE VS. PIT
23. WILL SMITH @ MIN
24. NATE EOVALDI @ PHI
RISKY:
25. JEROME WILLIAMS VS. OAK
26. ERASMO RAMIREZ @ TOR
27. JHOULYS CHACIN VS. SF
28. UBALDO JIMENEZ @ TEX
Muntradamus is a Fantasy Sports Expert who specializes in Fantasy Football/Baseball/Basketball. He is currently in his first season as a Pro on FantasyPros where he is the only expert to have Adam Dunn, Mike Aviles, Mark Trumbo, Ian Desmond, Jarrod Saltalamacchia, and Wilin Rosario in his top 20 at each position. Muntradamus not only leads many to championships with his great advice, and outlooks into the future. He is also consistently on the top of leaderboards in DraftStreet.